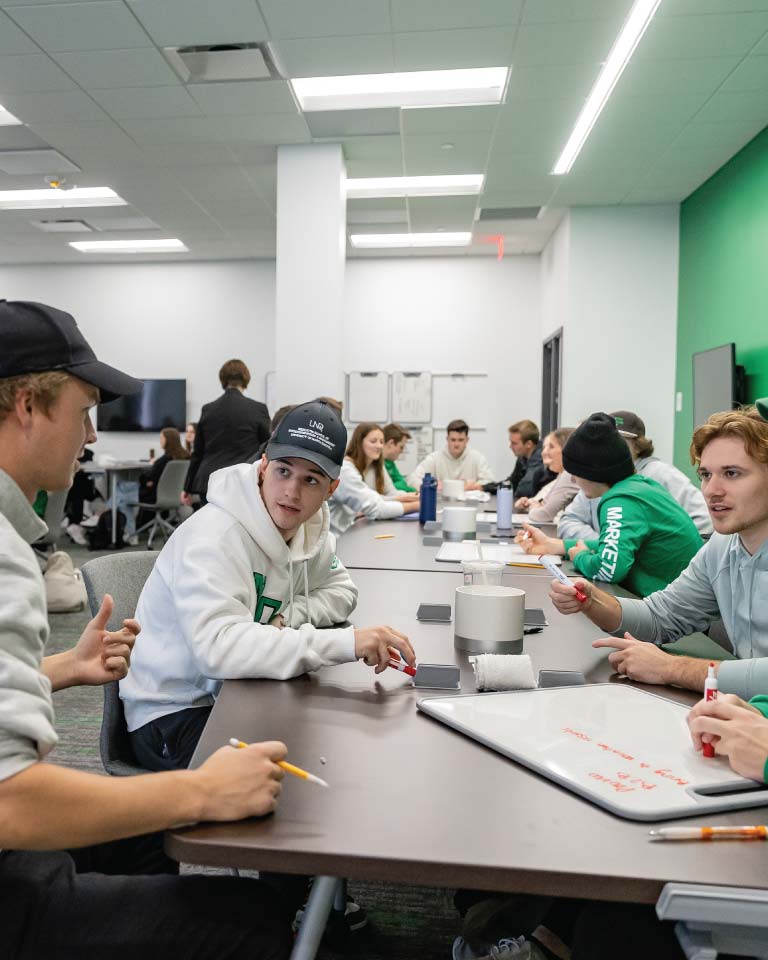 Scholarships
Scholarships provide opportunities for our future leaders to advance their education and careers.
At the University of North Dakota, students are our top priority. We believe that an outstanding, affordable education should be attainable for every student. When you support scholarships at UND, you:
Provide life-changing financial support: Students have access to comprehensive financial aid packages, easing the financial burden of obtaining their degree. More than anything, s

cholarships help keep students at UND.

Recruit future leaders: High-caliber students will continue to choose to attend the University of North Dakota.
Elevate the campus community: With healthy enrollment numbers, UND will continue to be a steadfast cultural and economic driver in North Dakota and beyond.
Your gift today will provide our future leaders with opportunities to advance in their education and careers. We offer a variety of ways to enrich the student experience here at UND. Gifts can be made in pledges over 5 years.
Opportunities for Impact
One-Time Scholarship
$1,500+
UND is regarded as one of the top institutions in the nation for educational quality and affordability. However, the average student will pay $11,250 in tuition costs each year. One-time scholarships help to ease that financial burden.
Merit-Based Scholarships
$14,000+
We have the most diverse and academically prepared student body in UND's 138-year history. Merit-based scholarships help our University retain these high-caliber students. In fact, 83% of students who receive a merit-based scholarship return for their second year.
Named Endowment
$25,000+
Endowments can be created with gifts of cash, securities, and other assets. Although the minimum amount required to create an endowment fund is $25,000, larger amounts are recommended or required for certain purposes. Gifts at these levels may offer donors naming opportunities.
Special Scholarship Initiatives
Open Door
The UND Open Door Scholarship provides financial assistance to help students experiencing a financial hardship that prevents them from finishing their academic degrees. Give to Open Door Scholarships.
Heart of America
The Heart of America Patriot Foundation aims to help UND students who are dependents of deceased or 100% disabled veterans. To make a donation, please contact Steve Brekke.