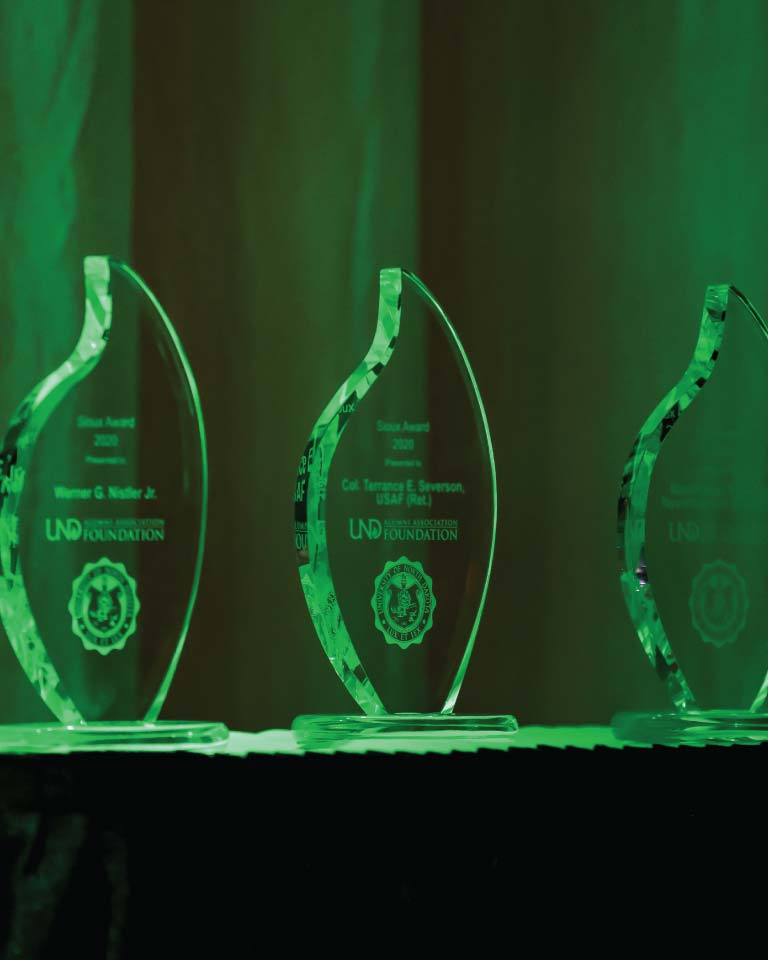 Alumni Honors
Every year, we honor the University of North Dakota's most esteemed alumni.
A banquet to recognize their achievements is held annually during Homecoming week. This year's award ceremony is scheduled for Thursday, Oct. 5, 2023.
Distinguished Achievement & Leadership
The Sioux Award for Distinguished Achievement & Leadership is the highest honor given by the UND Alumni Association & Foundation for achievement, service and loyalty. Since its inception in 1962, this distinguished award has been presented to leaders in government and business, high achievers in various professions and alumni who have dedicated their lives in service to others.
2022 recipients
Jody (Varberg) Feragen, '78
Jack Marcil, '63, '68
Mark Sanford, '66, '76
Sarah Vogel, '67

Young Alumni Achievement Award
The Young Alumni Achievement Award was established in 2002 to recognize recent graduates of UND who have made a mark in the short time since they attended our University. The Young Alumni Achievement recipients are role-models for those who follow them on campus, as they prove that success can come to those with focus, drive and a willingness to work hard.
2022 recipients
Meghan Compton, '06, '10
Paul Sallach, '03
Past Recipients
2020/2021
Erwin, '83, '85, & Colleen, '84, '85, Martens
Werner Nistler, '68
Dr. Michael Brown, '80, '82
Terry Severson, '65
Lisa Wheeler, '77, '82
2019
Dr. Gary Hagen,'74, '77, & '86
Dr. Gordon Henry, '66, '70
Jennifer Neppel, '86
Dr. Greg Everson,'72
2018
Phil Jackson, `67, HON `08
Jeanne (Heilman) Crain, `82
Lauris Molbert,`79, `83
Michael Lodoen, `65
Mary (Muehlen) Maring, `75
2017
Al Royse, '72, '73, '76
Alva "Jeanne" (Kingzett) Pfeiffer, '69
James "Jack" Muhs, '86
Lucy Dalglish, '80
Tim O'Keefe, '71
2016
Elizabeth Abraham, `70
Rick Burgum, `68
Dr. Timothy Henry, `78, `80
Dave St. Peter, `89
2015
Henry Herr, `68, `71
Dave Veeder, `61
Patrick Dirk, `71, `72;
Jill Cholewa, `77
2014
Dr. Marlys Schuh, MD, '73, '77
Jim Williams, '62
Keith Reimer, '73
2013
Bob,'69 and Kris Solberg, '69
Owen Anderson, ' 71, '74
Randy Newman, '75, '79
Linda Pancratz, '76
2012
Benedict, '62, '63, & Dorothy Gorecki
Garfield Beckstead, '61
Kathryn Uhrich, '86
Mark Chipman, '83, '85
2011
Diane Odegard
Gary Marsden, '63
Norman Hoffman, '59
Robert Nordlie, '57, '60
2010
Howard Dahl, '71, HON '10
Henry C. "Bud" Wessman, '89
Mary Wakefield, ..'83
Greg Page, '73
2009
Daniel J Martinsen, '73
Dr. Karen L Nyberg, '94
Dr. LaVonne J. Russell Hootman, '54, '75
Edward T Schafer, '69, HON '08
2008
John F Gasparini, '68, '71
Larry E Jodsaas, '62
Allen L Van Beek, MD, '66
David J Williamson, '77
Gay Shemorry Williamson, '69
2007
Senator Byron L Dorgan, '65, HON '02
Dr. Thomas M Hamilton, '67, '70, HON '93
Dale F Morrison, '71, HON '99

2006
Lyle C Kasprick, '59
Diane K Langemo, PhD, '69
Donald G McIntyre, MD, '57
Darold D Rath, '67
Pete Simonson, '53
B John Barry, '63, HON '12
Karen M Bohn, '75, '76
Harold A Gershman, '66
2005
Richard D Brunning, MD, '54, '57
Calvin C Marvin, ..'50
John P Nepper, '53
Mack V Traynor, Jr., MD, '46, '47
Morris A Tschider, '54, '58, '60
Marilyn Whitney, '51
Paul H Gislason, MD, '48
Raymond A Kobe, PE, '55
Donald C Meredith, MD, '50, '52
William G Ness, '60
Judge Beryl J Levine, '74
Wesley D Rydell, '64
William L Schwartz, MD, '55
2004
F John Marshall, '59, '62
A Charles Schultz, Jr, '70
Sally J Smith, '79
Col J Thomas Stocker, MD, '66, '67
2003
Dr. Theodore V Galambos, PE, '53, '54, HON '98
Bill Geiger, '53
Ellen Gray John P Gray, '40, '61
R Douglas Larsen, '53
Sara G Garland, '68, '72
Jean Haley Harper, '79
Earl S Strinden, '58
2002
Franklin J Bavendick, '52
Betty C Monkman, '64
Nancy L Seifert, '51
Dr. Susan J Crockett, '66
Lloyd K Everson, Jr, MD, '65, '67
Robert M Harris, '60
A Kirk Lanterman, ..'51
2001
Jo Anne B Hedlin, '51
Dr. Donald P Naismith, '53, '59
Rita C Traynor, '51
Barbara L Dewing, '57
Ellen R McKinnon, ..'35
Keith B Sorbo, '59
2000
Dr. Kent G Alm, '51, '63
John A Banik, '50
John D Graham, MD, '50, '53
Beverly A Sfingi, '44
James E Jarrett, MD, '60, '62
John R Jarrett, MD, '61, '63
James D Kertz, '60
Jon B Tingelstad, MD, '57, '58
1999
Bruce A Porter, MD, '72
Verrill J Fischer, MD, '35
Wilbur J Gehrke, '39
Edward J Harloff, '49
Dr. Ella Jane Oyer, '46
Carolyn J Becraft, '66
Dr. John S Penn, ..'43
Rodney J Rohrich, MD, '77, HON '06
Rodney S Webb, '57, '59
1998
Rev Harry D Durkee, ..'43
Robert A Kyle, MD, '48, HON '02
Norma C Oreskovich, ..'37
Sam Silverman, '37, '39
Major General Bryan G Hawley, '64, '67, '69
James C Hester, ..'67
Dr. Phyllis E Johnson, '71, '76
1997
James R McLaughlin, '48
Tamar C Read Dr. John W Vennes, '51, '52, HON '96
Dr. Myron W Wentz, '66
1996
Arlene D Ginn, '41
Donald A Loepp, '48
Clifford E Seglem, '47
Clayton E Jensen, MD, '54, '56
John C MacFarlane, '61, HON '99
Kathleen A Smith, '56
Walter I Swingen, '53
1995
Beulah-Rom Gullekson, '36
Marcella H Melsted, '46
John A Moyer, MD, '45
Dr. Lorraine Hagen Westerberg, '40
Frances B Kannowski, ..'24
George McKinnon, Sr., '35
Dr John C Redmond, '55
Norman C Skalicky, '55
1994
James G Golseth, MD, '38, '39
Eloise J Halvorson, '39
Fern C Haugen, '30
Dr. Howard W Jacobson, '31
Winnifred H Jones, '37
Timothy J Haas, '68
Ernest A Lindstrom, '53
Thoraine Loyd, '74
1993
William A Franta, '33, '34, HON '71
Ralph J Krogfoss, '43
Fred C Ott, '38
Sigrid R Ott, '39
Dorothy M Pederson, '31
Fabrice P Moussus, '73
Donn R Osmon, '55
Harold E Resinger, MD, '51, '52, HON '92
Burness G Wenberg, '49
1992
A Leonard Asmundson, MD, '28, '29
T B Asmundson, '29, '31
Gayle Clifford, '65
Mary Ann Keller-Wakefield, '61, '77
Richard Arnason, '43
Dr. Marilyn J Guy, '69, '71, '76
V Adm Donald F Hagen, MD, '61
G W VandeWalle HON, '55, '58
1991
William L Biggs, '67
Larry A Brown, ..'31
Ervin L Dahlund, '34
Dr. Rolf E Hovey, '35
Louise Aandahl Stockman, '48
Albert 'Mel' Christopher, '55
Dorothy J Edlund, '44
Dr. Gordon B Olson, '52, '53
Dan J Ostergaard, MD, '69, '71
1990
Aldene A Barrington, '20
Judge Dale M Nordquist, '38, '40
Margaret O Oros, '39
Everette Webb, '42, HON '93
Dr. Virginia L Holten, '62, '65
William C Marcil, '58, HON '08
James C McKay, ..'55
Keith C Wold, MD, '49
1989
Dr. Karen Gayton Comeau, '81
Dr. Marlene Ward, '84
Myrtle A Birdzell, '29, '30
Charles J Breitwieser, '31, HON '49
Donald C Holand, '34, '47
Dr. Jeanette N Wheeler, '39, '56, '62
Wallace Bailey, MD, '50, '51
Roger L Breezley, '60
Henry A Frantzen, '64
The Honorable H F Gierke, III, '64, '66, HON '05
Karen Sethre White, '59
1988
Mildred L Johnson, '39
Ludwik Kulas, '43, '51
Richard H McGee, '41, '47
Thomas McGrath,'39, HON '81
D Frank Benson, MD, '50, '51
Shirley R Colgrove, ..'62
Ben Meier Maj Gen Keithe E Nelson, '58, '59
1987
Ruth L Meiers, '46
Edmund O Belsheim, '27, HON '52
Hazel Jacobsen-Theel, '30
Henry X Salzberger, '27
Edward K Thompson, '27, HON '58
Dr. Clair T Blikre, '49, '60
T Michael Clarke, '70
Martha A Liebert, '55
Sandra J Whittaker, '58
1986
Marjorie Boynton-Moynahan, '46
Clifford O Haugen, MD, '26, '27
John Hjellum, '34
Lois M Johnson, '64
Allen I Olson, '61, '63
Virginia L Stringer, '66
Leon L Wiltse, MD, '37, '38
1985
Archie Baggenstoss, MD, '30, '31
Ruth M Legvold, '30
Dr. Neal A Weber, '30, '32, HON '58
Dr. Philip W West, '35, '36, HON '58
Dr. Paul V Yoder, '30, HON '58
Andrew G Alpha, '34, '35
Dorothie O Dekko, '50
Gen. David C Jones, ..'41
Stanley A Moe, ..'32, HON '93
Dr. John G Wade, '56
1984
Rear Admiral Richard B Black, '26, HON 58
Clifford T Danielson, '21
Lucille R Fostvedt, MD, '36, '38
Dr. Junald L Rendahl, '29
David A Fennell, '74
Clair Ghylin, '50
Liisa Nygard Johnson, '68
John H Saiki, MD, '58, '59
1983
Merlin E Dewing, '56, '58, HON '88
D Wade Robinson, MD, '36, '37
Donald E Squires, ..'31
Gladys N Whitesell, '23
Alvin E Austin, '31
Dorothy Hagert Crosby, ..'26
Clifford E Enger, '33
D J Robertson, '33, '36
Frank E Stinchfield, MD, '32, HON '73
1982
Florence M Clifford, '42
Thomas J Clifford, '42, '48, HON '00
Andrew L Freeman, '32, HON '91
Robert O Brandenburg, MD, '42
Rodney P Burwell, '60, '61
Joseph F Sabo, ..'56
Mary Ellen Barber Vaughan, '45
1981
A M Cooley, Sr., '31
Dr. Victor A Corbett, ..'28
Karleen M Rosaaen, '27
Frederick M Thomson, '23
Ralph L Engelstad, '54
Shirley C McCarty, '58
Chester E Nelson, Jr, '61
Kenneth W Sell, MD, '53, '54
1980
Clifford W Anderson, '26
Vera E Bollinger, '19, '30
Grace E Bowen, '17
Glenn C Lee, '33
Victor R Rose, '29
Marijo Shide, ..'48
1979
Judge Ronald N Davies, '27, HON '61
E E Gullekson, '37
Mel W Duncan, '43
Terrance G Leonhardy, '37
Claudia E Schmalenberg, '71
1978
Mary A Fowler, '21, '22
Thomas M Mar, MD, '38
Col Eugene E Myers, '36, '38
Richard D Nierling, MD, '29, '30
Frank Richards (Brig Gen-RET), '21, '32
Eunice C Kalloch, '30
Maxie L Anderson, '56
Bernold M Hanson,'51
1977
Jerome N Dunlevy, Sr., '22
Martin N Gronvold, '27
Dorothy Hupper, '21
Lucy Johnston Sypher, '27
Eugene R Dahl, '48, HON '99
William A Jacobsen, '24, '26
Clara Lougee, '29
James E Olson, '50, HON '86
John K Whitney, '53
1976
Dr. Arthur K Saiki, '26
Mark Andrews, Sr.
Laura C Christianson, '32
Laurence G Pray, MD
S Bryce Streibel George F Strickling, '25
C M Burgess, MD, '30, '31
Ruth A Noren
Elton W Ringsak, '37
Donald C Robertson, '58
1975
Senator Quentin Burdick
Dr. Edna Peterson Doyle, '36
Adrian O McLellan, '37, '39
David V Osborn, '65
Dr. E Lillian Parson, '19
Joseph P Baker, '27, '28
James D Barger, MD, '39
Eugene D Becken, '32
Ruth E Hastings, '31
J Martin Johnson, MD, '19
James W Kack, '63
1974
John A Klein, Jr., ..'41
Charles L Allen, '24
Arley Bjella, '41, HON '89
Gerhard O Meidt, '58
Dorothy E Revell, '33
Theodore A Torgeson, 1910, 1912
Senator Milton Young Dr. Gwen J Bymers, '48
Judge Jim R Carrigan, '53, HON '97
John H Disher, '43
Dr. Leigh Gerdine, '38, HON '91
Allan E Gillespie, '53
Irwin R Rector, '38
Dr. Fred L Snyder, '55, '58, HON '83
1973
The Honorable Ralph Erickstad, ..'43
Judge Harvey B Knudson, '31
The Honorable William Paulson, '37
The Honorable Alvin C Strutz, '30
Obert C Teigen, '32, '34
Lyla Hoffine, '23, '41
Herbert D Jeffrey, '31, '42
Olafur W Johnson, MD, '27
Dr. Soren O Kolstoe, '21, '31
Valborg I Oslund, '28, '43
Lillian Leith Witmer, '23
Dr. Bill J Harris, '34
Mary T Hennessy, '31, '35
Dr. Lloyd F Johnson, '54
Don P Miller, '34
Canton A Pederson, '34, HON '78
1972
Julius M Amberson, MD, ..'17
Harold A Boe, '25
John L Hulteng, '44
DeWayne 'Dewey' King, '50, '66
William H Morrison, ..'20
Judge Paul Benson, '42
Robert A Finnegan, ..'37
William L Guy Evan E Lips, '41
Lowell T Swenson, ..'43, HON '91
1971
R Edwin Fuglestad, '23, '24
Lambert M Huppeler, '32
Milton G Kelly, ..'18
Fred Orth George W Starcher, '75
Margaret Starcher E J Wenaas, MD, '21
William T DePuy, '26
Robert M Fawcett, MD, '37, '38
Don Hiestand, '40
Carl Lykken, 1910
James F Seifert, '50, HON '86
1970
Edward J Franta, '27
Richard A Hanson, '56, '60
Frank L Koucky, '21
Rudolph W Koucky, MD, '24
Maj Gen C Emerson Murry, '49, '50
Dr. C V S Ratnam, '51
J Gordon Caldis, '42, '48
Robert P Dorsher, '51
Edward X Hallenberg, '36, '46
John A Linfoot, MD, '53, '55
Stan Marek, '51
Ernest E Simmons, '38
J Lloyd Stone, '30, '36
1969
Larry Aasen, '47
Chuck Johnson, '48, HON '05
M James Robertson, '49
Dr. Marian E Swendseid, '38, '39
Jack Traynor, '49, '51
Donald R Grangaard, '39, HON '91
Walter G Klick, '24
John G Morrison, MD, '39, '40
Rev Carroll E Simcox, '33
Horace W Thue, '35
1968
Brig Gen Donn C Hart (USMC), '35
Arnold G Kirkness, '28
J Lafe Ludwig, MD, '31, '33
John H Moe, MD, '25, '26, '27
Odin Ramsland, '34
Albert V Hartl, '32
Robert S Kunkel, '38
Col H G Lux (RET), '32
Frederick D Pollard, Jr., '39
Lt Gen Donn J Robertson, '38
1967
C Norman Brunsdale
J Emmet Judge, '35
Richard D Sturtevant, '28, '30, '69
Warren L Hanna, '17, HON '70
George Longmire, '47
Dr Wilhelmina S Scott, '21
Pearl I Young, '19
Amos S Martin, '50
Idar Rimestad, '40
Carl G Samuelson, ..'30
1966
Dwain E Duis, '50
Rita A Murphy, '26
Arthur D Robertson, '23
John E Williams, 1906
Frank J Cervenka, '35
Paul T Cook, MD, '34, '35
John E Davis, '35
Ernest F Fox Henry Hinds, 1904
Leo P A Sweeney, MD, '22
1965
Weston Christopherson, '49, '51, HON '89
Leonard K Crawford, '37
Paul O Larson, '50
Edwin P Madsen, '40
Hugh P Moore, '33
1964
Thomas C Barger, '31, HON '65
B Fred Davidson, '27, HON '71
Bruce McArthur, '39, HON '90
Grant N Nelson, '25
Mel Ruder, '37, '42
Kathrine Belanger Tiffany, '02, '08
Robert B Witmer, '22, '26
1963
Dewey E Balch, '32
Frederic P Barnes, ..'24
Joseph B Bridston, ..'18
Robert C Eddy, ..'20
Ernest L Grinnell, MD, '27, '28
Fay W Hunter, '30
Conrad W Leifur, Sr., '23, '32
Dr. Ralph E Leigh, '22
Edward H McDermott, '21, HON '51
Lloyd C Nelson, '32
Paul C Quistgard, MD, '27
Armin F Rohde, '25
Jack Bell Stewart, ..'29
Loyde C Thompson, ..'25
Stanley J Walsh, '39
Harrison W Wilder, '28
Irv Kupcinet, '35
Franklin J Lunding, '49
1962
Edmond Hughes Edna Twamley, '58
William G Durnin, MD, '30
Ira C Frendberg, 1910
Sybil Kell, '18
Clarence D Locklin, ..1913
Edward J O'Connor, ..'33
Francis J Walsh, '32
Distinguished Service Citation
1961
Stella I Mann, '15
Guri Sand, 1909, '29
Dr. Willis B Shepard, '29, '32
Dr. Lien O Simenstad, '21
1960
Stewart H Clifford, MD, ..'21
Dr. Christine Finlayson, 1912
John D MacKenzie, '18
Dr. Clarence L Robertson, 1911, '31
Bardi G Skulason, '95
1959
W Kenneth Hyslop, 1906
A Vera Kelsey, 1914
Dr. R Lyle Webster, '26
Thomas E Whelan, '16, HON '59
1958
Lawrence Welk
Fred G Aandahl, '21, HON '62
Dr. Keith Grimson, '30, '31
Herbert E Treichler, 1908, '09
1957
James H Douglas, 1900, HON '60
Chester W Fritz, '51
Lawrence R McCoy, ..1908
Raymond Richards, 1906
Maxwell M Upson, 1896, HON '31
John C West, '26, '30, HON '56
1956
Judge O B Burtness, 1906, '07, HON '58
Judge G Grimson, 1904, '05, '06, HON '39
John M Hancock, 1903, HON '32
Dr. Min Hin Li, '20, HON '58
Henry G Lykken, 1905, '06, HON '58
Judge William L Nuessle, 1899, 1901, HON '48

Service Award
1949 M Beatrice Johnstone, 1891, HON '51
2020/2021
Lu Jiang, '12
Peter Stenehjem, '07

2019
Dr. Andrea Hanson, '02
Christina Sambor, '05
2018
Kayla (Hoerth) Delzer, `08, `14
Darren Moquist, `00
2017
Jules Kotrba, '06
Eric Trueblood, '07
2016
Haley Thorson, `05
Nicholas Eberling, `06

2015
Greg Pinski,`96, `99
Kayla Effertz Kleven, `05, `07

2014
Jonathan Warrey, '99
Monique Lamoureux, '12
Jocelyne Lamoureux-Davidson, '12

2013
Cassie Gerhardt, '96, '08
Chad Syverson, '96

2012
Jim Kleinsasser, .'99
Sheri (Kleinsasser) Stockmoe, '97, '99

2011
Amanda Bentow, '04, '06
John Kutch, '93
2010
Ryan Kopseng, '99

2009
Fernanda (Santos) Philbrick, '94, '96
Chris Semrau, '00
2008
Brenda Jo Gillund, '92, '97
Jennifer Thorson, '93

2007
Cindy Blikre, '91
James Mehus, M.D. / Ph.D., '00
Carla Christofferson, '89

2006
Jeff Gendreau, '90
Milissa Mckee, M.D., '92
Jennifer J. Montgomery, '90, '92, '00

2005
Steve Burian, '90, '92
Heather Johnson Kukla, '96

2004
Mary Fischer, '90
Karen L. Nyberg, '94

2003
Karn (Monge) Jilek, '89
Dave St. Peter, '89
Keith Becker, '92, '94

2002
Laura (McCallum) Bryan, '89