2022 Alumni Honors: Jody Feragen
1978 accounting graduate built a finance career taking a seat at the table to give others the same opportunity.
Fresh out of UND's accounting program, Jody (Varberg) Feragen, '78, found herself outnumbered. Only a handful of women worked at the large, Minneapolis accounting firm where she landed her first job.
"As a female accountant back then, it was harder to have a family," said Jody, who stayed home for six years to raise daughters Kari and Kelsey. "Our profession has made accommodations to help young women today have a better work/life balance."
After building a career in private industry, Jody was hired as treasurer at Hormel Foods Corporation in Austin, Minnesota. She was the first woman to hold an officer position, a deliberate move from executives who wanted to create change in company look and culture.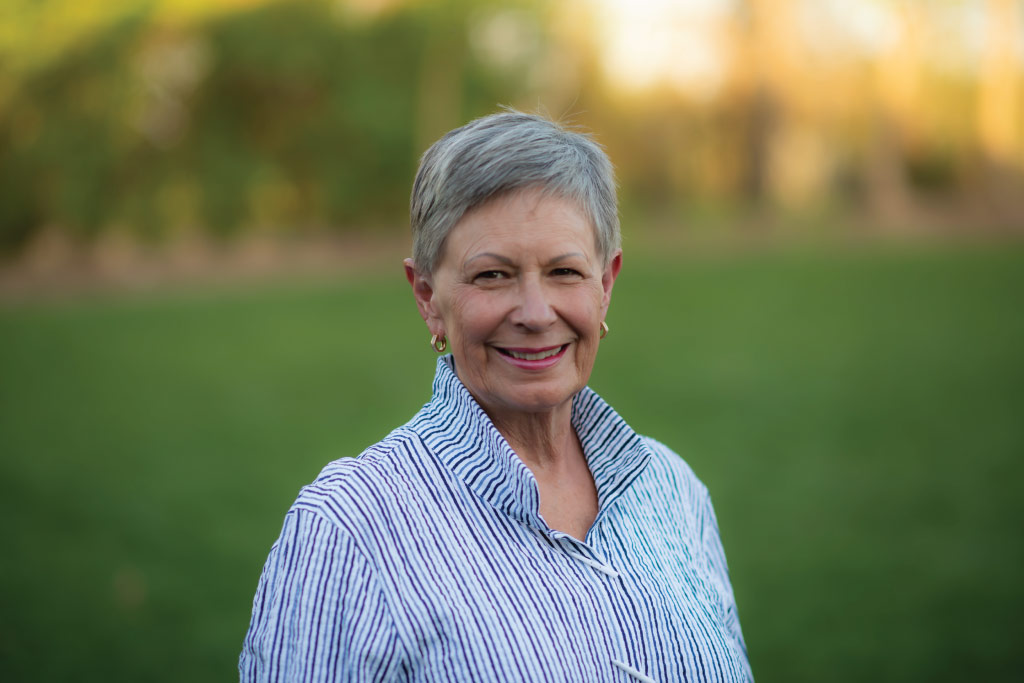 "So many times, I was the only woman around a table to give a point of view," Jody recalled. But her perspective was welcomed and, after being promoted to Chief Financial Officer, she worked in tandem with Hormel's CEO to improve equity and inclusion before retiring in 2017.
Jody's work led to Hormel receiving such honors as a 2021 Forbes World's Top Female-Friendly Company, Best for Vets in 2020, and 2018 Best Places to work for LGBTQ Equality by the Human Rights Campaign.
"It was very rewarding," said Jody, whose sound financial decisions, acquisitions and good investments also contributed to the company's growth. "I look at what the company looks like today and it's much changed since 2000 when I started as the only woman officer. I'm proud to have been part of it."
Jody's experience being one of few woman around the table began at UND. She planned to major in English when her academic advisor, Rodney Medalen, said, "You know, they're looking for more women in accounting." She took the challenge.
We've thought about how to make the biggest impact, and that is to help others be successful.
In a UND accounting class, she met her husband, Duane, '78. The two would get together with friends at Frenchy's, a popular bar close to campus at the time, to do their corporate income tax homework. Now, the couple is funding a patio outside the Nistler College of Business & Public Administration for students to gather and study.
"We've thought about how to make the biggest impact, and that is to help others be successful," said Jody. The two also established the Jody and Duane Feragen Student Scholarship Endowment in 2010 that has awarded a scholarship to 32 students.
Jody gave of her time and expertise serving on the UNDAAF's Board of Directors from 2009-2018, two of those years as board chair. She ran tight meetings and drove the board in decision-making efficiency and fiscal responsibility.
"The access the Foundation board has to senior leadership of the University … made it easier to do the ask when you're looking to fund projects," said Jody, who has also served as a board member with Patterson Companies, Inc., Graco Inc., and Girl Scouts of the USA.
"We've thought about how to make the biggest impact, and that is to help others be successful."
Although she's straightforward talking finance, Jody was at a loss for words when informed of her Sioux Award for Distinguished Service & Achievement. At first, the unassuming, first-generation college student who grew up on a farm in Deering, North Dakota, was reluctant to accept the honor.
"I don't like to toot my own horn, and I'd rather not be in the spotlight," Jody said, but Duane helped change her mindset. She now considers accepting the award as her responsibility – another way to give back to the University that taught her that being outnumbered is not always a bad thing.