On the Case
The UND Alumni Magazine is published quarterly with a goal of connecting University of North Dakota alumni and friends through stories of inspiration and impact.
The Spring 2023 issue was released in May. You can view the flipbook version here.
Features
Columns
From the Editor
Great jobs, the best people
In October, my colleague Milo Smith and I traveled to Las Vegas for the U.S. Hockey Hall of Fame game. We went a few days early to meet with alumni who live in the area.
The highlight of our trip was hopping aboard a helicopter piloted by Kyley (Foster) Taubenheim, '19, who leads Grand Canyon tours for Papillon Helicopters. Seeing the Canyon is awe-inspiring in itself; seeing it up close from above is indescribable. Even Milo's wonderful photos don't quite do it justice. Kyley's professionalism and welcoming demeanor made the experience unforgettable.
A few months later, writer Stephanie Schultz caught up with Charlene (Keller) Rittenbach, '05, a forensic scientist at the North Dakota Crime Lab, and Dr. Lavinia Iancu, program director for UND's forensic science program.
She was stricken by how much they loved their jobs, conducting lab experiments and solving crimes. In a world where people seem more likely to grumble about having to punch the clock, Dr. Iancu said, "It's like Christmas morning every day."
We have the distinct privilege of getting to meet these fascinating people doing fascinating jobs in person, and we are so proud to count professionals like Kyley and Charlene as part of the UND Alumni family.
It's our goal to make them come alive on the pages of this magazine, and we hope that you share their stories – stories that start at the University of North Dakota – with everyone around you.
- Alyssa Konickson, editor
From the CEO
The Search for Justice
Dear alumni and friends,
I'm a big fan of crime procedurals. I'm apparently not alone; the television show "CSI" and its spin-offs have amassed nearly 900 episodes. True crime procedurals are all the rage.
While the portrayals of crime labs on TV and is movies is glamorized and, as you'll read, not exactly true to life, I can imagine it is a fascinating field for those with a mind for science and a heart for seeking justice.
At UND, we are proud to be one of only two four-year forensic science programs in the Upper Midwest, training the next generation of crime scene investigators and lab technicians. Dr. Lavinia Iancu leads this program and is working tirelessly to obtain accreditation, taking it to the next level of excellence. Read more about the program.
Dr. Iancu is one of the many outstanding faculty members at UND who are passionate about working with our dynamic students. Our students are fortunate to learn from faculty with such vast experiences.
Our promise to these faculty members and their students is that we will work to grow their programs through philanthropic gifts. Your support can help us endow faculty, purchase essential lab equipment and provide scholarships to promising students.
Women for Philanthropy
What an honor to have Marilyn (Koble) Vetter, '88, as our Women for Philanthropy speaker in April. Marilyn is president and CEO of Pheasants Forever and Quail Forever, the nation's leading upland habitat conservation organizations.
Marilyn shared the importance of philanthropy to her organization and the vital role it plays in her personal life. We had a great conversation about what it means to have a philanthropic spirit.
Alumni Honors
Marilyn will be back on campus for Homecoming 2023 (Oct. 2 -7) as she's one of five alumni to earn our highest honor, the Sioux Award for Distinguished Achievement & Leadership. The others are Bob Boyd, '74, '79; Monica (Schmidt) Musich, '82; Don Schmid, '61; and Arlen Nordhagen, '78.
Also to be recognized at the Alumni Honors Banquet on Oct. 5 will be our Young Alumni Achievement Award recipients Sally (Opp) Miskavige, '07, and Josh Brandsted, '08.
We hope to see you on campus during Homecoming Week!
Board of Directors
I continue to be impressed with the dedication and commitment of those who serve on the Alumni Association & Foundation Board of Directors. Ours is not a passive board; we rely on board members to provide strategic planning, financial oversight and risk management.
We are sad to say farewell to Dr. John Gray, '87, Marten Hoekstra, '82, and Rick Lee, '78, who have reached the end of their board terms. We welcome our new board members, Twylah (Butler) Blotsky, '93, Chris Cooper, '05, '08, and Kaleb Dschaak, '20, and have full confidence that they will excel in their roles.
Alumni & Friends
A big "THANKS" to those who have opened their homes this year to host UND Alumni & Friends gatherings.
These events provide a great opportunity to reminisce and catch up while also getting important updates on student achievements and campus happenings.
Don't miss out. You can find a listing of upcoming Alumni & Friends gatherings here.
- DeAnna Carlson Zink
From the President
UND LEADS, together
The new University of North Dakota strategic plan – UND LEADS – discussed in the Alumni Magazine last November – was launched and implemented earlier this year.
The plan represents a collective effort involving thousands of people across campus, throughout the greater Grand Forks community, and with input from UND alumni and stakeholders across the country. It will serve to guide the aspirations of the UND community and our vision for the future.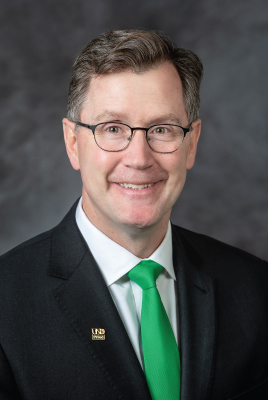 Through UND LEADS, we can achieve the University's mission to provide exceptional educational experiences that enrich the lives of North Dakotans and the global community through excellence in teaching, innovative research, and meaningful engagement.
This plan also serves as a useful blueprint in guiding UND through a current major challenge. It's been more than a year since a group of faculty and staff discovered human remains stored on our campus. These were the ancestors of American Indians, which the University began acquiring through anthropological studies in the late 1800s.
We've worked diligently since that discovery with leaders of tribal communities inside and outside our state's borders to begin the process of repatriating ancestors and sacred objects appropriately and responsibly. Through this process, we've learned that the problem is greater than initially thought and will undoubtedly require years of work to resolve.
We are committed to righting this historical injustice, which extends nationwide to hundreds of universities and museums. It will require a long-term effort to recover and restore a sense of peace to our Native American colleagues and friends – on and off campus. Just as it has been when we've faced major challenges in the past, coming together for a unified effort is critical to resolving the issue of repatriation properly and honorably.
UND LEADS on this issue, using Learning to encourage socially responsible lives, Equity to embrace diverse perspectives, Affinity to create a sense of belonging for all members of UND, Discovery to advance a better understanding of the world and the history of peoples, and Service to meet the needs of tribal nations.
I ask that we each be thoughtful and respectful of those who are suffering emotionally and feeling the pain as a result of the current situation. Please be mindful of their customs and traditions. UND will use the pillars of its strategic plan to create a path forward, a path we believe will serve as a model for the nation on how to deal with repatriation transparently and effectively in an understanding manner.
I also ask our students, faculty, staff, and alumni to consider what they each can do to lead by example. Please be considerate as your first step. Our words and our actions at this time are important to maintaining the friendly, welcoming, loving environment we desire for everyone on our campus.
- Andy Armacost
On Campus
We're forever #UNDproud of the accomplishments our students, faculty, and staff make every day. This issue highlighted just a few of them:
Content courtesy of UND Today, the University of North Dakota's official news source.
UND Athletics
Alumni in Action
Thank You, Donors!
The UND Alumni Association & Foundation sincerely thanks all alumni and friends who have made gifts and commitments to support students, faculty, programs, and places at UND. See who's listed in the Eternal Flame Society.
Recent Past Issues