Dr. Cora Smith Circle
The UND Alumni Association & Foundation added this circle to the Eternal Flame Society in honor of Dr. Cora Smith.
Members are applauded for their actions, like Smith's, to advocate for students and education in North Dakota through their giving.
The Smith History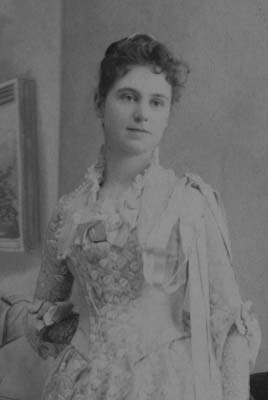 Physician. Surgeon. Teacher. Elocutionist. Mountaineer. Activist. Suffragist. Dr. Cora Smith (1867 – 1939) lived an unconventional life, and her work advocating votes for women is still remembered a century later.
A member of UND's first graduating class in 1889, Smith taught at the newly formed University of North Dakota while still a student and continued teaching after her graduation. Famed for her speaking abilities, she went on to become the first licensed woman physician in North Dakota. Most of all, she is remembered for her work in advocating voting rights for women. On campus, Smith Hall bears her name.
After graduating from UND, Smith studied medicine at Boston University. During the North Dakota Constitutional Convention, Henry Blackwell, a national suffrage advocate, addressed the constitutional convention and chose Smith as his representative. A popular orator as well as a regional celebrity, she lobbied at the convention.
In 1890, Cora and her mother, Sara Smith, became the first women to vote in Grand Forks in a school election. Even after taking a job as a physician for the Minneapolis Maternity Hospital, Smith continued as president of the North Dakota Suffrage Association and to advocate for suffrage in both states.
Smith later moved to Seattle and built a medical practice. There, she became involved in the Washington state suffrage movement, as well as mountaineering. In 1909, she planted a "Votes for Women" flag on top of Mount Rainier.
Adapted from UND Today.
Dr. Cora Smith Circle Recognition
The Dr. Cora Smith Circle honors donors who have committed between $500,000 and $999,999 to UND.
Alerus Financial
Amity Technology
Frank* & Joanne Bavendick
Orville J. Berg*
Edwin J. Berge Estate
Col. Carlton L. Bjerkaas (RET) & Linda Bjerkaas
Marilyn A. Bjerke*
Fred & Albena Blumhardt Estate
Border States Electric, Fargo
Kathleen M. Branley Estate
David A. Brown
Robert* & Frances* Buckingham
Ed* & Olive* Bushby
Carl & Wanda Bye
Cargill, Inc.
Bob* & Pat* Higgins Caudel
Center For Excellence
Marcus & Lynn Chorney
Barbara A. Clark
Helen A. Dahl*
Thomas & Ardys Dahl
Dakota Medical Foundation
Drs. Haldean & Bonnie Dalzell
John B. Davenport*
Department of Commerce, Economic Development Association
Drilling Systems (USA), Inc.
Ray Duggan*
FedEx
First International Bank & Trust
John R. Fischer, M.D.
Henrietta Stone Fox*
Alan & Clara Gray Estate
John "Jack" * & Ellen* Gray
Great River Energy
Bernadine Greenwood*
Richard Hebert
Mike & Lori Hendrickson
Elaine L. Hetland*
Al Hillstrom Family Trust
IBM Corp.
ICON Architectural Group
Mike Jacobs & Suezette Bieri
Dorothy Donnelly James*
JLG Architects
Chuck* & Cory* Johnson
Ruth Brennan Johnston*
Dr. Robert & Charlene Kyle
L. W. Huncke Foundation
Glenn* & Elaine* Lee
Paula H. Lee* in Memory of Randy H. Lee
Lynn & Shirlee Leininger
Dr. Anthony J.* & Junieve* Lund
Lunseth Plumbing & Heating Company/William O'Connell
David & Mary MacMillan
Richard J. Maginn, M.D.*
Erwin & Colleen Martens
Solveig P. Matlock*
Bob & Kathy Mau
Dr. Donald* & Marjorie* Meredith
Midco Sports
Mikkelson Consolidated, LLP
Fritz Mikkelson Family
Minnesota Mining & Manufacturing
Minnkota Power Cooperative, Inc.
Todd & Liz Mitzel
Lauris Molbert & Laurie Kusch Molbert
Dale R. Monsebroten*
Lucille M. Nilson Estate
Arlen & Wendy Nordhagen
Robert M. Olafson
Donavan & Gail Olson
Janet F. Olson*
Otter Tail Corporation
Jack & Kristen Paris
George* & Ruth* Perrott
Piper Aircraft, Inc.
James & Nicole Poolman
Darold* & Lyla* Rath
Dr. Linda L. Redmann Estate
Kenneth P. & LuAnn Regan
Rosa Ruger Estate
Scott* & Susan Sayer
Myrtle Peterson Schmidt*
Harry* & Bernice* Schwenke
Jim* & Nancy* Seifert
Drs. Donald & Mary Ann Sens
Harold* & Helen* Smith
Floyd B. Sperry*
Ethel M. Stone Estate
DeWayne* & Mona Streyle
Keith & Jo Streyle
The Gertrude E. Skelly Charitable Foundation
Mark & Claudia Thompson
Alyce Travers*
UCB Insurance Agency
Edna Ullyot Estate
Chad & Stacy Wachter
Dr. Hudson & Christine Washburn
Burness G. Wenberg Estate
Lisa J. Wheeler
Dean & Mae Wieland
John F., Jr.* & Peggy Williams
Lew Wilson
Dr. John & Delores Witt
Drs. Joshua Wynne & Susan Farkas
Xcel Energy, Grand Forks
BOLD indicates new to this level
* Indicates deceased
Reflects donations processed through 06.30.23
Donations include those that were matched by the North Dakota Higher Education Challenge Fund