Adelphi Circle
Named after UND's Adelphi Fountain, the Adelphi Circle is the most prestigious level of the Eternal Flame Society.
Its members represent a commitment to UND as resilient as the historic fountain. These members are respected not only for their generosity, but also for the wisdom and counsel that flows out of their love for the University.
History
Built in 1907, the Adelphi Fountain was the first purely aesthetic addition to campus as a gift to UND from the Adelphi Literary Society, UND's first student organization. Since 1928, the fountain has remained on the west bank of the English Coulee between the Hughes Fine Arts Center and Burtness Theatre.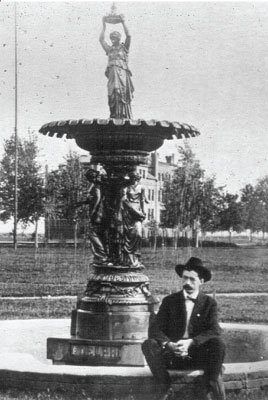 At the top of the fountain stands a likeness of Pythia, a Roman oracle and priestess, holding a plate from which inspiration is said to flow out in the form of water. During the Roman era, Pythia was one of the most powerful women in the world due to her wisdom, insightfulness, respected counsel and celebrity.
The three muses surrounding the bottom of the fountain represent many cultures. One holds a sheaf of wheat, another a scroll and the third carries a lyre. The wheat sheaf symbolizes charity and love; the field from which it was harvested represents the church. The scroll is a symbol of learning, enlightenment, communication, and sacred writings. The lyre is a symbol of music and harmonics, poetry, classical antiquity, and Greece.
After withstanding the elements of harsh North Dakota winters and floods, the fountain was in growing need of repair. In 2006, a gracious estate gift from Roy and Elnora (Hopper) Danley, '37, resulted in the restoration of the fountain, the Remembrance Wall and the Hopper-Danley Memorial Chapel. A brick sidewalk, cement benches and a flowerbed has added to the fountain's charm.
Adapted from the Dakota Student.
Recognition
The Adelphi Circle honors donors who have committed over $5 million to UND.
Altru Health System
B. John Barry Family
Rick & Jody Burgum
Continental Resources, Inc.
Roy & Elnora H. Danley Estate
Engelstad Family Foundation
Dr. Eva L. Gilbertson Foundation
Hal & Kathy Gershman
Benedict F.* & Dorothy J. Gorecki
Glen* & Janice Gransberg
Harold G. Hamm
Henry & Judee Herr
Hess Corporation
Kenneth Hyslop Estate
The Estates of Robert & Elizabeth Kratt
Tom & Konnie Middleton
Dr. David & Lola Monson
Colleen & Werner G. Nistler, Jr. on behalf of the Nistler Family
James C. Ray*
Touchmark
Reflects donations processed through 06.30.23. Listing updates are temporarily on hold as we continue to update our new database software. Thank you for your patience during this process.
BOLD indicates new to this level
* Indicates deceased
Donations include those that were matched by the North Dakota Higher Education Challenge Fund