Robin Turner, '89
Director of Development, College of Engineering & Mines
robint@UNDfoundation.org | 701.777.1428 | Connect on LinkedIn
Why I Wear Green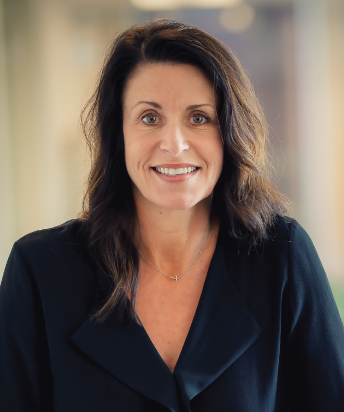 UND has been a big part of my life. My father worked at the UND bookstore and I started working in the concession stands at all UND sporting events with my mom at age 12. I am so honored to work with our alumni, corporations and friends that continue to amaze me by sharing their time, talents and treasures with the University of North Dakota.
Overview
Robin abides by the Golden Rule: to treat others how she would like to be treated. She strives to represent the University of North Dakota with genuine respect and integrity. Working closely with college leadership, Robin communicates the needs of UND and the College of Engineering & Mines to alumni, corporations, foundations, and friends, and works to help the College reach its goals.
Robin likes to be outdoors as much as possible, walking their goldendoodle, Millie; gardening or biking with her husband. They enjoying spending their summers at their lake place with family and friends. She was a student-athlete at UND, playing on the women's fast-pitch softball team. Her two sons, Jayce and Reed are UND Graduates. Jayce graduated with a Doctorate in PT in 2021. Reed graduated with a minor in civil engineering in 2021 and a masters in civil engineering in 2022.
Qualifications
BS, Business Management, University of North Dakota
Dale Carnegie Sales Training
Knowledge
Robin regularly meets with alumni and friends across the country who share her passion for UND. "These alumni credit UND for their amazing accomplishments," she says. "That's really special." Through her work, she has helped build the College of Engineering & Mines endowment, creating scholarships and connecting alumni back to initiatives that support their alma mater.
Community
Supporter of:

Community Violence Intervention Center (CVIC)
Northlands Rescue Mission
Circle of Friends Animal Shelter
Feed My Starving Children
Compassion International – Sponsoring a child in Honduras
Local food pantries

Volunteer, Calvary Lutheran Church
Former Board President, Grand Forks Foundation for Education