Matthew Scheerer
Associate Director of Development Communications
matthews@UNDalumni.net | 701.777.2813 | Connect on LinkedIn
Why I Wear Green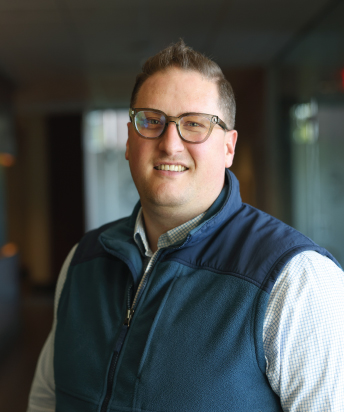 When I moved to the Red River Valley (as a student-athlete from the College of the Redwoods) to attend the University of Minnesota-Crookston, I had never before experienced a community so supportive of its university. Once in the area, I quickly learned how special the University of North Dakota is. I already knew about UND's rich athletic history so when an opportunity presented itself in the UND Athletic Department, I was all over it. UND has offered me so much and I'm thankful. I want the world to know how special our home on the prairie is.
Overview
In his job as Associate Director of Development Communications, Matthew works with our development officers on gift proposals and on the creation of giving materials, often collaborating with the deans of the colleges. When he has spare time at work, he writes for the Alumni Magazine.
A music lover, Matthew enjoys listening to his vinyl collection and playing the tuba in the Lake Agassiz Wind Symphony. He also documents his family with film photography, often using his grandmother's Kodak Brownie Target Six-20. He enjoys spending time with his family and walking his greyhounds, hiking, reading autobiographies, and cooking – he's working to perfect his barbecue techniques.
Qualifications
BS, Sports and Recreation Management, University of Minnesota, Crookston
MA, Non-Profit Leadership, University of Jamestown
Knowledge
Matthew brings experience in publication design, writing, collaboration and ideation; he also brings knowledge of UND, having served as the communications director for UND Athletics where he helped start the Student-Athlete Inclusion and Diversity (SAID) committee. "I am passionate about diversity, equity and inclusion, working as an ally to amplify the voice of others and open doors for everyone."
While an employee of the Northern Illinois University Athletic Department, Matthew was the creative director on quarterback Jordan Lynch's Heisman Trophy campaign.
Community
Member of the Lake Agassiz Wind Symphony