Jonathan Gehrke, '06, '11
Director of Development,
John D. Odegard School of Aerospace Sciences
jonathang@UNDfoundation.org | 701.777.2633 | Connect on LinkedIn
Why I Wear Green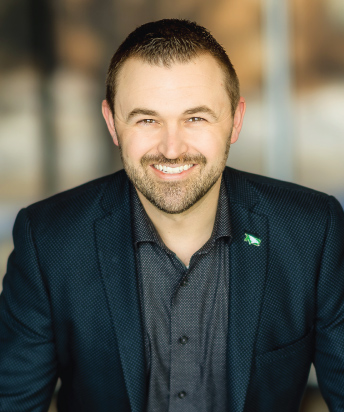 I wear green because this university has always treated me like family. The faculty demonstrated that they cared for me, I met my wife here, and made lifelong friends during my time at UND. Working in the aerospace industry reaffirmed the importance of the Odegard School to the industry. I'm thrilled to contribute to its future success and vibrancy.
Overview
Jonathan is fascinated by people. He gets excited about hearing the stories and seeing the successes of those in the aerospace industry who have been impacted by the John D. Odegard School of Aerospace Sciences. He works with leadership at the School of Aerospace Sciences to strengthen relationships among alumni, corporate partners, and friends of the University of North Dakota.
The value of these relationships goes far beyond fundraising. Hearing from alumni in their roles, listening to their ideas, and keeping a pulse on the industry helps to inform decisions regarding future programming within the School. Strong scholarship programs, faculty support, and the annual funding our generous donors provide allows the Odegard School to continue to offer students a world-leading aerospace education and access to opportunities they never thought possible.
Jonathan and his wife, Ashley, have three sons Josiah, Elijah, and Micah.
Qualifications
BBA, Aviation Management with a minor in economics, University of North Dakota
MAcc, University of North Dakota
Commercial pilot
Certified Public Accountant (inactive)
Project Management Professional
Knowledge
Prior to his role at the UND Alumni Association & Foundation, Jonathan worked for Cirrus Aircraft in Duluth, Minn., as the Project Manager for the Cirrus SF50 Vision Jet – the world's first single-engine personal jet to achieve FAA type certification. He attended the award ceremony in Washington, D.C., when Cirrus was awarded the Collier Trophy for the launch of the Vision Jet. "It is a special airplane, a great team, and a unique opportunity to be a part of an historic project," Jonathan says.