Jenny Wolf, '03
Director of Creative & Brand Strategy
jennyw@UNDalumni.net | 701.777.3074 | Connect on LinkedIn
Why I Wear Green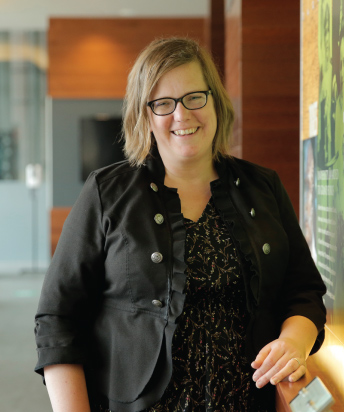 I remember my first time on UND's campus. I was there with my high school newspaper team for a competition (NIPA). That day I fell in love. UND was the only school I applied to and it became home. I still feel this connection today. I met my husband at UND and got married in University Park. My times at UND were some of the best in my life, and I'm honored to be working here and supporting my alma mater.
Overview
Jenny credits UND and her professors for challenging her to form new ideas and leading her down the path of graphic design. Today, as the Director of Creative & Brand Strategy, she oversees the look and feel of the UND Alumni Association & Foundation's marketing efforts. A process-minded communications whiz, she is the lead designer of the UND Alumni Magazine and drives design strategy for events, fundraising materials, digital marketing, and more.
Jenny is the proud owner of the world's cutest 1968 Winnebago. When she's not camping in it, you might find her at the park with her husband and two children, listening to a podcast, or hitting up a nearby garage sale.
Qualifications
BS, Communication, University of North Dakota
AAS, Graphic Design, Art Institutes International Minnesota
10-time award-winner, National Council for Marketing & Public Relations
Knowledge
Jenny has worked in higher education marketing and communication for over a decade. Hailing from Williston (N.D.) State College as their Director of Creative Services, she has experience in everything from writing press releases to social media to event coordination. Jenny is happy to be focusing on her true passion, graphic design, as part of a team that works so hard to foster connections, inspire generosity and advance UND.