Alyssa Konickson, '06
Associate Vice President of Marketing & Communications
Editor, UND Alumni Magazine
alyssak@UNDalumni.net | 701.777.5819 | Connect on LinkedIn
Why I Wear Green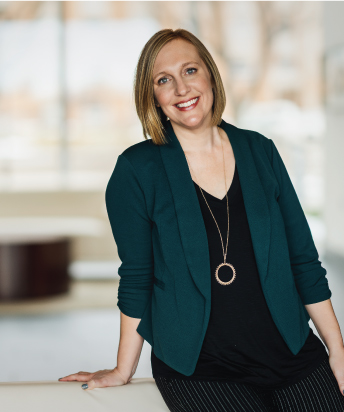 It is a privilege and an honor to visit with our alumni and hear their stories. They go on to do great things, yet they stay true to their humble UND values. Every single conversation with an alumnus inspires me.
Overview
Once given the nickname "Lois Lane," Alyssa has a knack for sniffing out a good story, and with an alumni base of 130,000, good stories seem to fall in her lap. As editor of the UND Alumni Magazine, she coordinates the creation, production, and delivery of compelling communication initiatives across various platforms. She leads the marketing & communications team, specializing in strategic messaging and project management.
She exercises her creativity to advance the University of North Dakota, and she also exercises her creativity in the kitchen, where she enjoys experimenting with recipes and cooking methods. In the summertime, her tiny garden keeps her busy during the week, and weekends are spent at Stump Lake, N.D., around a campfire with her husband and two sons. Alyssa's favorite season is football season, and her family never misses a Fighting Hawks home game.
Qualifications
• BA, English, University of North Dakota
• BA, Communication, University of North Dakota
• Participating Member, Valley MarComm
Knowledge
Alyssa has served various marketing and communications functions at the UND Alumni Association & Foundation, creating high-impact pieces for North Dakota Spirit | The Campaign for UND, alumni awards and donor profiles, speechwriting, and general electronic communications initiatives. She puts her breadth of knowledge about the University and Grand Forks communities, combined with years of multichannel communications experience, to work in sharing the UND Alumni Magazine with 130,000+ alumni and friends across the world.
Community
Board member, Greater Grand Forks Downtown Development Association