Critical Care
Alumna gives back to College of Nursing & Professional Disciplines to support hands-on education for students.
The spirt of giving is contagious in the McKnight family. Just a few years after her husband Tom's generous donation to his alma mater, Mary "Mimi" (Halldorson) McKnight, a 1973 College of Nursing (CON) grad, realized she wanted to make an impact at her University as well. "When you see students benefiting from your gift and you know you made a difference, that's a great feeling," Mimi said.
Currently living near Austin, Texas, Mimi visited North Dakota last summer where she re-connected with an old college friend and sorority sister Bridget Narloch Thompson, '73. Bridget, who had recently retired as a long-time CON professor, took Mary through the Simulation Center at the College and explained how students are benefitting from high-tech and hands-on learning experiences.
"Back when I was a student at UND we just used those CPR mannequins. The technology and opportunities available to nursing students now are amazing," said Mimi of the College of Nursing, which became the College of Nursing and Professional Disciplines (CNPD) in 2012.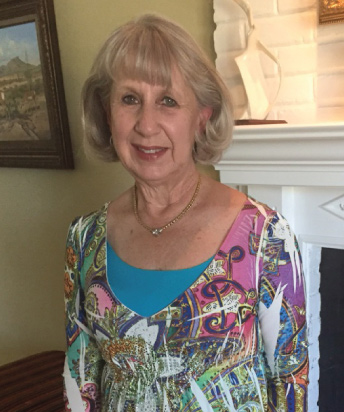 After being made aware of much-needed updates to the Sim Center, Mimi chose to donate $100,000 to create the Halldorson Family Lobby, an area of the Clinical Resource and Simulation Center (CRSC) in the College. The renovations will fund a warm and welcoming entrance and create an improved traffic flow in the area that is used by nursing students, faculty and prospective students.
"Providing innovative simulation education is vital to the success of all of our nursing programs. Mimi's generous gift allows us to improve our Center's main entrance and coordination areas. We are very grateful for her support," said Darlene Hanson, CRSC Director.
Jay Erickson, director of development for the CNPD adds, "We are very fortunate to have generous and passionate people like Mimi who are invested in the future of high-quality nursing education."
Simulation is an innovative technology that supplements but does not replace clinical experiences for students. Because hospital stays are shorter than in the past, students may not get to see all of the situations they should be prepared for before graduation.
Hanson explains that the need for experiential learning has never been greater than in recent years, adding that today's students learn better when actively engaged, rather than in a lecture environment. "Simulation is a safe environment where students experience a situation that requires them to deliberately practice their nursing skills. Students report that the simulation experiences are recalled later when caring for real patients, and that simulation has better prepared them to respond to the needs of real patients," she said.
Educating tomorrow's nurses to meet these ever-changing needs is Mimi's passion. She spent the majority of her professional career at Midland Memorial in Odessa, Texas, where she worked closely with area nursing schools. During this time she developed and administered a graduate nursing program which assisted nurses in their transition from the classroom to clinical setting. "I observed how quickly the reality of a busy clinical floor set in and how daunting the experience can be. I can only imagine how much more this is true today with the more acutely-ill patients and the shorter inpatient stays," Mimi explained.
I still have family members in North Dakota who will benefit from the best nursing care UND can provide.
Because of the challenges Baby Boomers are putting on the healthcare industry, Mimi believes well-rounded nurses are vital in healthcare more than ever before. "I still have family members in North Dakota who will benefit from the best nursing care UND can provide. My parents were both inpatients at Altru Hospital and I was able to see the excellent care they received from their nurses, most of whom were UND graduates," she said.
Mimi's father, Richard, and her mother, Ellyn, from Cavalier, North Dakota, have since passed away, but Mary feels that through this gift, she can honor their hard-work and commitment to higher education. "I wanted to use my maiden name on this gift because I recognize my nursing degree from UND as a privilege. It wasn't the norm for women to attend college back then but my parents knew the importance of higher education for their children. They worked hard and made sacrifices so my brothers and I could go to UND," Mimi explained.
Construction is expected to begin on the Halldorson Family Lobby this winter. Mary looks forward to visiting campus once it's complete. "UND is such a beautiful place and it's so fun to see students doing well there. Knowing that they are growing and learning because of my gift is so exciting."
WAYS TO GIVE
Giving online is a safe and simple way to support the College of Nursing & Professional Disciplines. Learn about different giving opportunities here.