Back on Track
Whether it's on the track or in the classroom, UND graduate Erica Benson isn't discouraged by challenges; she's motivated by them.
As a full-time nursing major and student-athlete, she had to master the skill of time management and resiliency.
Erica grew up in Grand Forks before moving to Mankato, Minnesota, her 8th grade year. After four years had passed, it was time for her to make the decision of where to attend college. It was a no-brainer for Erica; her close ties to UND would bring her back home. She was attracted to UND's highly accredited nursing program and was also recruited to the track & field team to compete in the pentathlon, heptathlon and high jump. She currently holds the school record for the heptathlon.
When the COVID-19 pandemic struck, Erica's world shook. She found herself unable to work in addition to her busy schedule as a student-athlete, leaving her with an overwhelming feeling of anxiety and uncertainty. She even felt tempted to quit what she was most passionate about – becoming a nurse and competing in track & field. In March of 2020, Erica applied for the UND Angel Fund scholarship, a program that provides financial assistance for students towards overcoming barriers in completing their education.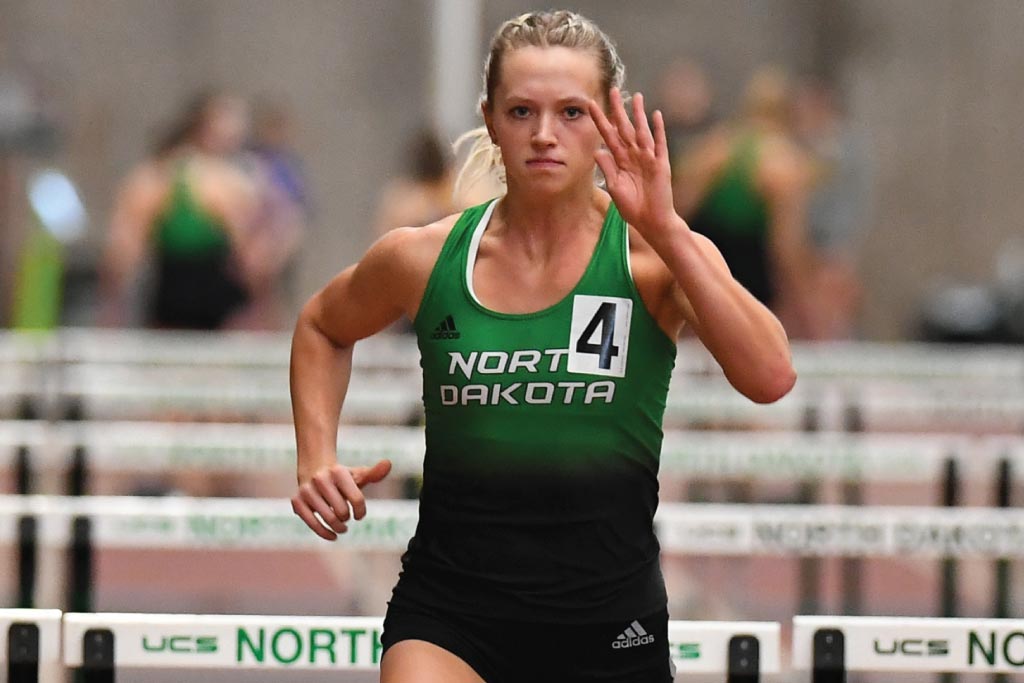 When Erica received news that she was chosen as a scholarship recipient, a huge weight was lifted off her shoulders and she felt immediate relief. "I was so happy and felt so special. With not being able to work during this time it was a huge blessing to me," Erica said.
Since the UND Angel Fund push in early 2020, over $335,000 has been raised, impacting over 350 students who, like Erica, wanted to give up.
Erica is back on track, having just completed her studies to become a neonatal nurse. She plans to start her career in a NICU in the Minneapolis/St. Paul area. "I'm very passionate about my goals. I could have quit when I was afraid, but I still have so many goals to reach and I'm not done until I fulfill those goals. I hope my donors know that they've inspired me to help students later in life when I can," Erica said.
SCHOLARSHIPS
The UND Angel Fund provides financial help for students overcoming challenges to completing their education. By contributing to this fund, you help current students with their immediate needs and ultimately achieve their dreams of receiving a college degree. Find out about ways to support students through scholarships.