From Paintbrush to Stethoscope
UND alum remembers the scholarship that shaped his future as he returns the favor for students and faculty.
Dr. David Monson remembers the moment he received his scholarship to UND. It was the summer of 1957, and he was painting the door of his high school in Climax, Minnesota. With brush in hand, he was handed an envelope with $95 from a visiting professor.
"I was very glad to get that," Dr. Monson recalled. "I had asked for an athletic scholarship, but they came up with something else. At the time, $95 went pretty far in my life." He was planning on being an engineer, but with that scholarship, he pursued medicine instead.
After completing his undergrad in 1961, Dr. Monson attended UND's two-year medical school while his wife Lola (Rognlie), '60, used her home economics education degree to teach. Money was tight, "but it's not what we're looking at now," Dr. Monson confirmed, where the average debt of a UND medical student stands at $167,000.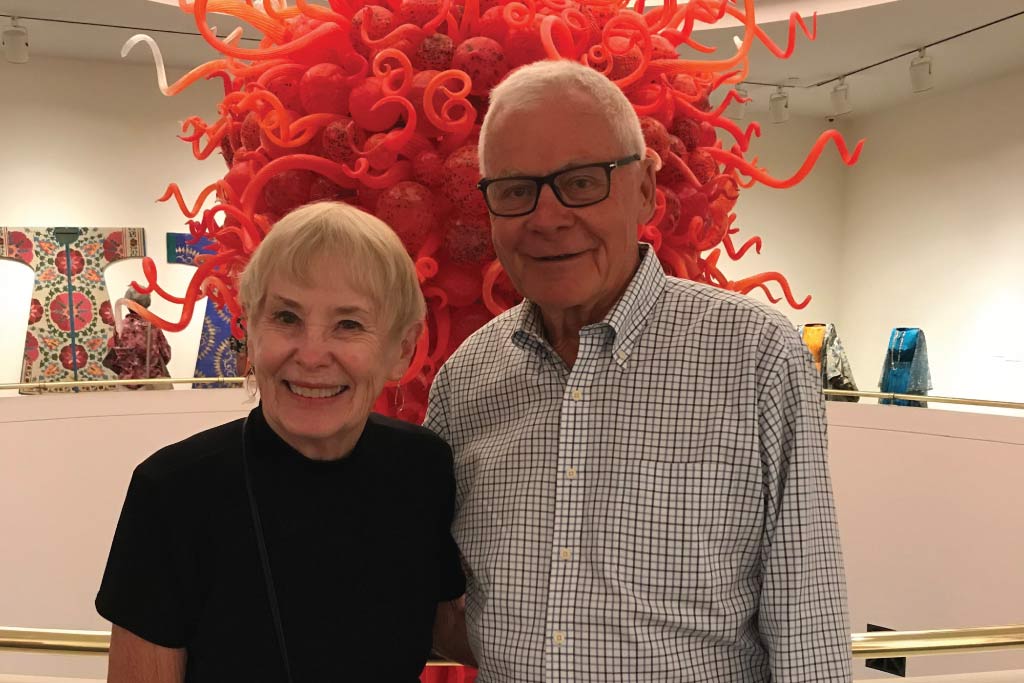 The couple has built a life in Illinois around Dr. Monson's cardiothoracic surgery career. Though he's surpassed painting doors to earn an income, he and Lola honor what's got them this far. They've focused their giving on UND's School of Medicine & Health Sciences (SMHS), establishing two endowments. The first funds an endowed chair position held by Richard Van Eck, Ph.D., who teaches students new technology useful in healthcare practices. The second is the largest scholarship endowment at SMHS. It helps several students each year make their way through medical school.
Through their support, the Monsons hope to make the transition from medical school to profession a smooth experience for new graduates. "The volume of information is great and ever-changing as the medical degree is achieved, leaving little time for earning income. Scholarship support is our way to help students avoid a financial burden," Dr. Monson explained.
WHAT IS AN ENDOWMENT?
Endowments provide a special opportunity to build the future of students, faculty, and academic departments at the University of North Dakota. You can start or contribute to an endowment fund at any time.
TYPES OF ENDOWMENTS:
Student support
Faculty support
College/school support
Click the link below to start leaving your mark on the future of UND.