Solving Problems
UND alum uses life lessons and a passion for education to help students by creating scholarships.
Hudson Washburn, '71, is passionate about education. From a young age, his mother, Mabel, emphasized the importance of taking advantage of the opportunities presented to him. "One thing that has been overriding in my life is that my mother valued education above all else," he shared. "She only graduated from the 8th grade, but always regretted not having the opportunity to continue her education. She always told us to make the most of whatever was available."
Those values inspired him and his wife, Christine, to pay it forward and create a full academic scholarship at the University of North Dakota. The recipient will be a student from Lamoure County in North Dakota, where Hudson grew up.
Hudson decided to pursue his undergraduate degree at UND because he wanted to receive a broad education. He considered the University to be the best place in the Midwest for academia and wanted to have the opportunity to learn everything UND had to offer. While on campus, he received degrees in math and physics, discovered his love of hockey, met lifelong friends and mentors, and expanded his worldview. After graduation, he joined the army, got his PhD, and moved to California to work in the high-tech industry. He formed a company with some colleagues that makes switches for fiberoptic networks.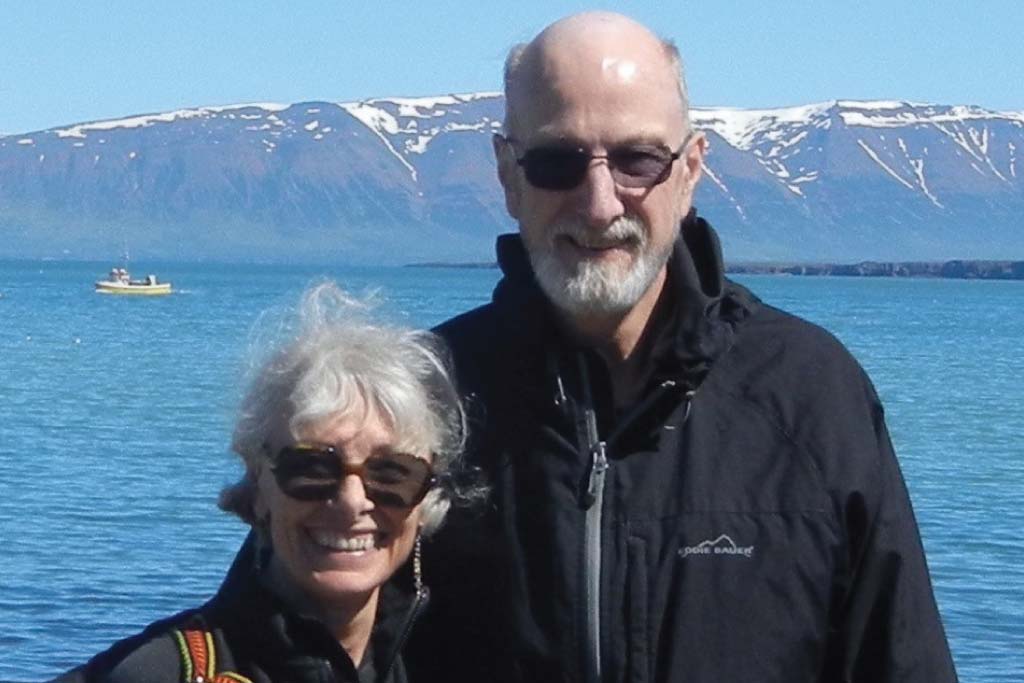 Although he is now retired, Hudson still enjoys learning and researching, especially in the field of geology. "It's fun to be out in the countryside," he shared. "You do a lot of field trips, I look for faults, it's a lot of fun." He is a volunteer researcher at San Jose State University, and fondly remembers his time in Grand Forks, especially watching hockey games in the Barn and working in the physics department with Professor Henn Soonpaa.
Hudson says his career in physics served him well when it comes to his love of research and learning something new. "My whole career has been about solving problems," he said, which is where his passion lies. He likes the opportunity to expand his horizons and continues to be a lifelong learner at the age of 71.
He hopes the students who receive the scholarship have that same curious, dedicated outlook on life, and work to solve the world's problems. "The broad perspective that students get with their education at UND is the value I hope this scholarship offers," he said. "When I got there, it was just amazing to me. Lecturers would come in from different parts of the country, different parts of the world, and you'd go and listen to what they had to say. It was a whole different world than I had growing up in Edgeley."
The broad perspective that students get with their education at UND is the value I hope this scholarship offers.

Hudson Washburn, '71
Hudson hopes that by providing students with the opportunity to go to college their worlds too will be opened up. He loves the culture of UND, the atmosphere, students and professors. He's seen the impact that a UND education can have on one's life and is excited to see what the students who benefit from his generosity accomplish.
"It has been a pleasure to get to know Hudson and Christine," said Jeff Dodson, Director of Development at the University of North Dakota Alumni Association & Foundation. "They are such kind, humble and giving people and their generosity is going to change lives forever."
SUPPORT A UND STUDENT
Scholarships provide valuable financial support as UND students pursue their dream careers. Learn more about the impact of scholarships and how you can help a student overcome financial hurdles.