Val Sussex, '09, '11
Director, North Dakota Champions Club
vals@UNDfoundation.org | 701.777.4078 | Connect on LinkedIn
Why I Wear Green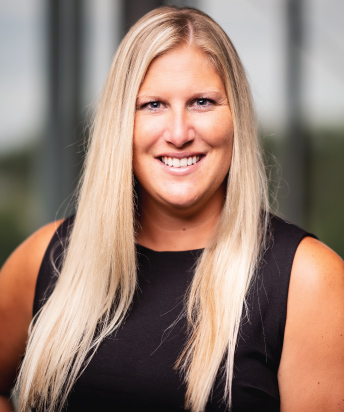 UND means the world to me. I was fortunate to get a great degree at UND while playing the sport that I loved. I want to do everything I can to make sure student-athletes today have the same amazing experience I had and leave UND with the same love for their University that I feel today.
Overview
No matter the UND sporting event, chances are Val will be there. While running the day-to-day operations of the North Dakota Champions Club, Val does her best to promote the accomplishments of UND Athletics. Whether organizing the bi-annual Champions Ball or manning the Champions Club tent during tailgating, she is helping UND alumni and friends support our talented student-athletes as they fulfill their mission of being champions in the classroom, community, and competition.
A former UND women's basketball player and coach, Val's love of UND Athletics is shared with her family – her children, Baker and Lauren, look up to UND student-athletes as role models. When it's not game day, she and her husband Jackson enjoy being outside with the kids, riding bike and heading to the lake in the summer. They're season pass holders at Chahinkapa Zoo in Wahpeton, N.D., and visit the animals every chance they get.
Qualifications
BS, Elementary Education with a minor in coaching, University of North Dakota
MS, Educational Leadership with an emphasis in higher education, University of North Dakota
Knowledge
Val lives and breathes UND Athletics, and for her, there is no off-season. Every summer, she travels around North Dakota and Minnesota leading the Champions Golf Tour. In the fall, the UND Hall of Fame banquet lets her connect with former student-athletes who laid the foundation for success at UND. During the winter months (aka basketball season), she provides color commentary during men's and women's basketball games for MidCo Sports. And when springtime hits, she looks forward to March Madness for all sports and the playoff runs of our student-athletes.