Stephanie Schultz, '91
Associate Director of Storytelling & Content Strategy
stephanies@UNDalumni.net | 701.792.6753 | Connect on LinkedIn
Why I Wear Green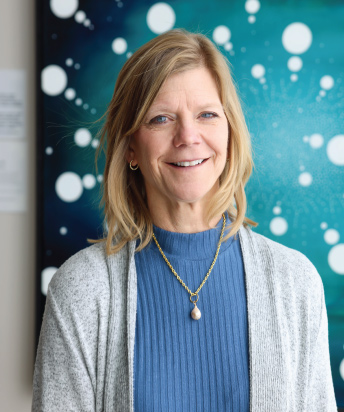 I grew up listening to my mom sing the UND Fight Song. (I put my kids through the same torture!) I didn't consider any place other than UND and I loved college. I had opportunities to excel academically; I worked at the newspaper and held leadership positions in my sorority and in other student organizations – all experiences that made me a well-rounded professional. I've worked in several cities and have met people from all over; North Dakotans have a work ethic that is above and beyond, and we are downright nice! I wear green because, no matter where I go, I am always North Dakota and UND proud.
Overview
Stephanie is always telling stories so it's no accident that "storyteller" is part of her title. She's written for tech companies, government contractors and nonprofit agencies; but writing about UND alumni and friends is by far her favorite topic. She is pleasantly surprised by the number of alumni she contacts that know a member of her family.
When Stephanie's not working, you might find her at CrossFit, walking the dog, reading or gardening. She is married to Andy. They have two kids, Gracie and Drew.
Qualifications
BA, Journalism, University of North Dakota
MS, Marketing, University of Maryland
Community
Stephanie led a youth basketball league for many years. She now coaches an older age group, leading exercise at an assisted living facility.