Sarah Prout, '07
Vice President of Marketing & Communications
sarahp@UNDalumni.net | 701.777.5826 | Connect on LinkedIn
Why I Wear Green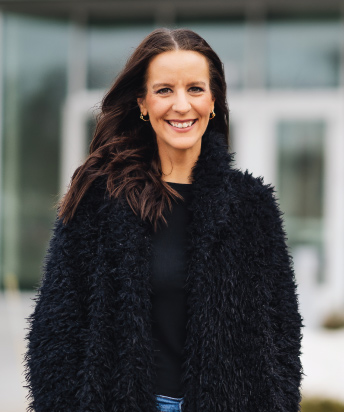 We do work that matters for people who care. Knowing that your gift can be anything because it's worth everything. That alone makes the work worth doing.
Overview
When Sarah has a vision, she thinks big. As strategic leader of the marketing and communications and events team, Sarah directs branding and message development for fundraising campaigns and alumni engagement. She leads a team responsible for the image of the UND Alumni Association & Foundation through events, publications, stewardship and donor appreciation, social media, storytelling, video and web.
Sarah leads an active lifestyle, moonlighting as a yoga instructor and running, cycling, swimming, or hiking when she can. An avid gardener, she loves the outdoors and a good campfire – she considers herself a s'mores connoisseur. She and her husband Tom, along with their three spunky children, take pride in the renovations they have completed on their 1944 home. And when Sarah finally puts her feet up, you can find her catching a rerun of The Office.
Qualifications
BA, Communication with emphases in public relations and advertising, University of North Dakota
Knowledge
Sarah's vast experience in marketing, branding, graphic design, events, and community development led her to the UND Alumni Association & Foundation, where she says she loves being a part of something bigger than herself. Since joining the team in 2018, she has enabled a re-envisioned UND Alumni Magazine, helped launch the UND Angel Fund, and was instrumental in the Nistler College of Business & Public Administration building campaign. "What a time in our university's history," she says. Sarah's favorite annual event is the Alumni Honors Banquet – where she enjoys celebrating those who got their start right here at UND.