Peter Johnson, '81, '82
Director of Government Relations & Public Affairs
peterj@UNDalumni.net | 701.777.4317 | Connect on LinkedIn
Why I Wear Green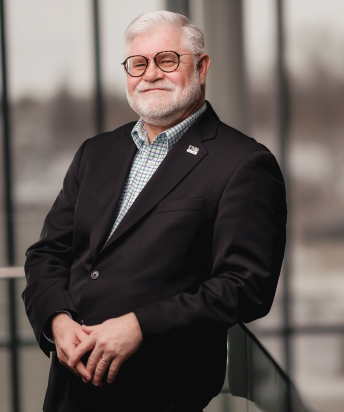 I wear green — bleed green — because I believe in the transformative power of higher education. I am one of tens of thousands who pursued their education, career and life goals at the University of North Dakota. My family holds dozens of degrees – and counting – from UND.
Overview
A part-time employee, Peter provides leadership for the government relations functions of UND. He sustains a program to engage regional, state, and federal policymakers to maximize support needed to achieve institutional objectives including strategies to advance UND's mission and the UND LEADS Strategic Plan. Peter also directs the UND Caucus, a dedicated group of alumni and friends committed to helping advance the goals of UND and the UND Alumni Association & Foundation.
Peter enjoys longtime interests in literature, film, music, theater, and other creative arts. Once a year, he gathers with his brother and friends to spend a week "scaring fish and absorbing nature." He hikes, camps, rides his bicycle, and walks the Grand Forks Greenway. A "pretend handyman," Peter likes to putter around the house.
Qualifications
BA, English, University of North Dakota
BS, Education, University of North Dakota
Public Relations Society of America
Council for Advancement and Support of Education
North Dakota Professional Communicators
North Dakota Newspaper Association
Society of Professional Journalists
Northern Interscholastic Press Association
North Dakota University System Public Affairs Council
Lecturer in Composition, Journalism and Public Relations at UND and Lake Region State College
Knowledge
Knowledge
During more than 30 years as UND spokesperson and, for part of that time, head of UND's main public relations and communications function, Peter developed many relationships with individuals in North Dakota's public and private sectors. He continues to work with these individuals — governmental, business, and community leaders from throughout the state — on behalf of UND and the UND Alumni Association & Foundation.
Community
Anne Carlsen Center Board of Trustees
Member, Franklin Club
Member, Deutsche Kinder Chapter — Germans from Russia