Paula Bradbury, '94
Associate Director of Stewardship & Donor Appreciation
paulab@UNDalumni.net | 701.777.6905 | Connect on LinkedIn
Why I Wear Green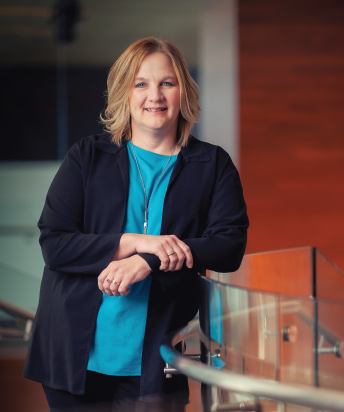 From the moment I stepped on campus in 1990, I felt like I was at home and that feeling has never changed. I feel honored that I get to work with a fabulous team at the UND Alumni Association & Foundation. Sharing my love for UND and all that it encompasses is a dream come true!
Overview
"Thank you." We can't say it enough, and lucky for us, we have Paula coordinating the many different ways we can express our thanks. She shows donors how their generous gifts impact students at the University of North Dakota.
When she's not helping donors feel great about their generosity, you might find Paula at the lake with her family, reading, or playing piano.
Qualifications
BS, Nursing, University of North Dakota
Knowledge
Paula and her husband moved away from Grand Forks for two years, but their love for the University of North Dakota pulled them back. Witnessing how profoundly students are impacted by UND alumni and friends solidifies her appreciation for her alma mater. Paula has the pleasure of connecting students' thankfulness to the donors who so profoundly change their lives through scholarship support.