Mitch Wigness
Director of Development, College of Arts & Sciences
mitchw@UNDfoundation.org | 701.777.3678 | Connect on LinkedIn
Why I Wear Green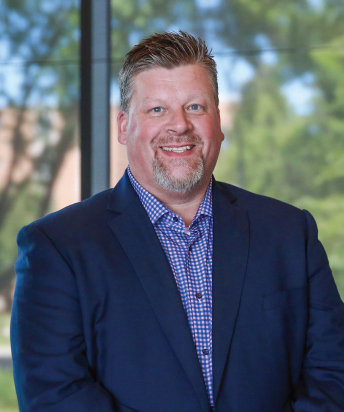 My parents moved us to Grand Forks in my childhood (because of UND) and have never left. While I've ventured away, this place has a magnetic pull that always draws me back. The wonderful people here in this community make it a fantastic place for me to now raise my family. The amount of pride that UND alumni and friends have for their school just doesn't exist elsewhere — for good reason.
Overview
On a daily basis, Mitch shares his passion for the University of North Dakota with alumni from the College of Arts & Sciences. He communicates our success stories and the many opportunities to make a lasting impact on the future of UND, its current and future students, and the many great faculty members that inspire the next generation of leaders.
Mitch's two young children keep him on his toes, and he loves being a dad and following them to their activities. Mitch is proud to support his wife, Alyssa, the owner of a local nail salon, the Nail Lab. He's an avid follower of UND sports, and enjoys all kinds of music, spending time with friends, and traveling the country finding Diners, Drive-Ins and Dives.
Qualifications
BA, Telecommunications and Film, Eastern Michigan University
Knowledge
Prior to joining the UND Alumni Association & Foundation, Mitch spent two decades in higher education – including 12 years with UND Athletics – in communications and media relations. He worked closely with nearly every UND sport in that time, also lending his talents to radio play-by-play and television broadcasts. He is well-versed in the stories of current and past UND student-athletes.
Community
Coach, Youth Football
Member, East Grand Forks Schools Music Booster
Helps with Sunday School, Calvary Lutheran Church