Mike Mannausau, '99, '03
Vice President of Development
Contact Mike | 701.777.3677 | Connect on LinkedIn
Why I Wear Green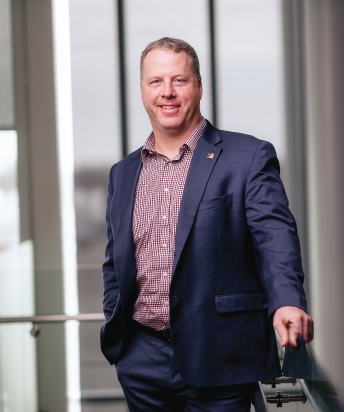 That's easy: the people. UND has a great academic tradition, athletic history, and tremendous facilities that have all made a worldwide impact. But none of that compares to the type of people that UND produces and how those people feel about this special place.
Overview
Mike's coaching background comes in handy in his leadership of the strategic Development & Fundraising Team. He directs major gift fundraising efforts helping the team set and reach their goals. Mike works closely with Deans and other campus leaders to strategically prioritize and fulfill funding needs.
Hailing from International Falls, Minn., (aka "The Icebox of the Nation"), Mike spends his free time with his family, coaching youth hockey and football, hunting, and fishing.
Qualifications
BS, Education, Minor, special education, University of North Dakota
MS, Kinesiology, University of North Dakota
Knowledge
Mike has served the UND Alumni Association & Foundation for nearly a decade, but has been on campus since 1994 – first as a student, then as a football coach before joining our team.
He led efforts to fundraise for and open the UND Athletics High Performance Center and played a big part in 2019's record-breaking fundraising year. He's enjoyed his front-row seat to witness the many people who make a difference on this campus through philanthropy.
Community
Has spent time coaching youth sports in Grand Forks since 2013