Mercedes Knutson, '21
Gorecki Alumni Center Events Manager
mercedesk@thegorecki.com | 701.777.5847 | Connect on LinkedIn
Why I Wear Green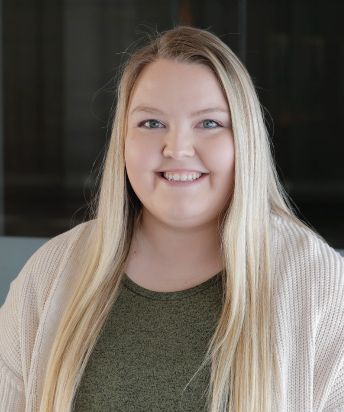 During my time as an intern, I saw how the people make a difference every day and love what they do. UND has given me so many opportunities to learn and I am so lucky to now work beside some of the most passionate people on UND's campus.
Overview
Mercedes is always ready to ensure Gorecki Alumni Center clients that their events – big or small – go off without a hitch. From venue tours, room and technology setup, vendor communication and everything in between, Mercedes takes every detail into account during the planning process and the day of events.
When she's not planning events, she enjoys thrifting, traveling, and visiting local coffee shops.
Qualifications
BS, Social Work, with a minor in Chemical Dependency, University of North Dakota
Knowledge
As a UND student, Mercedes worked as an events intern at the Gorecki Alumni Center. She loves seeing events come to life after the planning process. While she spends much of her time helping future brides plan their weddings, she loves the variety of events she gets to help plan as Events Manager. Most of all, she enjoys the flexibility to make each event unique.