Jay Erickson, '01
Sr. Director of Development,
Nistler College of Business & Public Administration
jaye@UNDfoundation.org | 701.777.3693 | Connect on LinkedIn
Why I Wear Green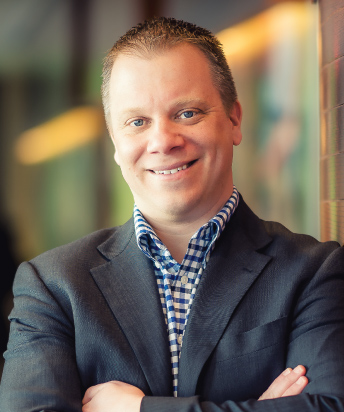 I enjoy being part of the impact North Dakota's flagship university has on the world. I am fortunate to be able to witness how UND's alumni make a difference in their communities and the growth of future leaders on campus.
Overview
As Senior Director of Development for the Nistler College of Business & Public Administration, Jay connects with alumni and engages them with their alma mater to keep moving UND forward. Jay strives to help alumni and friends provide resources for UND to build upon its leading status in North Dakota higher education by supporting programs, faculty, scholarships, and the new NCoBPA building.
If we want a weekend weather forecast, Jay's our guy. The amateur weather follower enjoys the outdoors and follows UND Athletics.
Qualifications
BBA, Management with a minor in atmospheric sciences, University of North Dakota
MBA, University of Mary (Bismarck, N.D.)
Knowledge
Since joining the UND Alumni Association & Foundation in 2013, Jay has served as Director of Development for Student Affairs, College of Education & Human Development (CEHD), and College of Nursing & Professional Disciplines (CNPD) before taking on his latest role with the Nistler College of Business & Public Administration. He worked to significantly increase CEHD scholarships and implemented an awards ceremony for student and donor recognition. Additionally, he worked alongside an investor to renovate the CNPD Simulation Center.