Danica Konze, '14
Accountant
danicak@UNDalumni.net | 701.777.3445 | Connect on LinkedIn
Why I Wear Green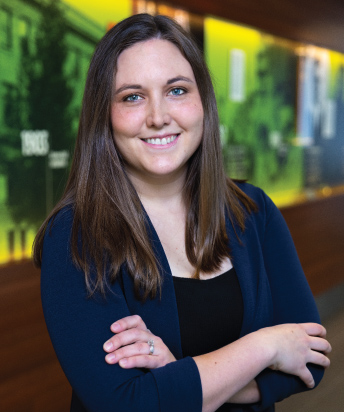 UND has always had a presence in my life. I am a third-generation University employee. My grandfather's UND career spanned 47 years, and my mother recently celebrated her 25th year. There's a sense of family and coming home whenever I think of UND. I am excited to give back to a system that has given me so much.
Overview
Danica was born to be an accountant! Her favorite things about work perfectly translate to her job – attention to detail, ability to execute tasks and seeing projects through to the end. She values the support role she plays and loves providing excellent service to alumni and friends. A key part of her job is making sure our constituents are recognized; she records many of the gifts we receive. She's also called on to help with financial and donor research and analysis.
Danica is not only following in her family's footsteps, but it seems history is repeating itself: when Danica started working at UNDAAF, her daughter was the same age Danica was when her mom started at UND 25 years ago. That daughter and two other children keep Danica busy. When she's not chasing them around, Danica enjoys lake time with the family and gardening.
Qualifications
BAcc, Accounting, University of North Dakota
BBA, Entrepreneurship, University of North Dakota
Community
Holy Family St. Mary's School Home and School Association – Secretary
Knowledge
Danica's time management skills have been tested! At her previous position, she coordinated commercial and agriculture loan closings at her last job and is excited to turn her focus, and her skills, to the nonprofit industry.