Chris DeMaster
Director of Data Analytics & Reporting
chrisd@UNDfoundation.org | 701.997.2473 | Connect on LinkedIn
Why I Wear Green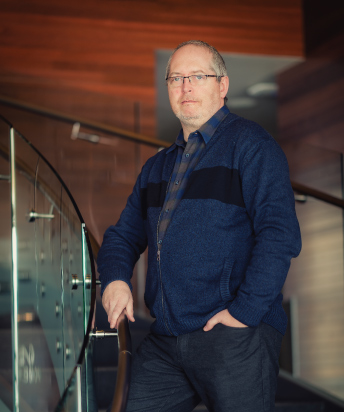 I wear green because of the great people I get to interact with. It is exciting to work with faculty to build fundraising programs that help students be successful with their educational goals and enhance their on-campus experiences.
Overview
Chris manages reporting and data analytics for the UND Alumni Association & Foundation, coordinating requests for new reports and data retrievals with his team. Chris also supports others within the organization across a variety of software platforms. A technology guru, Chris is a master of discovering new platforms that allow alumni to easily support the areas of the University they are passionate about.
Chris enjoys spending time on the computer, gaming and programming, both at work and in his free time. He's not your average gardener, growing everything from grapes to lemons and other rare plants. A novice handyman, Chris likes dabbling in small home improvement projects.
Knowledge
In Chris's 10 years at the UND Alumni Association & Foundation, he has gained experience fundraising for many projects and initiatives to benefit UND students. He has also expanded his knowledge of data segmentation and analytics to help achieve the organization's goals.