Chad O'Shea, '20
Associate Director of Stewardship Communication
chado@UNDalumni.net | 701.777.5921 | Connect on LinkedIn
Why I Wear Green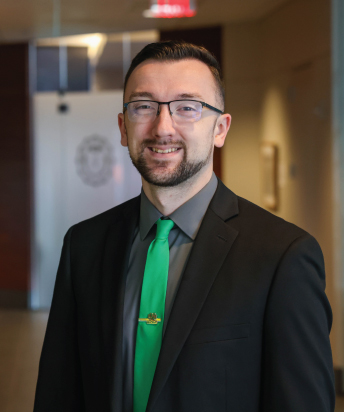 It's family legacy for me. My whole family has some type of connection to UND, either attending the University, working here or just being in the community. I was raised to be UND proud. You could say that UND literally runs through my blood!
Overview
A sports broadcaster who is comfortable on both sides of the camera, Chad is eager to find ways to incorporate video into donor recognition as Associate Director of Stewardship Communication. No matter the medium, he loves spotlighting donors and showcasing how their giving impacts UND. He does that by creating impact reports and writing donor stories, among other stewardship projects.
When he's not working, Chad is probably watching an athletic event or working out at the gym. He enjoys a good road trip and has driven through most Midwest states to get to the next game. In the summer, Chad loves to spend time outdoors and visit Lake Edward in Nisswa, MN.
Qualifications
BS, Sports Management, University of Minnesota Crookston
BA, Communications, UND
Community
Member, Saint Thomas Aquinas Newman Center
Knowledge
Chad knows UND well. Previously an admissions representative, he has traveled across the state to recruit incoming freshmen and welcome them to the UND experience. The sports enthusiast also helps with UND Athletics events in broadcast roles that range from play-by-play announcing and sideline reporting to camerawork and stats.