Carrie Kachena, '13
HR Generalist
carriek@UNDalumni.net | 701.777.0122 | Connect on LinkedIn
Why I Wear Green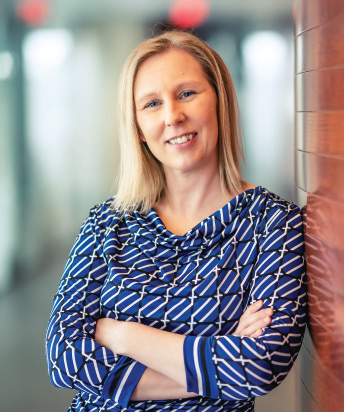 My husband and I are both UND alumni – we grew up with UND being the closest University, and we enjoy attending UND sporting events. I can't ask for anything better than working with a dedicated and passionate team that works so hard to benefit the University of North Dakota.
Overview
Whatever UND Alumni Association & Foundation staff needs, Carrie has the knowledge to help. From onboarding to benefits, employee recognition to payroll, she does it all – and best of all, she strives to make our experiences welcoming and easy.
Carrie enjoys reading, bike rides, watching TV, and spending time with her husband Kenny and daughters Peyton and Reilyn.
Qualifications
BBA, Human Resource Management, University of North Dakota
Knowledge
Carrie has worked for the UND Alumni Association & Foundation for two decades – and during that time, she completed her bachelor's degree in HR management while getting on-the-job experience in both the finance department and HR. She has worked to move several functions online in an effort to make otherwise daunting processes easier for employees – including benefits administration, performance evaluations, and employee recruitment.
Community
Member, Greater Grand Forks Human Resource Association