Becky Greer, '90, '06
Sr. Executive Manager to the VP of Development
beckyg@undfoundation.org | 701.777.3677 | Connect on LinkedIn
Why I Wear Green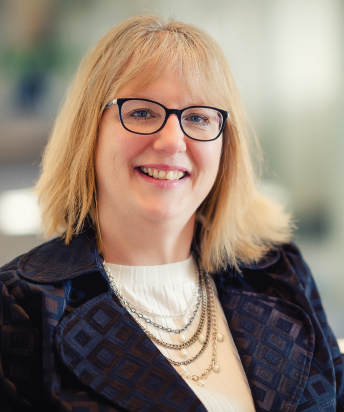 It is definitely the people! Those on the UND Alumni Association & Foundation team, our UND campus partners, and the passionate and successful alumni we are fortunate to meet and hear their stories.
Overview
Becky wears many hats: She is the executive assistant to the Vice President of Development and she serves as liaison to the UND Alumni Association & Foundation Board of Directors. A technology-minded communicator, Becky produces high-quality materials for our VPs while executing superior board correspondence and meticulous meeting plans.
Becky and her husband Ken have four unique and wonderful children. In her free time, Becky enjoys reading, making cards, and relaxing with her family while watching movies, especially anything in the Marvel Universe.
Qualifications
AA, Secretarial Administration, University of North Dakota
BA, Social Sciences, University of North Dakota
Member of the International Association of Administrative Professionals, achieved Certified Administrative Professional (CAP) designation
Knowledge
Becky has served the UND Alumni Association & Foundation in various roles for over 30 years. She recalls the campus pulling together during the flood of 1997, and especially the co-workers who were back to work as soon as possible to support the recovery of the campus and the community. She was here to celebrate the successful North Dakota Spirit Campaign in 2013 and has enjoyed witnessing the passion of countless alumni and friends for this University. Today, she is an expert at detailed and high-level meeting plans and coordinates a Board of Directors whose members are located across the country.