Adam Whetham, '21
Associate Director of Technology
adamw@UNDalumni.net | 701.997.2332
Why I Wear Green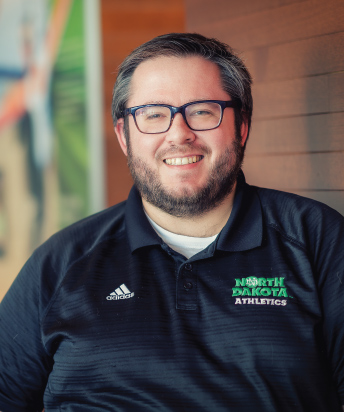 The UND campus is a great place to work and to wander during your lunch break. I love being able to walk, bike, or hop on one of the buses that go around campus.
Overview
There's never a dull moment for Adam. Whether he's supporting the UND Alumni Association & Foundation's mission by keeping our servers updated, solving tech problems for our employees, or fixing wireless microphones in the Gorecki Alumni Center, Adam is always ready to keep our business running smoothly.
Adam enjoys listening to music and attending concerts, riding motorcycles, and playing pool, darts, and softball.
Qualifications
BS, Information Systems, University of North Dakota
Knowledge
Adam came to the UND Alumni Association & Foundation with a knowledge of sound systems, having worked at HB Sound & Light and being the "sound guy" for several local bands and theater companies. He's expanded his knowledge of equipment and technology since then and meets new challenges with innovative solutions.
Community
Empire Arts Center Community Theater