The Perfect Match
Employer match program helps Aviation alum create scholarships for students.
Raised in Seattle, Jared Herndon, '08, took the process of deciding on an aviation school very seriously. His tour of UND's John D. Odegard School of Aerospace Sciences is what sealed the deal. Not only was it a first-class facility, but the quality of the programs seemed exceptional. Now a pilot for Delta Air Lines, Jared describes UND's Aviation program as a "big fish in a very small pond" because of its influence and large graduate output.
Being an alumnus of a well-respected Aerospace college had its benefits.
"It really opened the door for every single job I've held since college," said Jared. "Either the person interviewing me was an alum of UND or knew a graduate. I can't walk through an airport anywhere without seeing someone from UND," said Jared.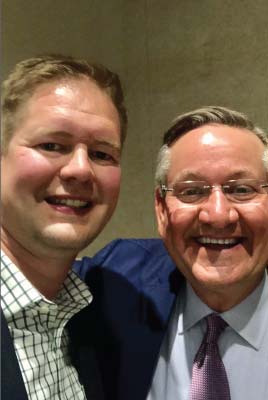 While earning his degree, Jared was diligent in applying for scholarships at the recommendation of his academic advisor, Dr. James Higgins. In total, Jared earned $40,000 by the time he graduated. Jared maintains contact with one of his scholarship donors, Jim Bunke, '78. "We have reconnected over the years. It was cool to have my first aviation scholarship come from him. Now, I've paid it forward by donating to my first scholarship," said Jared.
After hearing that the Delta Air Lines Foundation, like many corporations, provided a 1:1 match for donations to educational institutions made by employees, Jared took advantage of the benefit and started funding a UND Aviation scholarship annually in 2018. The following year, he established an Aviation scholarship endowment, an investment that will continue supporting students into the future.
Through his scholarships, Jared hopes to lessen the burden of student loans. "I know how difficult it can be to start your career with debt weighing on you. Scholarships are necessary for those who want to become a pilot but don't have financial backing from home or other sources."
Jared has stayed in touch with some of his scholarship recipients, like Sean Sommerville, '20, whom he met at UND's 2019 Aviation Scholarship Banquet and shares common perspectives. "I was encouraged to find out how aware he was of things in the industry, the effect current events have on the airlines industry and the options in front of him," said Jared.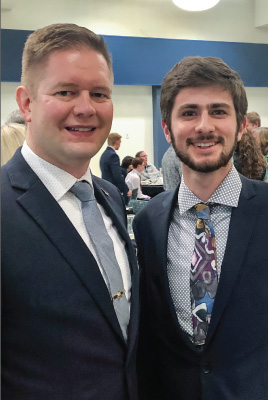 In addition to the scholarships, Jared gives back to UND by sharing his professional expertise. In the spring of 2020, the John D. Odegard School of Aerospace Sciences launched its first virtual Aviation Industry Speaker Series in which Jared was a featured panelist. "I feel we have such a large network and a very involved alumni base coming back to campus to share their experiences and advice with students," he noted.
To those who hold the benefits of a UND education with equal gratitude, Jared offers this advice: "Remember how helpful scholarships were to you as a student. Be creative in your giving and look for ways to partner with those around you, like your employer. I also have friends who collectively pool together money for a scholarship, so there are always ways to give back, even if it's not a large gift."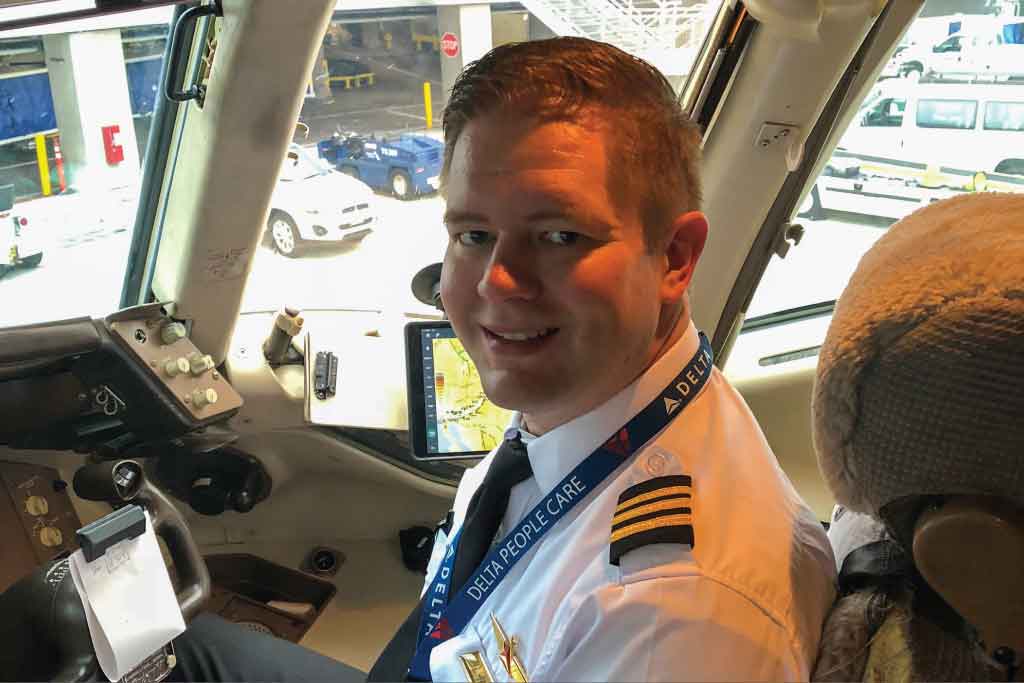 EMPLOYER MATCH OPPORTUNITIES
Many employers sponsor matching gift programs and will match most charitable contributions made by their employees. Some companies will also match gifts made by spouses of their employees, and/or retirees. The impact of your gift to UND may be doubled or possibly tripled through this benefit.