Adventure Awaits
I was 14 when my mom took me to a Girls in Aviation event in my hometown of Lakeville, Minnesota.
No one in my family works in aviation, so it was my first exposure to the field. I was able to go up in a Piper Cub through the Young Eagles program and fell in love.
While I was there, I met Karen Ruth, '82, a pilot for Delta. I remember looking at my mom and saying "Wait, I can do that too?!" She told me about an aviation camp held at Minneapolis-St. Paul Airport and encouraged me to apply that following summer. I walked away that day knowing that's what I wanted to do.
I attended that camp in the summer of 2015 and it solidified my love for aviation. I then began my private pilot training at Flying Cloud Airport in Eden Prairie, Minnesota, and obtained my private pilot's license in January 2019.
If I went back in time to tell the 14-year-old me who asked if I could do it too, I would say yes, yes you can. Dream big and never, ever give up.
Karen has been my mentor ever since that day in 2014. She told me all about UND and what the John D. Odegard School of Aerospace Sciences has to offer. I toured my junior year and applied that night. Fast forward to today: I'm a proud member of the UND Class of 2022. I work as a flight instructor here at UND and love every second of it. I was accepted into the Delta Propel Program and am planning on going to Endeavor Air once I complete my hours here.
I have a lot of people to thank for where I am today, but my fellow alumna Karen Ruth is at the roots of where my journey all started. I found aviation through her. She has always believed in me and continues to support me in everything. I am so grateful for her and all she has done for me.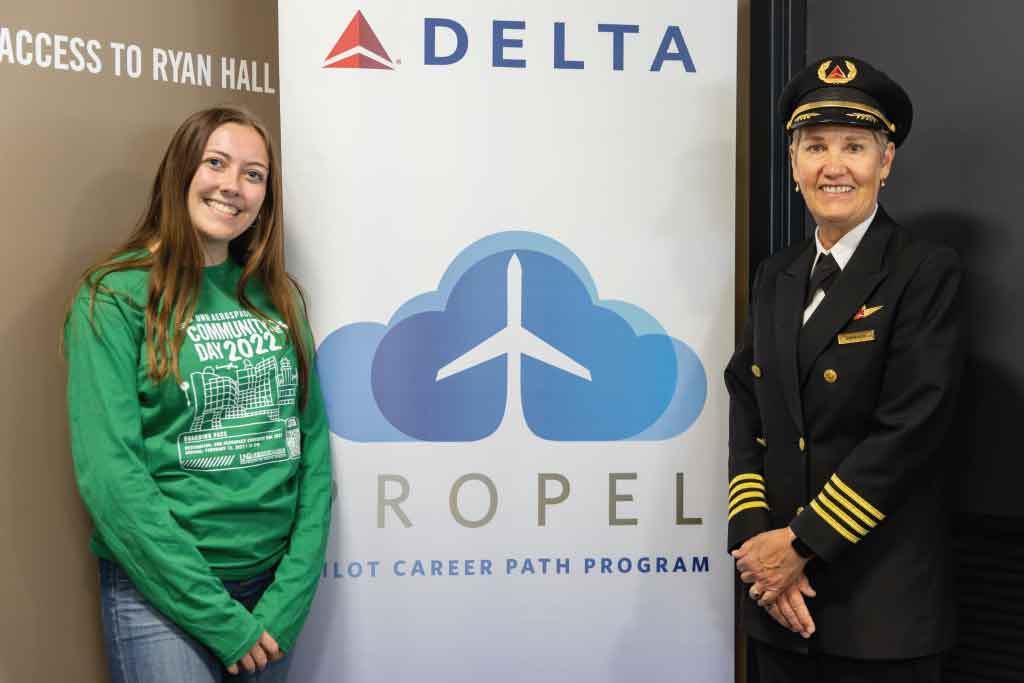 UND has taught me more than I could have imagined: How to be a leader, to overcome challenges, be independent, and to reach for the sky because the sky really is the limit (no pun intended). Thank you to UND for all the lessons I've learned and for the lifelong friendships, mentors, connections, and opportunities you've given me.
I've been fortunate to be involved in Women in Aviation, a tour guide for Admissions and Aerospace, social media ambassador with Aerospace, brand ambassador for Endeavor Air, co-founder of the "Faces of the Industry" event, VP of the nonprofit student leadership organization, VP of the aviation education student outreach program, student mentor for the Student Aviation Advisory Council, and am on the advisory board for Students Encouraging Other Students to Go Higher.
I want to continue to give back and be a mentor to those younger than me who share the same passion just like Karen has been for me. She inspires me to be the best pilot and human being every day. I am where I am today because of her.
If I went back in time to tell the 14-year-old me who asked if I could do it too, I would say yes, yes you can. Dream big and never, ever give up. Adventure awaits!