Achievement through Adversity
Kate Long, '20, wasn't sure she wanted to walk in the University of North Dakota's spring commencement ceremony on May 16, 2020.
It was going to be so long – and besides, she planned to go to law school and would walk in that more meaningful ceremony in a few short years.
When her grandmother, Linda, called with the news that she would be flying from Houston, Texas, to Grand Forks, North Dakota, to see her oldest grandchild receive her diploma, Kate had no choice but to change her plans. She would make her proud grandmother happy by walking through the ceremony.
But Linda's plans to fly, and Kate's plans to walk, were dashed when the coronavirus pandemic made travel inadvisable and canceled UND's spring graduation ceremony altogether.
Linda wouldn't get to see Kate receive her diploma, an achievement she wanted to witness out of pride for her granddaughter. After all, Kate was about to become the first in their family to earn a university degree.
"My parents did fine without a college education, so higher ed was never something that was forced on me;' said Kate, a Political Science major who also completed minors in History and International Studies.
"My parents never said, 'You should go to college.' It was 'Only go to college if you really want to, because it's expensive."'
But Kate had dreams, and her parents supported her when she said she wanted to chase them. She liked debate and government classes, and was particularly motivated by social justice. Her self-described "pet cause" drives her to pursue her goals. "I would love to work for the International Justice Mission that fights human trafficking" she says.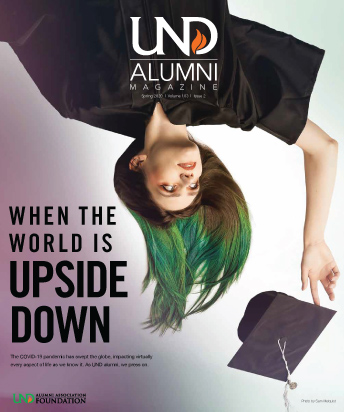 JOURNEY TO A DEGREE
Her journey to a bachelor's degree has been slightly winding. Kate's family moved to Watford City, N.D., during her senior year of high school, so she took a year off after graduation to work and establish North Dakota residency. Then, she spent two years at Williston (N.D.) State College, achieving her associate's degree before deciding that UND course, the relatively affordable tuition rates.
In her quest toward fighting for justice, Kate applied for and has been accepted to St. John's University School of Law in New York City- an area of the country particularly shaken by the COVID-19 pandemic (at the time of printing, NYC had amassed 160,000 positive cases and 13,000 had died from the virus). Once again, she faces an uncertain year ahead.
"lf I'm not able to go, I might need to take a year off;' she said, but she says her feelings of unease pale in comparison to her classmates. "lt makes it easier because I'm not looking for a job right away; l can't imagine how stressful that would be. A lot of people have just moved back home because they don't have jobs;' she said. "It's weird not knowing what the future brings."
I've learned that it draws out the worst in people; but it also draws out the best.
A SEMESTER CUT SHORT
Even so, her last semester at UND has been upended by the pandemic. As someone who likes to be prepared, she had already made a trip to Sam's Club to stock her apartment with enough supplies and groceries to get her and her roommates through the next several weeks.
But some things are impossible to prepare for. "I wasn't prepared for not going back to classes and losing the automatic support system of my professors and classmates," she said. "It's hard losing my last semester."
Her jobs at Texas Roadhouse and UND's Center for Innovation have cut hours, resulting in smaller paychecks. But those cuts have resulted in something else: More time for the important things. "It's been a time to focus more on school. And I've been planning out nice meals for myself and my roommates.
We planned a wonderful movie night that we would never have had time for otherwise," she said. "You definitely have more time to connect with people and I really enjoy that."
The history buff acknowledges that living during this "intense historical event" will impact her in ways that she can't yet grasp. But she's taking it one day at a time, sitting back and observing people's reactions to the circumstances. "I've learned that it draws out the worst in people;' she said. "But it also draws out the best.''