In Her Corner
How friendship prepared Judge Jade Rosenfeldt for the bench and supported her through tragedy.
It hangs from her neck on a silver chain. The small disk holds the tiny fingerprint of Jade (Collins) Rosenfeldt's late daughter, Adeline, who passed away on November 28, 2017, at Sanford Pediatric Intensive Care Unit in Fargo. "She had very long, dainty fingers," Rosenfeldt remembers. "She was just starting to have those smiles at her brothers and us."
The necklace lies under her black robe when Rosenfeldt, JD '08, takes her place at the bench in the Clay County Courthouse. The Moorhead native was named the Seventh District Court Judge for Minnesota in November 2019, just two years after losing her 3-month-old daughter. It's a position Rosenfeldt didn't imagine obtaining by age 37, but several significant experiences – and people – impacted her life's direction.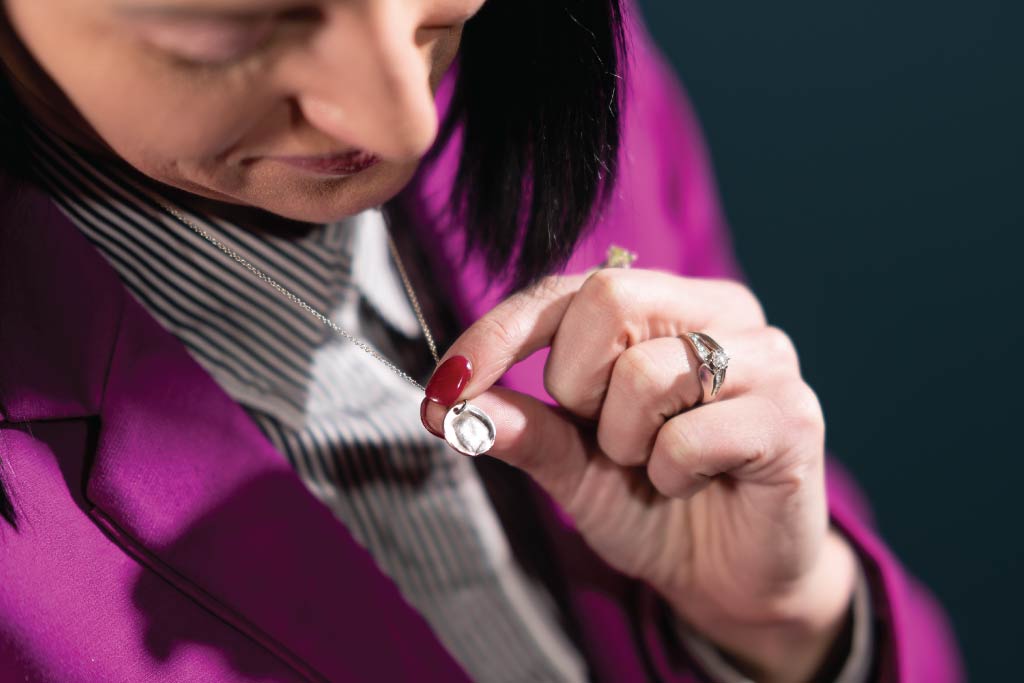 A MENTOR'S ADVICE
As a child, Rosenfeldt was the victim of an assault. The prosecutor on the case, Lisa Borgen, a '96 UND School of Law alumna who later served as Minnesota's Seventh District Court Judge, not only helped the family win the case, but also became Rosenfeldt's mentor.
"It was very profound to see a woman as the county attorney in that leadership role," Rosenfeldt recalled. "I got a firsthand view of the legal system and how that worked, and I knew I wanted to do something in that realm."
After Rosenfeldt graduated from Concordia College, Borgen directed her to UND, touting the local connections the School of Law would provide.
Borgen's advice proved true for Rosenfeldt, who landed a clerkship at the Clay County Attorney's Office through a UND connection after her first year. "It really set everything in motion for me," said Rosenfeldt. "That was one of the first opportunities that UND provided."
UND offered more than professional opportunities for Rosenfeldt. During law school, she met two of her best friends, Lori (Cowan) Conroy, '09, and Aubrey Zuger, '08, with whom she found common ground. All three were first-generation college students who went on to make their mark in law: Rosenfeldt as a District Court Judge, Conroy as Assistant United States Attorney for the District of North Dakota, and Zuger as Shareholder in Fredrikson & Byron Law Firm and the President of the North Dakota Bar Association.
The friendship strengthened after graduation as their careers and families grew, weekend getaways were scheduled, and early morning runs became regular. The bond got even stronger through Adeline.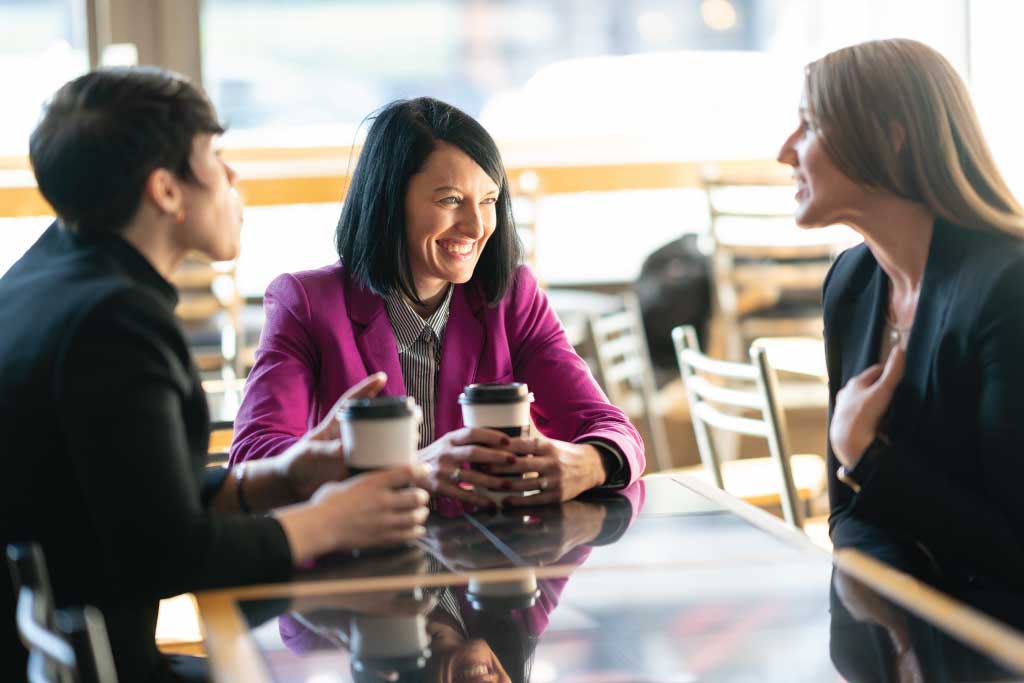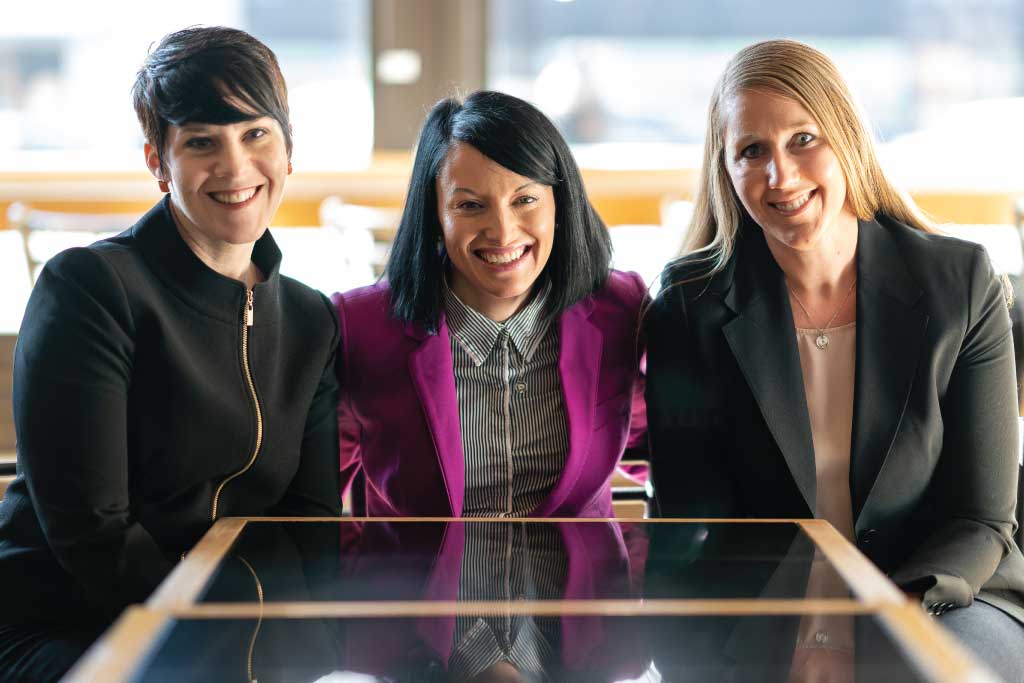 I just hope that everyone can have that – people in your corner who believe in you.
FRIENDSHIP THROUGH TRAGEDY
Rosenfeldt had just finished defending a client in a custody hearing when she got the call from Adeline's daycare on that cool morning in November 2017. "They said she wasn't breathing. Of course, I couldn't even fathom what they were saying. I thought, 'Okay, maybe she's choking.' I never in a million years thought it was what it ended up being."
Rosenfeldt and her husband Steve, a pharmacist, rushed to the daycare. "They were working on her in the ambulance. I could see her little pink sock," she said, voice trembling. Adeline had suddenly quit breathing while on her stomach, an incident that the family emphasizes was no fault of the daycare.
Later that afternoon, Rosenfeldt was planning to meet Conroy and Zuger for lunch but ended up calling for their help instead. "I didn't know what to do. I didn't know what was going on. But from that moment, it's as if Lori and Aubrey just swooped in and took over."
From day one, the duo, along with another Law School alumna and close friend, Layne Chiodo, '08, planned meal trains, arranged care for the Rosenfeldts' two sons and created a CaringBridge website. They remained a constant presence with the Rosenfeldts at the hospital.
"When you're going through that with somebody whose child is dying, there are a lot of really amazing things that the hospital staff do," explained Zuger. The friends helped the nurses trim locks of Adeline's hair and take her fingerprints that were later made into necklaces. "I wear mine every day," Zuger said, while Conroy nodded in agreement.
Conroy explained their acts of dedication: "You do the hard things, trying to remember that your role is a supportive role to help lift them in their time of need."
Through the course of a week, Adeline's health did not improve. Doctors found three viruses in her body that may have contributed to her respiratory arrest. Adeline stayed at Sanford for a week on life support.
"I slept in that little bed with her for days, just hoping, praying, that something would happen – that she would respond in some way." The few signs of recovery slowly faded, and the family made the difficult decision to take Adeline off life support. "My husband and I put her on our chests, and she passed away," said Rosenfeldt through tears.
I slept in that little bed with her for days, just hoping, praying, that something would happen – that she would respond in some way.

Jude Jade Rosenfeldt, '08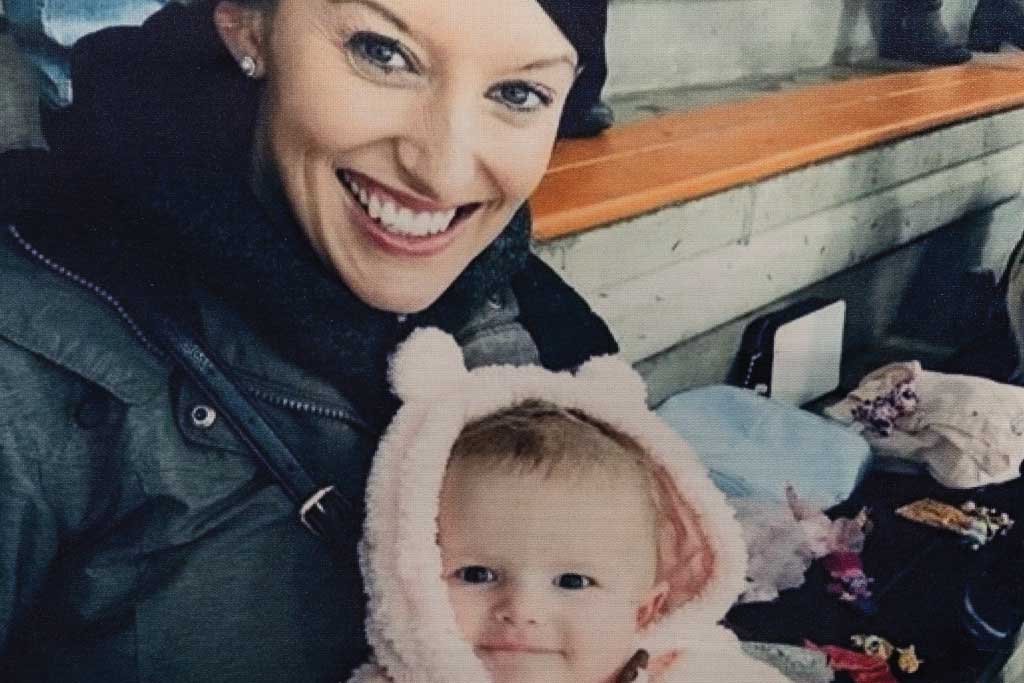 RUNNING FOR ADELINE
The months that followed are foggy for Rosenfeldt. Her family received as much help as possible, including a weekend retreat for grieving couples and time off from her job at Vogel Law Firm.
Adeline's older brothers, Weston (9) and Henrik (6), still miss their baby sister and wish they could have shared the toys they saved for her. As someone who also lost a sibling while in college, Rosenfeldt can relate to their pain: "I remembered just how hard that was on my parents, and I don't want my children to think that the happy times are over. So we have really tried to focus on the positive."
Some of Rosenfeldt's sweetest memories of Adeline were daily walks through their Moorhead neighborhood. "I'm a believer in exercise and how important that is for keeping your mind healthy. Adeline and I were walking, and probably the next step would have been running, pushing her in that stroller with Aubrey and Lori."
The three are planning to run in memory of Adeline in the Fargo Marathon again this year, Adeline's fingerprints clasped around their necks, sporting pink shirts that say "Run for Adeline." Others will join the effort to help raise money for children's charities.
A NEW PERSPECTIVE FROM THE BENCH
Whether it's being the victim of a crime, losing a sibling, or grieving the loss of a child, Rosenfeldt's own hardships and background in social work give her empathy for those on trial before her.
"For people going through really rough times, sometimes the last thing they need is someone yelling at them or telling them how terrible they're doing," she explained. "Maybe they need some encouragement, and maybe they need more resources. Maybe they need someone to believe in them."
Rosenfeldt was selected over applicants with more years of experience to preside over cases in Minnesota's Clay County as the Seventh District Court Judge. To help her prepare for the interview process, Conroy and Zuger drilled Rosenfeldt during mock interview sessions.
"She hit 10s the whole way. We were so excited," said Conroy. The three were together when Rosenfeldt found out the good news.
"Jade deserves this. Having practiced with her and against her, whatever Jade does, she does wholeheartedly."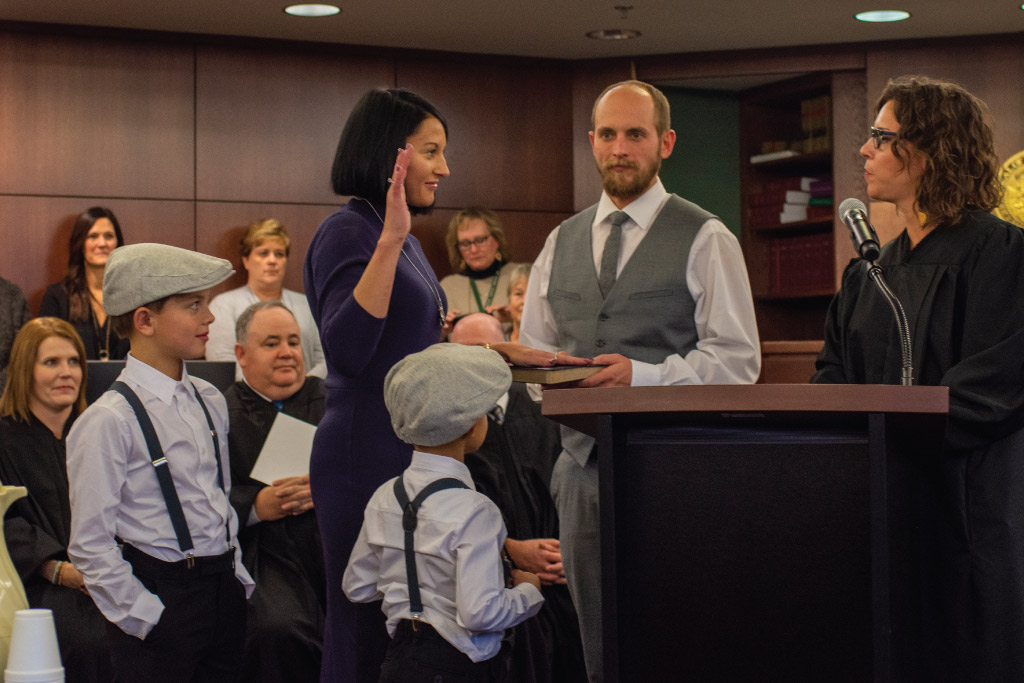 Though professional appointments have placed them on the stand against one another at times, their friendships have prevailed. While Conroy and Zuger praised their colleague and friend's effort, Rosenfeldt responded with a nod to her cheering section.
"It's just women supporting other women. We're really close friends. I just hope that everyone can have that – people in your corner who believe in you," she said.