Caring for the Sickest of the Sick
UND-trained nurse among North Dakota's first health professionals to confront COVID-19.
Caleb Behm, '17, BSN, RN, CCRN, was working nursing shifts at Sanford Medical Center's intensive care unit in Fargo when COVID-19 hit. He remembers the urgent request that came mid-March for volunteers to staff the new special care unit (SCU), a converted hospital floor that would go on to house over 270 COVID-19 patients over the next four months.
With three years of nursing experience, no kids at home nor any underlying health conditions, Caleb considered himself a good candidate. He signed up to join the other brave doctors, nurses and medical staff caring for those afflicted with the disease. "It was very scary that first day driving to the unit because I just didn't know how easily we could catch this." His fears were valid – Cass County became a hotspot in North Dakota, with 46% of total cases as of July 30.
Like many health care facilities, Sanford transformed Broadway Medical Center's third floor from an infusion center into a negative airflow, COVID-19 special care unit. As the facility was trying to adhere to rapidly changing CDC guidelines, Caleb and his team were treating some of the sickest patients they had ever seen.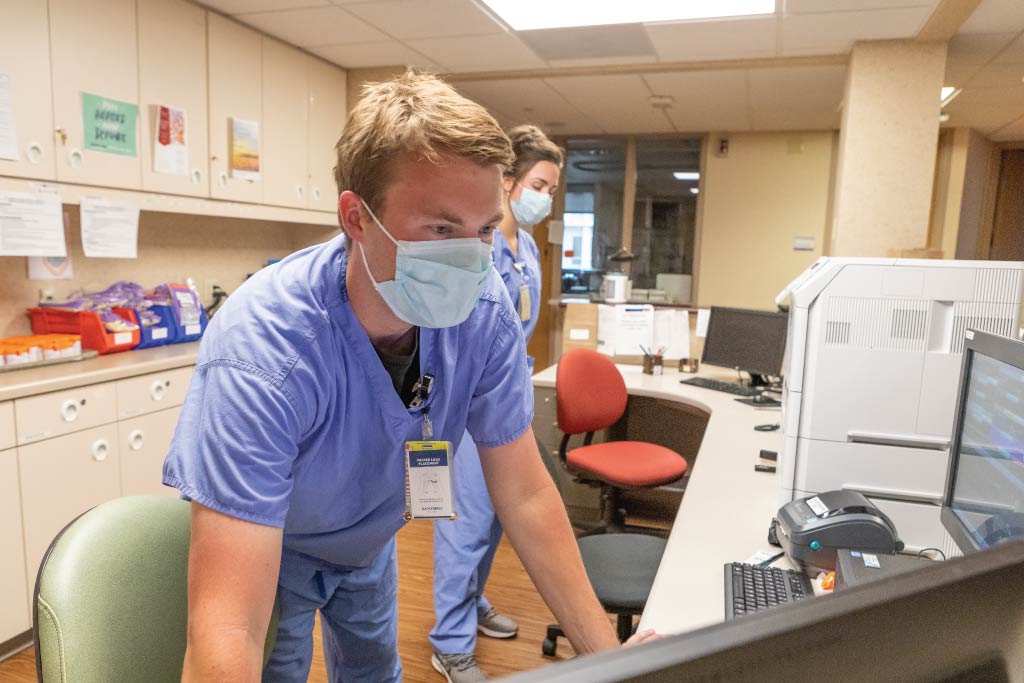 He remembers one in particular — one of Sanford's first COVID-19 patients to be intubated. While the medical provider prepared to perform the procedure, Caleb tried to ease the patient's fears.
"I told him, 'We're just trying to get ahead of the game here. We're trying to get this breathing tube in to help you.' And he said, 'I trust you. Whatever you need to do you can do it.'"
The patient was in good hands. Recognized by Sanford, the ND Center for Nursing, and an internationally renowned foundation for being a "rising star" in the nursing field, Caleb is known to put extra effort into his patients. He took care of the intubated patient for several weeks, as did other SCU nurses. Once the patient's health improved, the entire nursing staff gathered to watch the removal of the breathing tube from the patient's window. It was a huge victory. The patient was discharged soon after.
"I think it was just such a happy moment on the unit. We all end up taking care of these patients at some point or another, so just seeing that really gave us a charge of energy, like, 'Okay, we can make a difference in these lives,'" shared Caleb.
While the world has shown collective support for medical workers during this pandemic, Caleb sees it as just doing his job. "What we're doing with these patients is not any different than what we do with our standard patients, besides the extra protective equipment. So, it's actually been neat to show some of the good work that health care professionals do every day."
Looking back at his time at UND's College of Nursing & Professional Disciplines, Caleb has a better appreciation for its focus on interdisciplinary training and the opportunities that came out of his involvement in the Nursing Student Association. Both gave him invaluable experience collaborating with students from other disciplines like physical and occupational therapy, public health and pre-med. He was well-prepared for the teamwork that was required of medical staff on the special care unit.
I told him, 'We're just trying to get ahead of the game here. We're trying to get this breathing tube in to help you.' And he said, 'I trust you. Whatever you need to do you can do it.'
"It was something that most of us had never done before – working with nurses from different floors in a specific way to take care of a mixture of ICU and med/surg patients. So we all had to be very flexible, but we all had the same goal of doing what's best for our patients and getting them better and back to their quality of life."
Depending on the seriousness of the situation, a nurse can spend nearly an entire shift tending to one patient's needs. Garbed in Personal Protective Equipment (PPE), exhaustion can easily set in. Mental sharpness and physical stamina are essential. Caleb reenergizes with activities he loves like golf and piano. With a decrease in COVID-19 patients in the SCU, he has begun integrating back into the intensive care unit. He summarized how the pandemic has changed his perspective:
"It's a very humbling experience how something that we can't even see can totally shut down our world and change our lives. I think it shows some of the vulnerability, but I think the silver lining of it is I can see how we could overcome it. And we have learned a lot from it as well."