Dunn Burgers
Ben Murphy, '02, '05, is a fourth-generation rancher who's built Dunn Burgers, a direct-to-consumer beef business.
But Ben's path back home to Killdeer, N.D., was not direct.
After a stint in the Navy and a banking career, he realized he was not meant to sit behind a desk. The family ranch and great outdoors were calling his name. After moving back home, he noticed no fresh pork produced nearby, so he started raising and selling hogs. That turned into a beef business and a partnership with some longtime friends. They bought a meat processing facility in New Salem, North Dakota, and started 6 in 1 Meats, a USDA-inspected meat processing facility where its six owners have a say in every step to get cows, sheep, hogs and elk from ranch to table.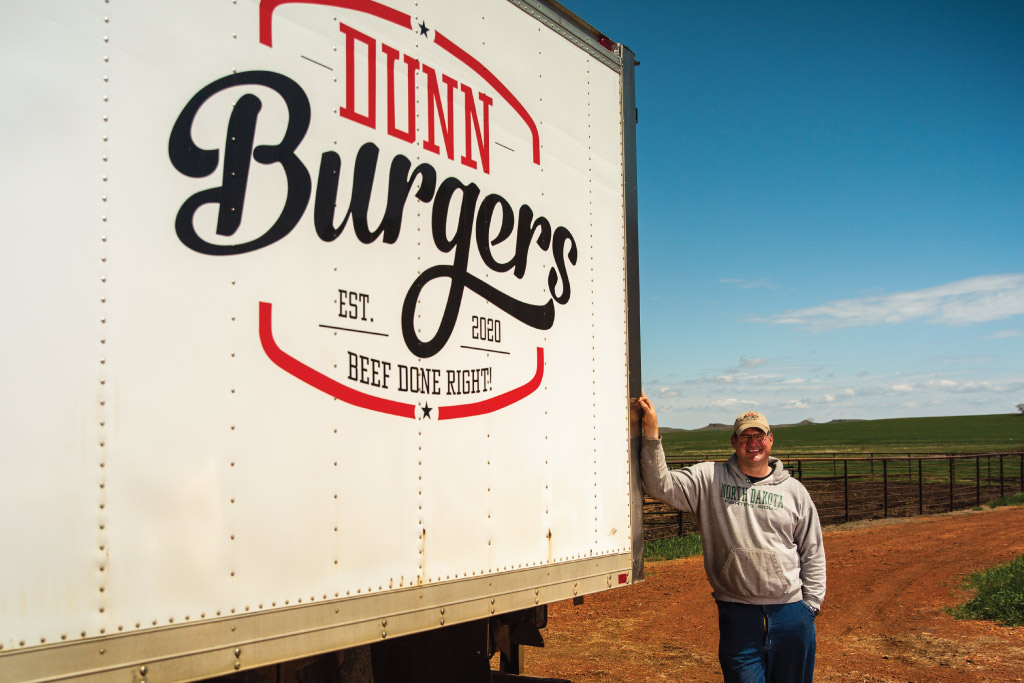 THE PIVOT
In 2012, a medical diagnosis cut Ben's Navy career short. He then used his UND degrees in banking and finance before returning to Killdeer. Back at the ranch, Ben immediately noticed business opportunities to accommodate the growing population in western North Dakota. He opened a storage unit business, a U-Haul service, and flipped houses for rent. Then came the hogs and the rest is history.
THE CUSTOMERS
Ben's primary customers are North Dakota families who find out about Dunn Burgers through Ben's deliberate marketing (his cell phone number is on every package of beef). The direct-to-consumer approach has his phone ringing with orders for specialty cuts as well as whole, half, or quarters of beef. Plans to sell 20 head per year ballooned into 55 in 2021 and a wait list this year. Dunn Burgers offers an online store available for customers to shop their available meat selections.
THE JOYS
"I just like seeing my progress every day," Ben said. Unlike the bureaucracy and paperwork he juggled at the bank, he gets a satisfaction from completing a job at the end of a long day or season. Whether it's cutting hay or branding a calf, Ben says, "I know it doesn't make a lot of money, but I'm getting it done right."
UND EXPERIENCE

A UND Football tradition dating back to the '90s: Every Friday before a game, the offensive line would visit Happy Joe's and "absolutely destroy their buffet." They would play arcade games and pool their points to win prizes to donate to Holiday Magic from Markus, a startup UND Athletics fundraiser that has since helped hundreds of sick children.
A former student-athlete, Ben has paired his love for UND Football with his profession. He's participating in Meat Up for UND, an initiative to provide high-protein meals to UND Football student-athletes.
ADVICE
"Too many people just are too scared to ask, 'Hey, does this sound like a good idea?' or 'If I did this, would you buy into it?' Ask for help and then pull the trigger. And when you fail, cut your losses and move on."