A Place to Belong
Stepping Out of the Darkness: Part 2
Stepping Out of the Darkness is a three-part series on mental health in medicine, in education, and in communities. As mental and behavioral health is a rising concern among University of North Dakota students, staff and alumni, we are bringing to light stories and resources for more informed conversations and understanding.
Part 1: The Weight of the White Coat
The world of learning has changed shape. As education systems evolve, educators and UND alumni address the corresponding struggles and mental health of their students.
A school bus pulls up to a picnic shelter at Turtle River State Park near Arvilla, North Dakota. Eighteen ninth graders exit the bus and head for the swings. "I guess I should have added 'swinging' into our itinerary," says Geoff Gaukler, '94, '10, Mental Health Coordinator for Grand Forks Public Schools (GFPS). "That might be all they need for the day!"
The students are enrolled in the English Language (EL) program at Red River High School. Refugees who fled their home countries of Mexico, Thailand, Somalia, Nepal and China, they each come to Turtle River with their own stories.
After they've all gathered back at the shelter, Geoff goes over the itinerary, which includes yoga, balloon conversations, and a hike. "We are here today to help our minds and bodies be healthy," Geoff explains.
"Playing games helps us be healthy. Laughing helps us be healthy. Nature helps us be healthy. So listen to nature, listen to your body and listen to each other."
Printed on Geoff's shirt are the words "You Belong."
The theme for the mental health-focused day coincides with the theme of Sources of Strength, a national program Geoff runs throughout the district to help students through mental health challenges.
"Sources of Strength has found that one out of every eight students feels like they don't belong, and that's a problem," said Geoff, a former teacher and school counselor. "Belonging is about connection. We help them make connections, we help them through tough times, and we give them a place to belong."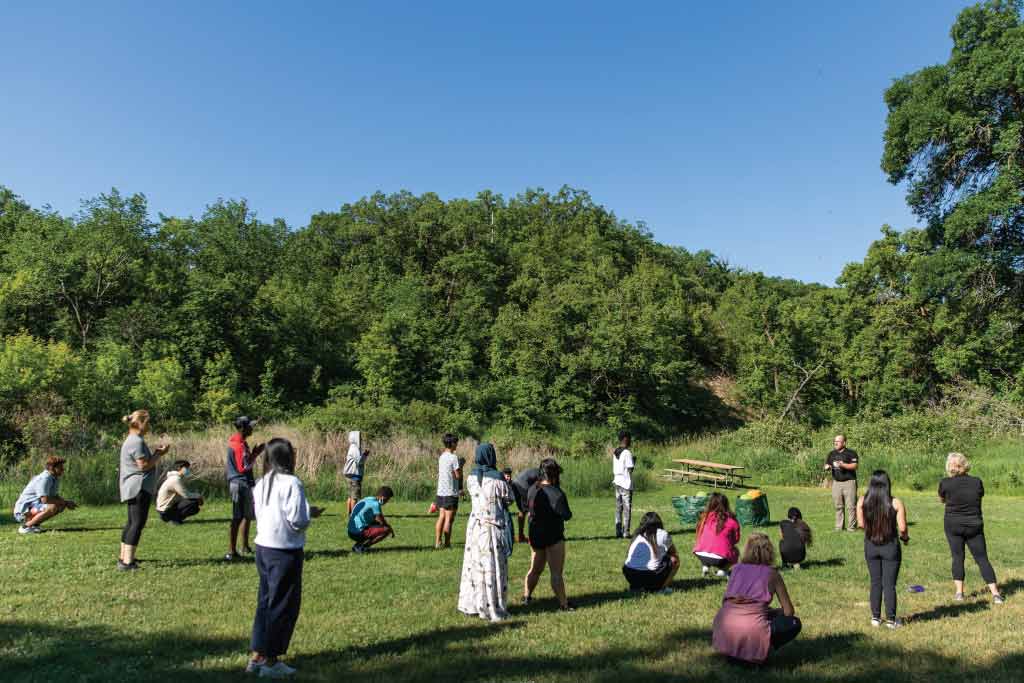 Belonging is about connection.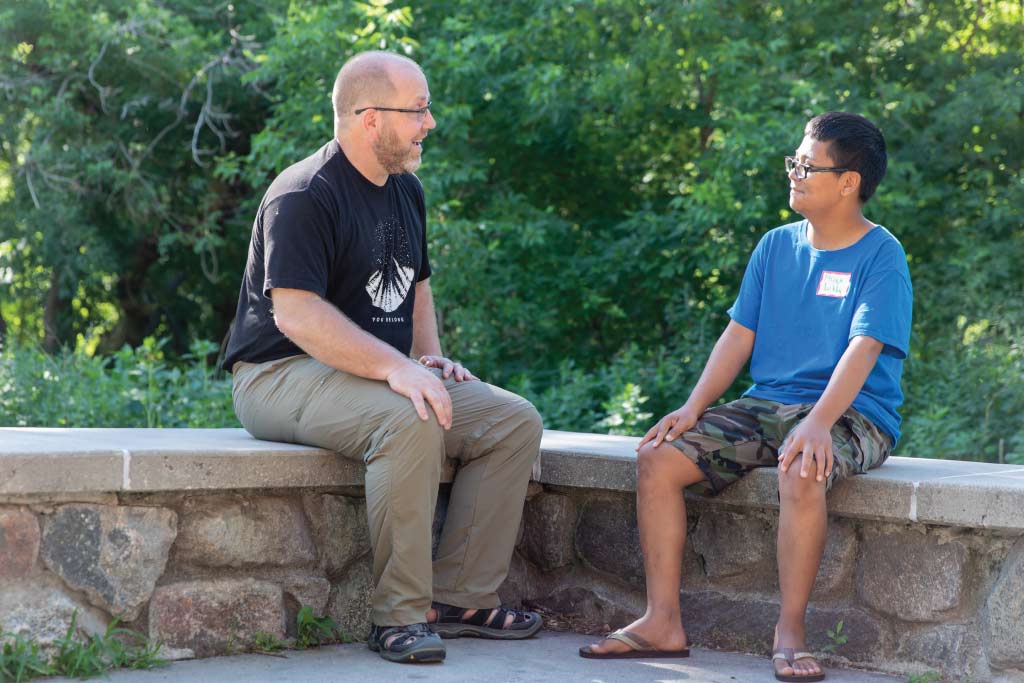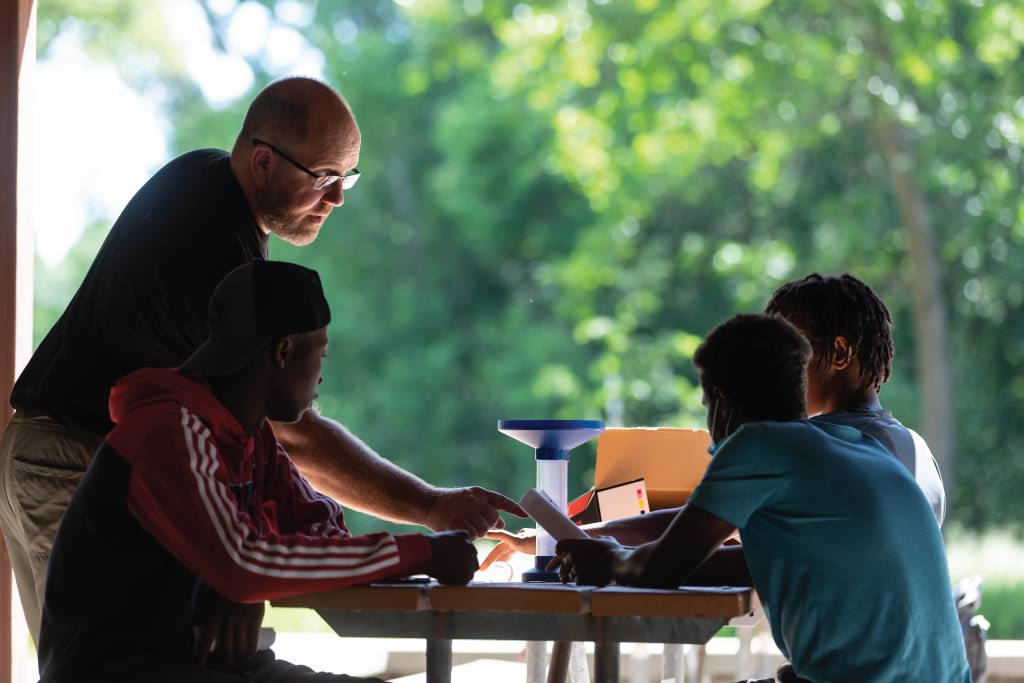 BUILDING RESILIENCY FROM TRAUMA
Ivona Todorovic, '03, '05, runs the Red River EL program and accompanied the group at Turtle River. She understands what these students are going through.
In 1995, Ivona arrived in Grand Forks after fleeing her home country of Bosnia during the war. With a teaching background, she began working in the GFPS district with EL students. Now with her master's degree, Ivona is a part-time instructor for Teaching & Leadership in the UND College of Education & Human Development (CEHD).
Ivona explains that tradition, family expectations and stigma around mental health all contribute to the added pressure EL students face while learning another language and culture. "These kids often come from cultures where you just don't talk about these things," she explained. "Parents act out of fear…. They use the mantra, 'be strong, be brave' because that's what we've had to survive on."
The latest numbers show that, while the Grand Forks region grew only 2% between 2010 and 2015, the immigrant population grew 27.6%, with refugees making up one-tenth of that population. Compared to their American-born peers, refugee children experience a higher number of Adverse Childhood Experiences (ACEs), or traumatic experiences that can affect psychological and physical health later in life.
Research shows that the best way to counter the effects of ACEs is to build resiliency through things like trauma-informed care and adult support. The EL team applies these principles by creating space to work through the trauma, uncover their triggers and hear their heartwrenching stories: Some were ripped away from family members, others saw friends killed in front of them. Most were on the run for their lives.
"In African culture, they say, 'I cry inward,'" Ivona explained. But after these efforts, "the guard comes down and the tears fall."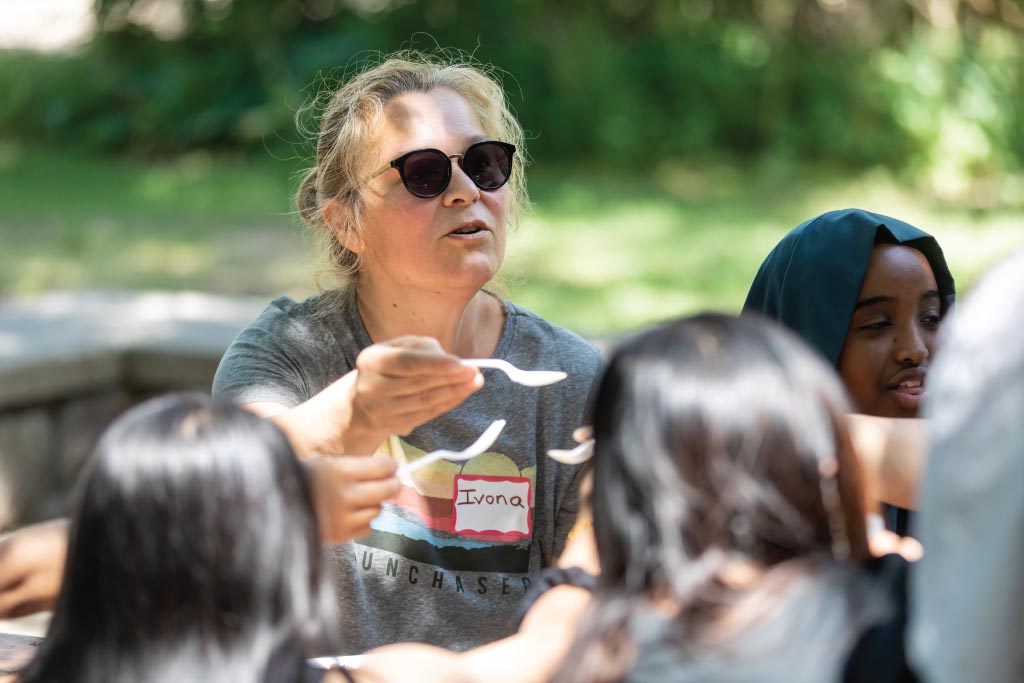 UND LINKS CLASSROOMS TO MENTAL HEALTH SERVICES
Dr. Cindy Juntunen, '87, is Dean of the CEHD. Her extensive portfolio centers around mental health, reducing stigma and addiction treatment and prevention.
Under her leadership, the CEHD uses a multidisciplinary approach within its education system. Counseling, counseling psychology and public health programs all fall under the college, "so the intentional linkage here between education and mental health is pretty unique," Dr. Juntunen said. The Northern Prairie Community Clinic (NPCC) located in UND's Columbia Hall is one example.
Funded by a Behavioral Health Workforce Education and Training grant, NPCC brings students from multiple CEHD departments and colleges together to provide behavioral health and speech-language pathology services to communities, schools, and clinics.
"Behavioral health is a complicated issue and no one profession can do this alone. The need is so great that we have to work much more intentionally to break down professional barriers and have true interprofessional teams. That's what this project is designed to do," Dr. Juntunen explained.
While many in-state behavioral health services shut down at the start of COVID, NPCC remained open and went completely virtual in the matter of a week. Its partnerships with school systems throughout the state – Grand Forks, Beach, Williston, and colleges within the North Dakota University System – have contributed to the rise in the interest in mental health services. From the 2019-20 to the 2020-21 school years, virtual sessions increased by 64%.
Dr. Melissa Quincer, '12, '16, is NPCC's Clinical Director and a practicing psychologist. She said the acceptance of telehealth is spreading, especially among school systems.
"What we're finding is once you get the client engaged, there's no real difference in building rapport with your patient over telehealth," she said. Some students even prefer it and have opted out of in-person therapy altogether."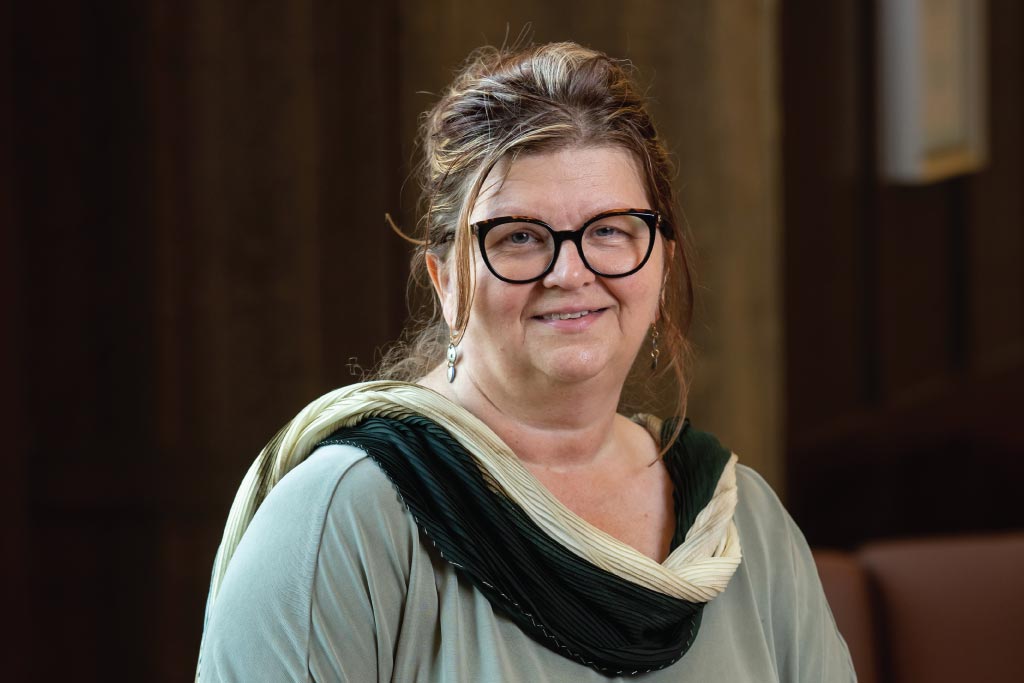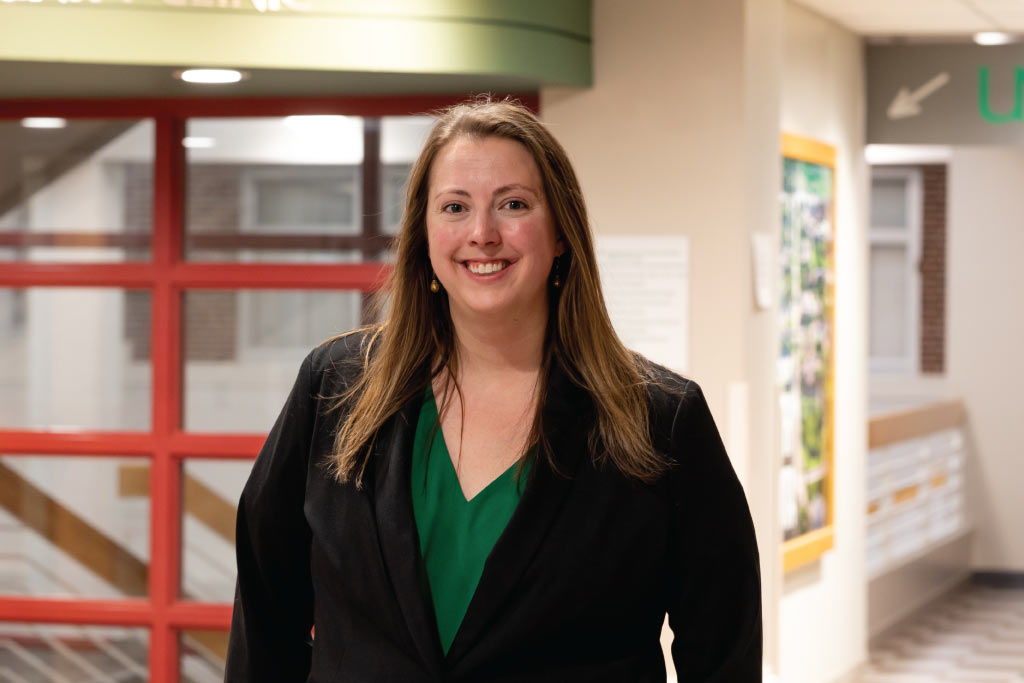 A MINDFUL APPROACH TO EDUCATION
Though mental health effects of COVID-19 on children are being studied, Dr. Juntunen believes the pandemic brought out what was already there: "I think COVID increased our awareness of mental health concerns because some of the resources that kids had available to help them manage their needs weren't as accessible."
As education has shifted, school systems across the country are actively discussing not if but how they will continue some of these new mental health supports.
Geoff and the team at GFPS were quick to put mental health supports in place when learning moved online in the spring of 2020.
For teachers and staff, he provided training in trauma interventions through the Mountain Plains Mental Health Technology Transfer Center Network (MHTTC) and professional development instruction on self-care. For students, he introduced the Calm Classroom approach that teaches mindfulness techniques. He also increased classroom visits from therapy pets, their tranquil effects on students moving some principals to tears.
The best thing that helped students continuing virtual learning, Geoff said, was assigning each middle- and high-school student a mentor teacher who provided emotional support over Zoom.
The efforts paid off: 87% of secondary students reported they had a supportive adult they couldlean on, one of the positive factors known to build resiliency. Teachers reported a reduction in stress and anxiety after using the Calm Classroom approach. And inpatient admissions for psychiatric care decreased 25% from last school year.
GFPS was also selected as one of only 15 school systems nationwide to participate in the National Center for Safe Supportive Schools Learning Collaborative, which will help Geoff and his team continue improving its system-wide approach to addressing mental health.
"The challenges that the pandemic brought on highlighted the importance of supports, mental health services and relationships," Geoff shared.
"But there was an emphasis on the importance of belonging and what that does for our mental health, too."
A PLACE TO GET HELP
Additional partnerships between UND and education systems across the region have helped improve not only the emotional and mental wellbeing of students, but also their academic achievements.
Mentor Center
A project born out of the pandemic, the Mentor Center provides academic and mental health support to GFPS students. The Center is housed on UND's campus and provides easy access for its students to volunteer.
Mountain Plains Mental Health Technology Transfer Center Network (MHTTC)
An interdisciplinary project involving multiple UND departments, MHTTC provides evidence-based training, technical assistance, and resources to support school-based mental health.
Promoting Positive Mental Health in Rural Schools
A program funded by the Substance Abuse and Mental Health Services Administration (SAMHSA) and created by UND experts to provide mental health training to school personnel across the region.
Rural Schools and Health
A resource created by the Rural Health Information Hub, a grant-funded program at UND's Center for Rural Health that houses evidence-based practices to address mental health in rural schools.
School Health Hub
A pilot project launching this fall in the GFPS through an endowment from the CEHD. The project will provide a holistic health model for students and families with services under one roof, including counseling, nutrition, public health education and social services.