Reading in the Modern World
Dr. Virginia Clinton-Lisell's research goes digital.
Dr. Virginia Clinton-Lisell has a tough problem to solve: How can students learn better using electronic devices?
Clinton-Lisell's previous research showed that people comprehend what they read on paper better than on a digital screen. But as the education system embraces free online learning, teaching and research materials, known as open education resources (OERs), she has shifted the focus of her research. Now, she is digging into ways to help students increase their comprehension of the information they read in a digital format.
"When I got interested in open educational resources, and switching from expensive commercial textbooks, which are usually paper, to these freely available online resources, I started thinking about how we can improve reading from a screen."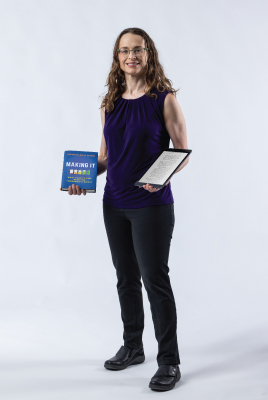 Discovering an answer to that question is a key part of Clinton-Lisell's work, which is funded by the Rose Isabella Kelly Fischer Endowed professorship.
Bernadine Greenwood established two professorships in honor of Rose. Dr. Clinton-Lisell has been able to use the funds from her endowment to pay for resources, such as biological sensors, books and tablets, to conduct her experiments. The endowment also funds a graduate student assistant.
"Holding an endowed position is a huge honor in academics. It means that somebody is viewing my work as valuable enough and influential to society, the students and the community of UND for them to want to financially support me. So that's a big deal," Clinton-Lisell said.
In an experiment with Grand Forks elementary school students, Clinton-Lisell used heart rate monitors and skin sensors to measure the students' emotional responses as they read on different formats. Fluctuating heart rates and sweaty hands indicated student interest levels in what they were reading.
THE PATH
Clinton-Lisell did not plan on teaching as a career; it began as a way to see the world. After graduation, she taught English as a Second Language in South Korea, and then in Italy. She returned to the States and obtained a Master's in Teaching English to Speakers of Other Languages (TESOL) and a Doctorate of Educational Psychology.
Now in the field for 23 years, Clinton-Lisell has taught at UND since 2014. "I love interacting with students," she said. "My favorite thing is when I hear back from a student, and they share how something they learned in my class or some skill they developed in that class has helped them or been useful in their lives and their careers."