A New Motivation
Dr. Anne Bodensteiner teaches the key to helping clients improve their own health.
Anne Bodensteiner, Ph.D., RDN, LRD, '07, '17, is Assistant Clinical Professor and Graduate Program Director of the Department of Nutrition and Dietetics in the College of Nursing & Professional Disciplines (CNPD).
With professional experience in nutrition and dietetics prior to becoming faculty at UND, Dr. Bodensteiner has been quick to adapt to changes in her field, like the rising focus on genetics.
"Specialized nutrition recommendations based on nutrigenomics and nutrigenetics is just exploding. I think it's going to continue to build, and it wasn't a thing when I was in school," Dr. Bodensteiner said. She teaches on the close link between biological factors and food's effect on the mind and body.
Nutrition & Dietetics graduate students aren't the only ones interested in Dr. Bodensteiner's courses on emerging topics and specialized studies. Medical students, nursing, pre-med and kinesiology majors alike are benefiting from the curriculum that she refines every semester in response to student feedback.
As a certified health coach, Dr. Bodensteiner has used an evidence-based approach with clients called motivational interviewing. "It's about helping people develop their own plans and goals to better their health versus following a strict diet or specific plan from a nutrition professional," she explained.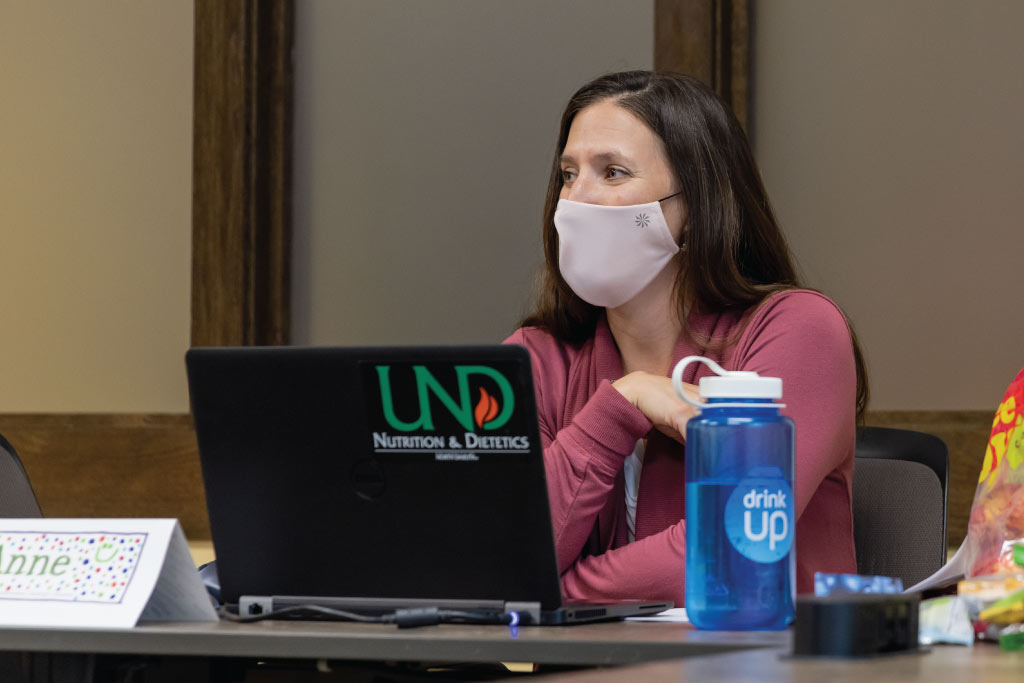 This fall, Dr. Bodensteiner will incorporate her clinical experience with motivational interviewing into a Health & Wellness Coaching Certificate she's developing at CNPD. Students from any discipline who want to add credentials to their portfolio can earn this certificate by taking three courses requiring 40 hours of live training and additional online training.
Although the certificate is in high demand across the country, it's not easy to develop. Support from the college, its dean and external connections are helping to make it happen. Dr. Bodensteiner plans to use it as a recruitment tool for UND's Department of Nutrition & Dietetics.
"We've had potential students reach out and say, 'If you get this approved, I will come to UND for my master's degree,'" she said.
While there are no current endowed positions at CNPD, Dr. Bodensteiner sees the potential an endowed position could have on efforts like these, namely, to support and lead follow-up research that can measure the effects of the certificate program and the role of the health coach.
"Qualitative research is one of the things that I'm very interested in developing in the department," Dr. Bodensteiner said. "It gets at the story, at the reasons behind decisions – things you can't attach a number to but that unveil the root of the issue."
THE POWER OF FACULTY
One professor can touch the lives of many through the courses they teach, the students they mentor or through their academic work. Supporting them is not a choice; it's a necessity. Endowed faculty give students the opportunity to learn from the most talented scholars in the world to solve global grand challenges.