A Cohort of Scholars
Teachers in Watford City, N.D. benefit from a unique program that offers them financial assistance - and so much more - to attain a master's degree from UND.
Mrs. James' second-graders at Badlands Elementary School in Watford City, North Dakota, are surprised to hear that she is a student just like them. They have learned this because a reporter from the UND Alumni Magazine is snapping photos during class on a Friday morning in December.
"You're a student?" asks one curious second grader.
"Does your husband know?" asks another.
Lindsey James explains that she's studying to get her master's degree from the University of North Dakota. Just like them, she has homework and gets graded on her mastery of the subject matter.
BURGUM SCHOLARS
James is not the only teacher in her western North Dakota school district currently pursuing a UND master's degree via online learning. Fifteen teachers here take part in the UND College of Education & Human Development's new Partnership for Rural Education in North Dakota program.
Through a generous $250,000 grant from the Burgum Foundation, program participants receive 50% tuition assistance. Watford City was chosen for the pilot program, which aims to create a cohort of teachers in the same district working collaboratively toward advanced degrees.
The Burgum Foundation was established in 2015 by Rick, '68, and Jody (Stibbe) Burgum, '74, to continue their lifelong commitment to philanthropy.
"I would just pour out my heart to them," said James when asked what she would say in the way of thanks to Rick and Jody. "I never thought this would be me in a million years. I always thought, 'bachelor's degree and I'm done.' A master's degree would never be attainable financially, so I'm very, very grateful."
High School Social Studies Teacher Logan Suter and his wife, Cassie Suter, an elementary Literacy Coach, are both Burgum Scholars in the district. He says it was a "no brainer" to apply to the program with the financial assistance being a major actor. Having a cohort of fellow teachers has been a bonus as they collaborate on research that can make their district better.
"It's nice that there are 15 of us going through it at the same time," said Suter. "We have conversations outside of the normal collaboration you would have."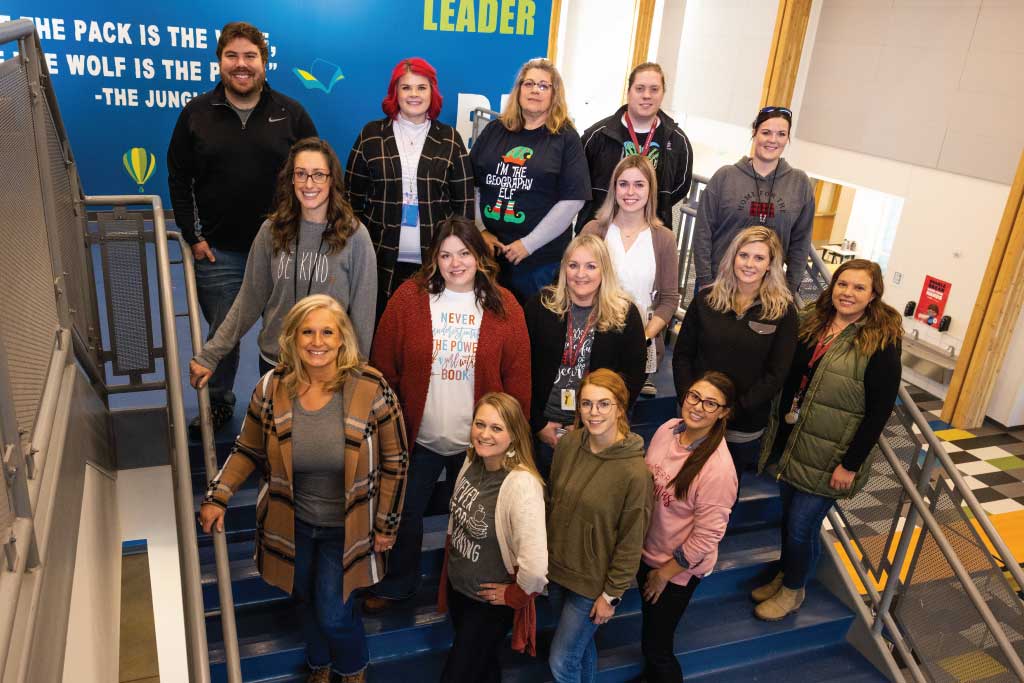 THE COHORT MODEL
Burgum Foundation Executive Director Katie (Burgum) Itterman, '03, says the program's focus on rural educators was appealing. "We were interested in a program that would give rural teachers equal access and opportunity to master's-level programming in their own school districts," she said. "We wanted them to have an opportunity to learn from phenomenal professors while continuing to teach in their schools and learn from their peers as part of a cohort. For us, this model is key because they are learning not just independently, but as part of a cohort that, in the end, makes their school district so much stronger."
Calina Krogen, who helps administer the program, agrees. She says the program has been influential in student achievement.
"Effective schools are the backbone of the community," said Krogen. "With the cohort model, these teachers are able to do research projects that can have an immediate impact on our district."
Dr. Jared Schlenker, '09, helps run the program from the UND campus. He says some of the research conducted in Watford City during the spring of 2021 was understandably focused on remote learning, given that most of the data used would have come from fall 2020.
"That's beneficial information," said Schlenker. "Google Classroom was one of the projects that several teachers collaborated on. Has that been beneficial
to student learning? Now that most classes are again face-to-face, that's still vital information on how Google Classroom can be utilized to benefit students."
Another goal of the program was to bring UND faculty to Watford City for in-person teaching. Although the pandemic has limited those interactions, professors have made the trip several times, twice bringing undergraduate students to tour the district.
Administrator Krogen says the connections made between Watford City and UND through this program have been invaluable.
"These [undergraduate] students may not know that Watford City exists out here in the western part of the state," said Krogen. "So, bringing them as part of the Burgum program allows them to see what we do and cultivate them as potential student-teachers or teachers down the road."
"What UND brings to the table is our expertise in online learning," said Schlenker.
"What I really think makes us unique is the enthusiasm that I'm not only seeing from the students, but our instructors as well. To have that buy-in from professors at UND is really key to the success of the program."
Effective schools are the backbone of the community.

Calina Krogen, program administrator
BUCKET LIST
Pam Moen, '92, has been an educator for 29 years. Thanks to the Partnership for Rural Education in North Dakota program, she is checking off an item on her bucket list.
"We are very fortunate to have this program," said Moen. "I'm closer to the end of my career than the beginning, but this program has been a catalyst for me to continue with my education. I'm very appreciative."
Moen hopes to be able to come to the UND campus for Commencement. It's important to her to show her grandchildren what can be accomplished when you put your mind to something.
"I've told our younger teachers that they should walk across the stage, too," said Moen. "They have young kids that should really see them do this."