More than a Fan
Local business owner develops a passion for UND and inspires a family legacy of giving.
The late Francis "Fritz" Mikkelson was a businessman who was wise beyond his years. When he moved to Grand Forks in the 1950s to start a real estate development company, he cultivated strong ties with the University of North Dakota. "My dad knew that a thriving University would only benefit his business and he realized the economic impact it had on the Grand Forks community. He and his wife, Verona, wanted to see UND succeed and grow and together they became very involved with the University," said Fritz's son, Dan Mikkelson, '90.
Over the years, Fritz developed friendships with former UND President Tom Clifford, '42, '48, HON, '00, and past UND Alumni Association & Foundation Chief Executive Officer Earl Strinden, '58. From here his affinity for the University grew into much more than a business-based relationship. "He loved UND and formed many relationships with administrators, professors and coaches. He became an avid fan of hockey, football, basketball, and volleyball, and continued to love and support UND Athletics throughout his entire life," said Dan.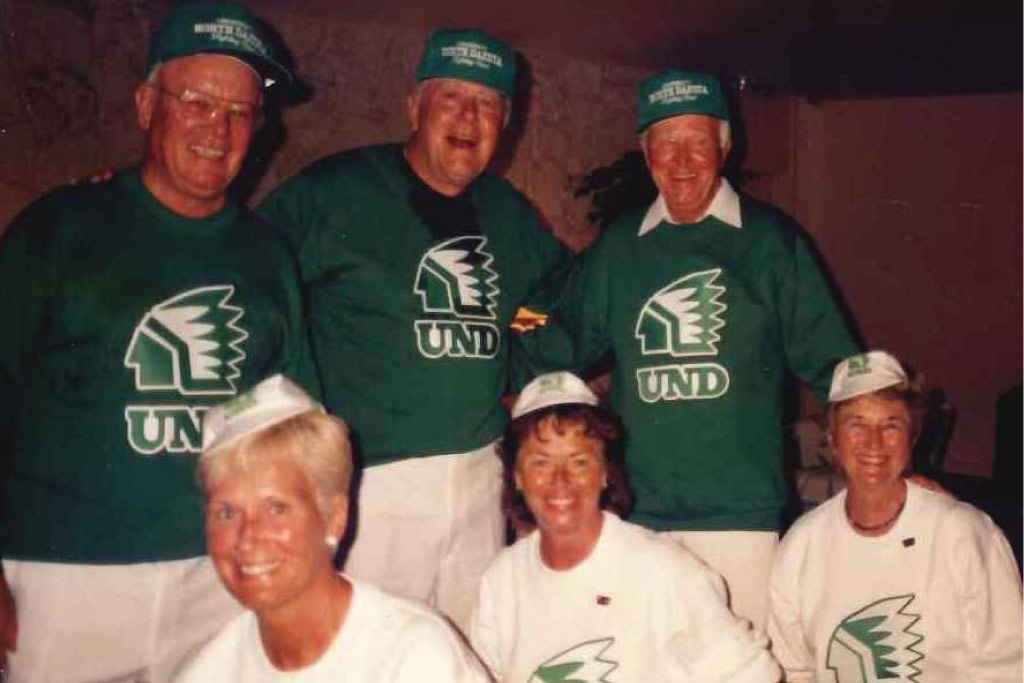 Though Fritz passed away in 2004, the Mikkelson family has remained committed to UND. Dan and his wife, Jolene (Brown), '98, and their son, Tommy, along with Dan's brother, Mike Mikkelson, '92, continue to support UND. "We are really just carrying on a legacy in the spirit of my dad," said Dan. The Mikkelson family invests each year in the Tom Clifford Endowment as well as the Earl Strinden Endowment in honor of Fritz, but their deepest affinity is for UND student-athletes.
Dan and Jolene's son, Tommy, is often recognized as a "super fan" at UND sporting events. Dan admires the way the student-athletes and coaches go above and beyond to be involved in his life as well as the lives of so many. "Tommy is disabled and has competed many times in the Special Olympics. It's just been amazing to see the student-athletes jump on board with that. It's the little gestures that the athletes and coaches continue to do that make a big difference," Dan said, adding that a group of hockey players even showed up at Tommy's high school graduation.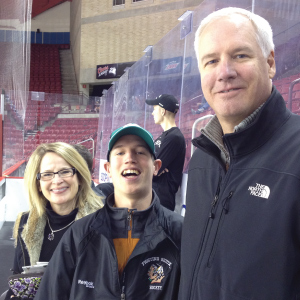 While UND hockey may be Tommy's number one sport, the Mikkelson family's generosity spans far and wide. Whether it's giving to support priority needs for football, volleyball, and women's and men's basketball; to "Bubba Bucks" to support UND football players; to giving to the Pride of the North band, the Mikkelson Family believes touching many diverse areas is important. "We just think it is more crucial than ever to ensure this great institution continues to be the flagship university in the state," said Dan.
Steve Brekke, senior associate athletic director for the UND Alumni Association & UND Foundation said, "The Mikkelson family's dedication to the University is to be applauded. Starting with Fritz and continuing on to Tommy, three generations of family members have supported UND, and specifically UND Athletics, beyond measure."
Dan took over and operates his father's business, which is now known as Mikkelson Consolidated. The family shares their late father's wise business sentiment. "Supporting UND is really a business obligation too. When UND is doing well, the entire community wins," he said.
MAKE AN IMPACT TODAY
Learn more about how you can give to UND and turn your passion for the university into real impact.