Art by the Acre
John Lassen, '67, '68, has created an eclectic outdoor space on his Arizona property known as Boulderanch.
What became a sprawling outdoor art repository on 30 acres in Carefree, Arizona, started quietly enough when John Lassen, '67, '68, purchased an old Willys-Knight automobile and displayed it in his front yard. He put lights in its headlights that would turn on at sunset.
"Then it gradually progressed," said Lassen of the property he calls Boulderanch. "I got interested in bronze and went to a large art show in Loveland, Colorado, and I acquired a number of pieces. So, I just started placing them on the property. Then came the stone pieces and old vehicles. As we wandered between Arizona and the Midwest, we came upon lots of interesting artifacts. It has a way of multiplying."
Though it started only a decade ago, Boulderanch has grown to an impressive size and scope.
Down one path, you'll find sandstone blocks, chunks of limestone and quartz and a huge ball of Chinese calcite. As you continue farther, you come across an art piece made of transmission gears. Just past that, a one-third-sized replica of Stonehenge, the prehistoric monument in England. "I actually had a surveyor come out and locate the position of every stone, so it ties in with how Stonehenge is really laid out," Lassen told a group of UND visitors getting a personal tour during an alumni gathering he hosted on his property in February 2020.
There are bronze statues of buffalo, bears, and moose; metal cacti, dinosaurs and wagons, a sculpture garden with wine bottle trees, old farm machinery and cars.
It's kitsch mixed with a serious dash of whimsy (an old Hudson sedan with rocks instead of a motor is known as "Rock Hudson").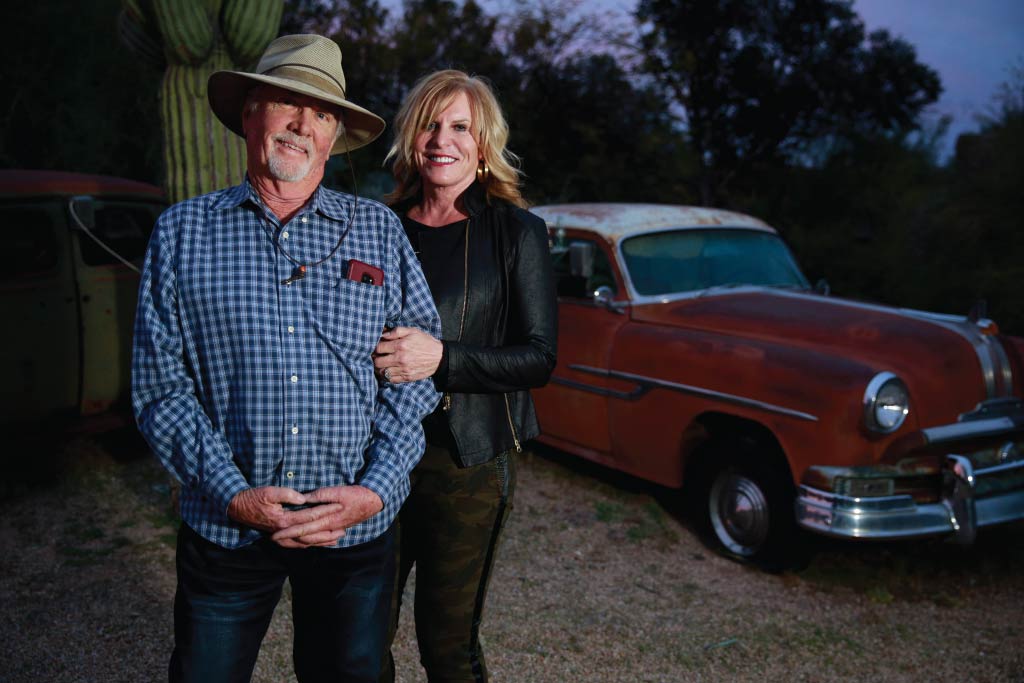 In addition to some of the rusty cars dotting the property, Lassen also has a collection of classic cars he's restored over the years, including a Cadillac convertible "dragged out of a turkey shed" near Bagley, Minnesota.
Lassen earned bachelor's and master's degrees in accounting from UND. He went to work at a Minneapolis CPA firm, but felt auditing books was not what he wanted to do for the rest of his life. After conducting an audit on a land development firm in Eden Prairie, he went to work for the company.
He began buying and developing land around the Twin Cities. Eventually, he went out to visit his parents in Arizona and found the development process much easier in the Grand Canyon State.
"In Minnesota, you're shut down come October when it freezes up or rains heavily, and you get back into it in May when the load limits come off the roads. Here, you can work year-round."
In the mid-'90s, he settled in Arizona for good and built a thriving land development business.
Given his background, it is appropriate that Lassen owns a home atop Black Mountain that was built in the 1970s to spur interest in the area for home development. Known as Bouldereign, the home was used in two movies in the '70s. Bob Hope and Eva Marie Saint shot scenes in the home for "Cancel My Reservation." Director Michelangelo Antonioni's "Zabriskie Point" also used the home as a movie set. At the end of the movie, the home is destroyed in a fiery explosion. Thankfully, through movie magic, it was only a replica.
It's a lot of fun, especially if people have a positive attitude about it when they see it.

John Lassen
Though he has owned the iconic property for 20 years and lined the winding driveway to its front door with bronze statues, Lassen has never spent a night living in the home.
"I couldn't decide how to remodel it. I had different input from different people and just kind of moved on to other projects," Lassen tells the alumni touring the property. "The idea that a couple of movies were shot here with movie stars that people know, it seems worth preserving some of the original features. But one architect would tell me to preserve them and another would say to get rid of them."
Lassen and his wife, Jayne, don't need to live in the home as they own five properties in the immediate area. One of the homes is occupied by his former mother-in-law, 96-year-old Lorrayne Jelle.
"She lived in Bagley, Minnesota, forever and moved out here permanently in 2019," said John. "When she would come to visit, she'd always ask me, 'What can I do?' So she'd start gluing glass beads to a sculpture of a pig, and then she'd start in on another art project. She's a volunteer. She loves to do it. When she's not doing that, she's cooking and baking, so it's hard to maintain your weight when she's around."
As Boulderanch grew, John started creating some of his own pieces. Even so, he doesn't consider himself an artist – he says he's more of a "tinkerer."
"It's a lot of fun, especially if people have a positive attitude about it when they see it."