Nine & Numb @ 20
An improv comedy troupe founded by UND students 20 years ago is still going strong.
Improvisational comedy was a regular feature in Grand Forks in the early 2000s after a group of UND students founded a troupe that drew large weekly crowds. Despite its performances disappearing from local venues, the troupe, Nine and Numb, continues to this day in Tampa, Florida, with occasional forays back to the Red River Valley.
LET'S PUT ON A SHOW!
One of the original founders, Dawn Kidle, '03, remains a part of the group. She says it formed in January 2000 out of a Theatre Arts class in which students learned improvisation techniques. Some students started going to open mic nights in the Westward Ho Peanut Bar, and it snowballed from there.
Eventually, nine regular performers decided to form an improv troupe. During a brainstorming session, someone suggested "Nine and Numb" for a name.
"That's weird and funky. It's improv. It's comedy. So, we went with that," said Kidle, "and it just stuck the whole time."
Kelly Clow, ..'99, joined the group shortly after it began regular Tuesday night engagements in the larger Comedy Gallery at the Westward Ho. Clow had been a child actor, appearing in everything from local productions to national commercials.
Despite that background, Clow says he learned a lot about stage discipline at UND.
"Being a child actor, everybody had kind of said 'yes' to everything I was doing," said Clow. "A director would say, 'That's great. Do it.' Where UND finally said, 'No, no, try this.' And so, I learned a lot of discipline from them. It really helped."
When the Westward Ho closed, Nine and Numb started a weekly show at Sensations Night Club. Then the group moved to the Fire Hall Theatre. A satellite Nine and Numb troupe started in Fargo in 2004, and in 2005 Kelly and Dawn moved to Tampa. After a several-year hiatus, a full troupe was formed in Tampa in 2011 and has been performing regularly since.
Nine and Numb has also remained a fixture in Grand Forks, annually producing "The Rocky Horror Picture Show" at the Empire Arts Center for the past 18 years.
That's weird and funky. It's improv. It's comedy.

Dawn Kidle

Nine & Numb
IMPROV
For the uninitiated, improv comedy involves the actors taking suggestions from the audience and immediately improvising a comedy skit.
From the outside looking in, it appears terrifying.
"Improv can be frightening to those who aren't familiar with it," said Clow. "Once you get familiar with it, then it becomes second nature. The thing that draws me to improv, is that it's a change of pace, constantly. When you're on stage, you're not stuck in a script, you're not stuck in one character."
Dawn describes herself as an introvert, but she has learned to overcome her nerves. While she doesn't often perform as part of the troupe anymore, she operates as the host, connecting the audience and the players. "It gets me up in front of people," she said, "and gets my creative process going, lets me practice talking in front of people. That helps in my everyday job, being quick."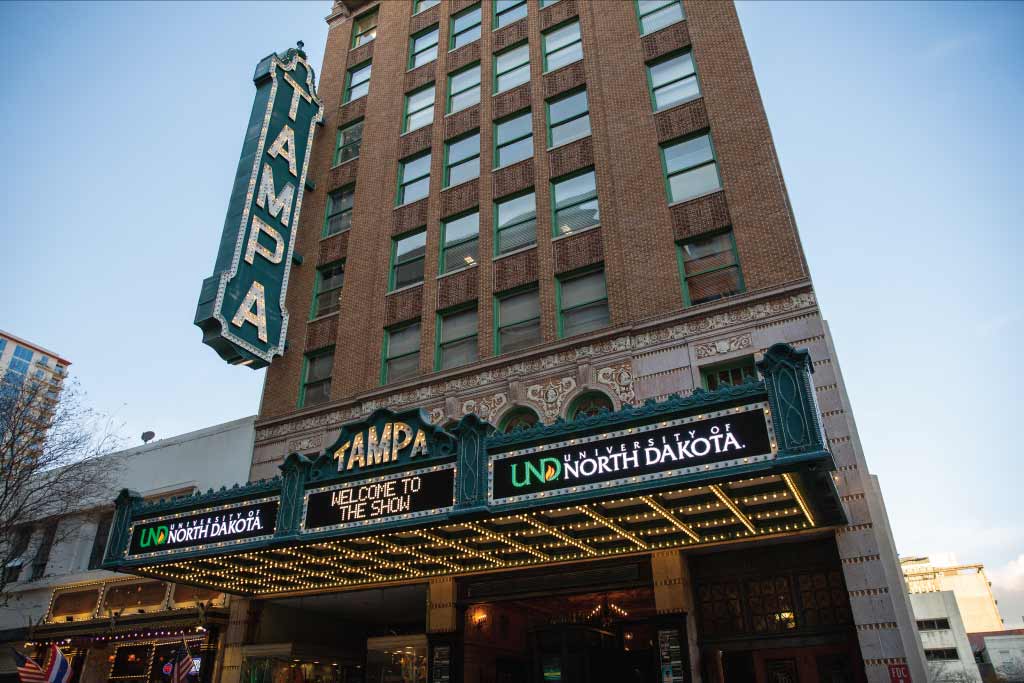 AWAY FROM THE STAGE
Both Dawn and Kelly, who have been engaged for nine years, have jobs outside of the improv troupe.
Dawn, who earned a BFA in Theatre Performance from UND, is the Box Office and Operations Manager for the historic Tampa Theatre while Kelly spent several years with Busch Gardens as a performer (a highlight was recording the safety video and voice announcements for the Cobra's Curse rollercoaster that opened in 2016) before taking a similar position with Universal Studios in early 2020. Both are also involved in the local arts scene acting and directing plays.
Like many others, the coronavirus pandemic had a major impact on their lives in 2020.
Universal Studios shut down in March before reopening with reduced guest capacity in June. Kelly has not been back yet, but he is still on the payroll. He expects to return to work soon.
Dawn has been working remotely, mostly on fundraising initiatives.
Nine and Numb has been doing virtual shows, but has, for the most part, been sidelined from performing for live audiences during the pandemic.
To commemorate the 20th anniversary of the founding of Nine and Numb, Kelly conducted videoconference interviews with former cast members that are available on the Nine and Numb YouTube Channel.
"We've had more than 125 players come and go in the last 20 years, so it has been fun connecting with them and reminiscing."