No Such Thing As Too Many Trips
"The risk of finding flight deals for a living is that you take too many trips."
Jared Kamrowski, '09, had just returned from the Maldives with his business partner Nick Serati, '09, and other UND graduates. Fighting jet lag, Jared acknowledged that an eight-day trip to a destination 11 time zones away was just too short.
"If you're going to go that far, you should be gone two or three weeks." But, he added, "We don't expect anyone to feel sorry for us!"
THE POINTS AND MILES GAME
In 2015, Jared and Nick co-founded Thrifty Traveler, a web resource dedicated to helping travelers find flight deals and other ways to travel affordably.
After college, Jared spent eight years working for the FDIC. "I traveled a lot. Almost everybody that travels a lot gets into the points-and-miles game trying to maximize their time away from family and on the road. I got hooked immediately. It springboarded from there."
Joining in the game was then-roommate and fellow UND alum Nick, who was traveling for his job as a software consultant. As travel became a bigger part of their day-to-day work, the two gained knowledge that, said Nick, "was the genesis of how the website initially launched."
It was 2015 and the site was a how-to guide for using points and miles.
An amazing deal changed the company's focus. "Emirates Airlines was offering a round-trip ticket to Dubai for less than $600 from all of Emirates' gateways," Nick said. "When Jared posted the deal to the website, it got so much traffic that the site crashed.
"At that point, we thought, 'we're onto something with flight deals' and the site shifted, becoming flight-deal oriented," Nick said. "A year later, we launched Thrifty Traveler Premium Flight Deal Alert Service."
Jared quit his FDIC job in 2017 and started full-time at Thrifty Traveler. The Minneapolis-based company now employs 20 people.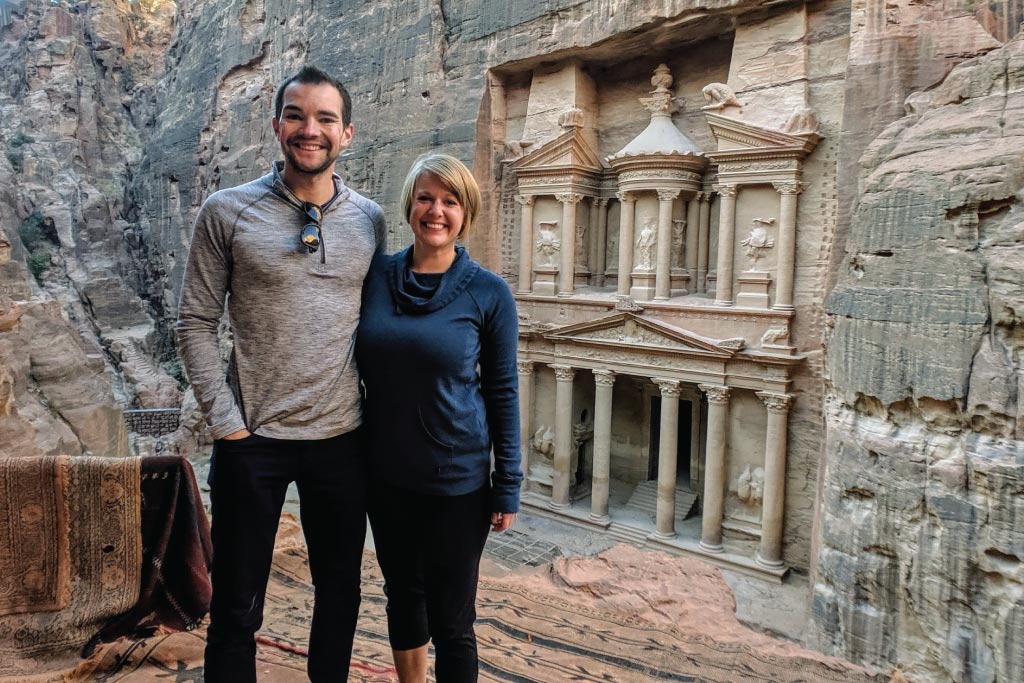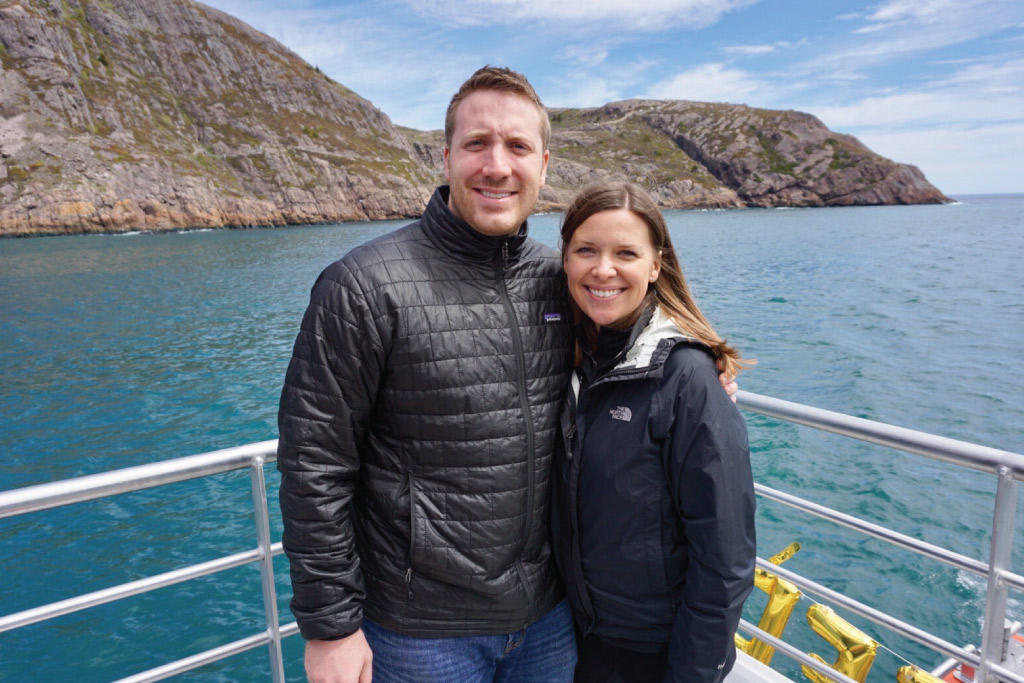 UNPACKING THRIFTY TRAVELER
The Thrifty Traveler Premium subscription service is the company's primary revenue source. "Our flight deal team searches almost 24/7 for flight deals. They have so many different tools and are constantly looking for anomalies in flight pricing. Whenever something pops up, we email the deal out," Jared said.
Thrifty Traveler Premium filters the deals subscribers receive based on travel preferences. "Some days we might have six deals; other days, it might be two. When subscribers open our emails, it's gonna be a quality deal."
Jared continued. "It's a travel myth that you have to take bad flights to get a good deal. I wouldn't send you on a flight if I wouldn't send my mom or myself on it. All the deals we find are flying Delta, American, United – the big carriers, not the budget carriers. We're really flipping (flight travel) on its head from what you'd expect."
The Thrifty Traveler website includes the credit card affiliate section and the blog. Nick manages the affiliates section. When he started full-time in 2018, growing that segment was his focus. Because that segment is regulated, Nick's vast knowledge keeps him involved.
The website showcases an extensive blog. "We create content for ThriftyTraveler.com. Our team is constantly looking for new angles for tips and tricks to save, as well as industry news," Jared said.
The blogs that pull the most traffic are the lighter pieces. "You'd be surprised at how much traffic stuff like the Starbucks thing generates," Jared said, referring to a post about how Starbucks is changing its reward system.
"Delta Airlines' espresso martini cocktail review (not good!) is one of our top posts, recently, as far as traffic," Jared said. "It's a little goofy but we're leaning into it."
It's a travel myth that you have to take bad flights to get a good deal.

Jared Kamrowski
UND: BEFORE TAKE-OFF
"I had no professional experience doing this," said Nick, a business major. "Early on, I was reaching back to my UND education. Because my degree was not very specialized, I was exposed to a lot of different things, and I think that was helpful. I took one entrepreneurship class. Some of the lessons I learned in that class, some of the speakers I heard, those are things I think about a lot. Sometimes, I wish I had taken more of those types of classes, but you never know what you're gonna end up doing."
On the other hand, Jared's degree was more specialized. "My decision to major in accounting was a key reason I've been successful as an entrepreneur," he said. "It was one of the more challenging business degrees but also one of the most useful. It has helped me avoid many of the financial, tax and strategic pitfalls many entrepreneurs face."
PACKING THEIR BAGS, AGAIN AND AGAIN
A "once-in-a-lifetime trip" was something Jared used to hear; not so much anymore. "I think people understand what we do now. It doesn't have to be a once-in-a-lifetime trip. If you can do it on the cheap or find different strategies to save, then even if you're not wealthy, you can pull this stuff off. It takes some work; it's a bit of a game, and that is fun and exciting."
The job is rewarding in other ways. About six months ago, the company sent subscribers a flight deal from Minneapolis to Cape Town, South Africa. "We got an email from a subscriber. They were checking into the hotel in South Africa and met another couple who also booked through Thrifty Traveler. The two couples went out to dinner. Two nights later, they met another couple who booked the same deal. It's kinda wild!" Nick said.
"It's easy to get wrapped up in the day-to-day of running our website and our service. Getting an email like that makes us stop and say 'wow!' What we're doing is very much making a difference in people's lives and that's pretty cool," Nick said.
Though children have slowed Jared and Nick's travel, they've both got favorite trips. For Jared, it was a trip to Bavaria, in Southern Germany near the Swiss and Austrian borders where there are lots of mountains and outdoor opportunities. His best deal was a $900 first-class ticket to Vietnam.
Nick recalled a trip to Austria at Christmas time, when he took his wife and oldest daughter, then 1 year old, and his wife's parents. Using points and miles and other tricks, the whole family flew business class. "We had the best time. That was a special trip. It took a lot of the principles of what our website is all about."
Jared said he doesn't see his travel picking up any time soon, which may be a good thing for Thrifty Traveler employees. An employee had just returned from a weekend in Copenhagen to do a product review. "We don't take any freebies. We do reviews and they're pretty objective. That's why people like following us."