The Perfect Fit
UND is a great community that feels like the perfect fit for me. It's such a welcoming place and the people I have met have been so friendly and supportive.
Treysen Eaglestaff, '26
Hometown
Mandan, North Dakota
Area of Study
Business Economics
Why UND?
I have family ties to UND. My Grandpa, Robert Eaglestaff, played basketball here. I thought it would be amazing to play at the same college where he played. My Grandpa came from such a small and unknown place. At that time, it was very hard for Native Americans to make it off the reservation. He overcame very challenging circumstances throughout his life to leave behind a great legacy, and I look up to him as a great inspiration.
Lessons from freshman year
College has taught me to have a better work ethic in my studies. My sister attends UND and has been a great influence on me by consistently encouraging me to work hard at everything that I do.
Community Involvement
I train kids around Grand Forks to help them improve their basketball skills. Our team does a great amount of community service, especially in the off-season.
Career goals: Since I was a kid, I have always had a dream of playing professional basketball after college. I'm also interested in starting my own business to train youth basketball or even pursue a coaching career in the future.
Favorite UND memory so far
I have two memories that stand out from my first season. First, we played Elon University early in the season and that was the first time I had scored in double figures. The second memory was when we played Kansas City (University of Missouri-Kansas City) and the team broke the UND record for most 3-point field goals in a game with 18.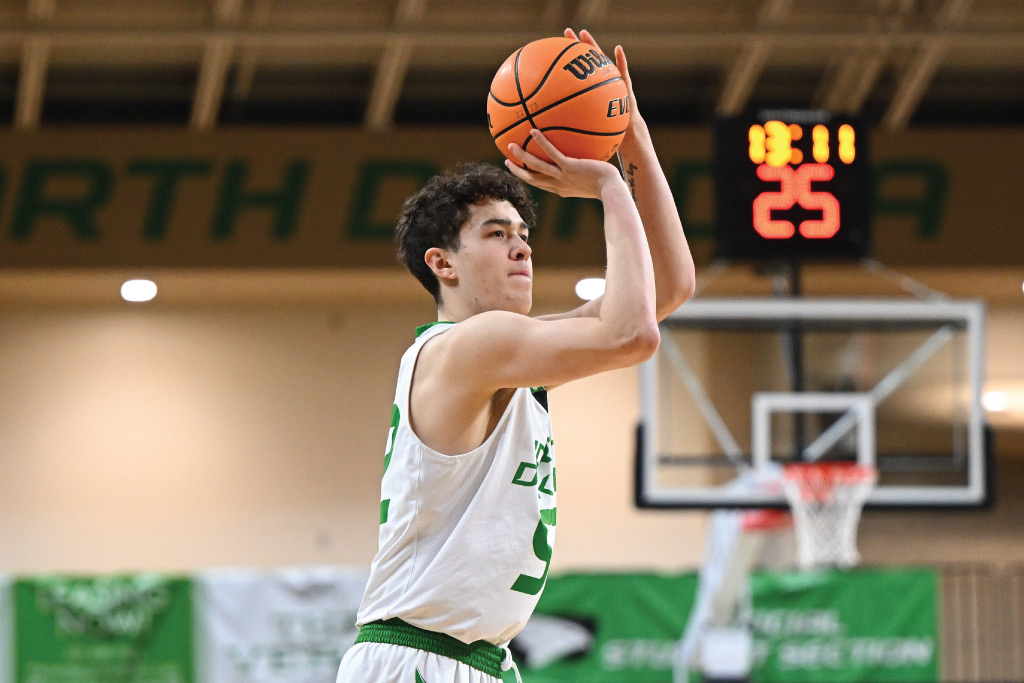 Continue Bob's legacy
Robert "Bob" Eaglestaff was an educator, a cultural icon, and a friend to many. In 2004, his family, friends, and UND basketball teammates established a scholarship endowment to continue his vision for what American Indian students can accomplish. To continue Bob's legacy by supporting students studying education at UND, give to the Bob Eaglestaff Endowment at UNDalumni.org/give.