No Missed Connections
Connected to UND by friends and fueled by his passion for aviation and students, Seymour "Si" Robin donates millions to UND Aerospace.
Aviator and inventor Seymour "Si" Robin first visited UND in 2005 when his friend and long-time UND supporter Clay Lacy introduced him to the John D. Odegard School of Aerospace Sciences. Si was impressed. He immediately recognized and appreciated the work ethic and vision of the Odegard School's staff, faculty and students and its inventory of aircraft and military equipment. Since then, Si has donated millions of dollars to the school.
Though not a UND grad, Si – a lifelong pilot with multiple airplane antenna patents – is grateful for the ways UND is advancing aviation. "UND is an important source of support to the airline industry in terms of pilots, mechanics and other transportation needs," he said. "I look at the talent and the great people at UND. I never met John (Odegard) but I look up and I say 'thank you. Thank you for making this school.'"
Robert Kraus, Dean of the John D. Odegard School of Aerospace Sciences, explained the legacy of UND Aerospace founder John Odegard. "John would find people and introduce people, and he would sell the program. Several people came to Grand Forks and were blown away by what was going on in North Dakota. As they learned about the program, they said UND was doing exactly what needs to be done to train professional pilots for the airlines, for business aviation and for the whole aviation industry."
To support Odegard's vision, Si and his late wife Betty have provided lead funding for several projects. Most recently, he pledged a $5 million matching gift for the Flight Operations Center, which – when constructed – will be the centerpiece for UND Aerospace students and flight instructors.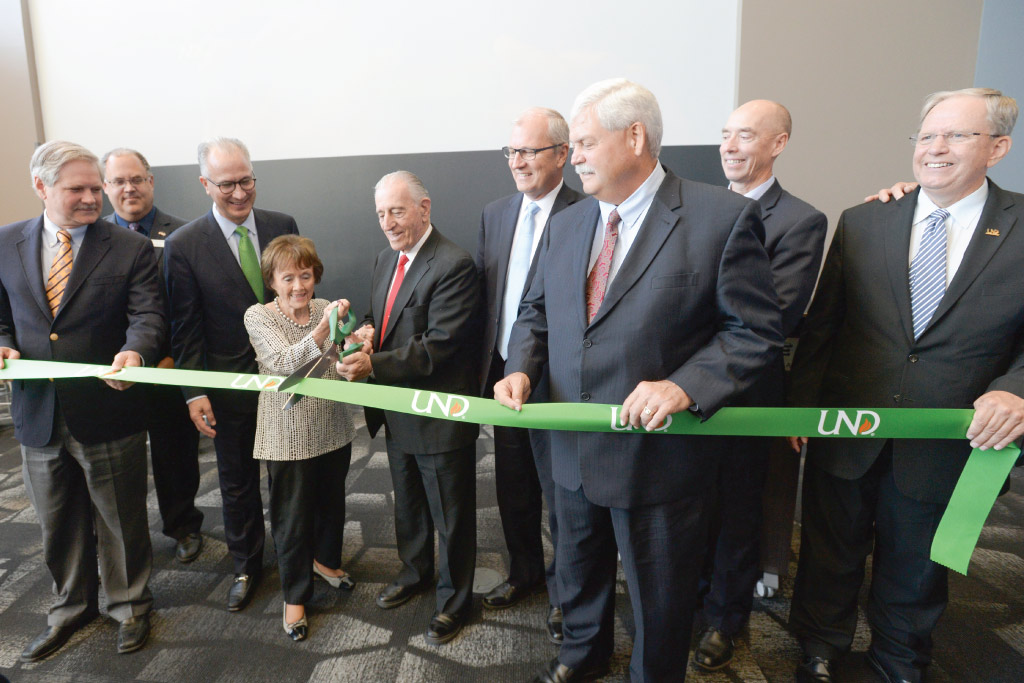 THE FLIGHT OPERATIONS CENTER
For more than 30 years, UND Flight Operations has been housed in the school's maintenance building. The building is busy 18 hours a day, seven days a week, with more than 400 student flights each day.
When Kraus started as dean two years ago, one of his first objectives was to find a way for the school to build a new flight operations center. After JLG Architects completed the required formal design study, school officials considered financing options, either from the state legislature or philanthropic sources, and decided to go with the latter.
Enter Si Robin, who – at the fall 2022 UND Aerospace Alumni Advisory Board meeting – pledged $5 million to the $35 million capital campaign project. Robin's pledge is a two-for-one match. To unlock Robin's $5 million, the school needs to get $10 million from other donors.
"Not many people contribute those kinds of dollars to projects here on campus, certainly not someone who didn't go through our program and isn't an alum," said Chuck Pineo, '94, '97, CEO of the UND Aerospace Foundation. "He's so supportive because of his passion for these young aviation people and our organization."
"The Flight Ops building is a way for Si to give the students a physical space that is commensurate with the reputation of their flight training program," Kraus said.
I never met John (Odegard) but I look up and I say 'thank you. Thank you for making this school.'

Si Robin
The Flight Operations Center will be a three-story, 28,500-square-foot building that will accommodate 21 new and 15 renovated huddle rooms for flight instructors and students to meet. Plans include a state-of-the-art dispatch center, a large kitchen, offices for staff, an aviation bookstore and a 2,000-square-foot lounge. The hangar will serve a dual purpose – a place to store aircraft and a venue to host events, which, according to Kraus, will enable UND to better "advertise our students to the airlines and advertise our university to prospective students."
Unlike the current building that operates like a dispatch center where students are in and out, the new building "becomes a destination for students to study and meet with their instructors," Kraus said, and added, "These improvements will benefit the image of the entire airport."
The funding model is similar to UND's recently completed Nistler College of Business & Public Administration building, with numerous opportunities for naming sponsors.
SEYMOUR "SI" ROBIN FOUNDATION AVIATION SCHOLARSHIP
"The things that resonate with Si are things that impact the students," Kraus said.
Si donated $1 million to establish the Seymour "Si" Robin Foundation Aviation Scholarship. The scholarship covers expenses related to tuition and flight training for an incoming UND student and follows the student through their four-year degree program.
"Si Robin's $1 million gift will generate a full-ride scholarship, renewable for four years, for seven aviation students over 10 years," Kraus summarized.
UND freshman Ethan Mathews is the first Robin Scholarship recipient. The Colorado Springs, Colo., native said planes constantly flying over his city fueled his interest, but it was listening to family stories that piqued his interest in aviation. "My great-grandfather was deployed to Vietnam as part of the Army where he flew helicopters and planes. Having somebody like that to look up to, to tell me what he's done. I always looked forward to hearing his stories," Mathews said.
Mathews, who participated in the Robin Scholarship interview process last spring, was "speechless" when he received the news that he'd been awarded the scholarship. He did, however, find the words to thank Si when they met last fall. Si was in Grand Forks to announce the scholarship and attend a board meeting. "It was amazing to meet Si Robin," Mathews said. "I got to thank him in person for such a generous gift. I loved that personal touch."
Si, noting that aviation is a highly paid and rewarding field, offered, "My advice to all aviation students is to work hard on your studies."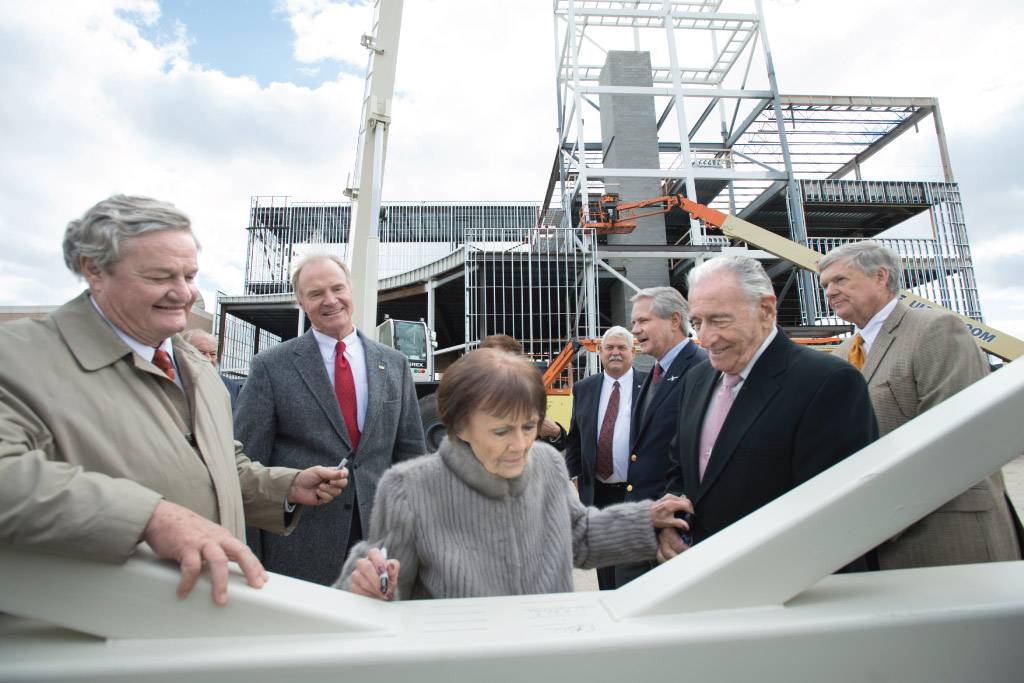 THANK YOU, SI AND BETTY ROBIN
During the same visit, Si again recognized the connections made through aviation. "I'm really honored to be here," he said, speaking in Robin Hall, where UND runs its unmanned aircraft systems education and research. The Robins were lead donors on the building, completed in 2016.
According to UND Today, Si pointed to the building's Legacy Wall of benefactors, which includes a photo of him and Betty. "I'm especially honored because of all these other people who are here on the wall, too," he said. "And all of us hoped that the aviation program would be around for a long, long time."
"It doesn't take long if you're looking around the campus to see the impact the Robins have made on the university and specifically on the Odegard School," Pineo said. "One of the first things you see when you drive up to the campus or are passing by Grand Forks is Robin Hall. Now one of the first things you'll see when you land here will be our new dispatch building. It's appropriate that Si Robin is kicking that off as well."
WHO IS SI ROBIN?
Si Robin is a giant in the aviation industry.
He graduated from McGill in Montreal, Quebec, and moved to California in 1948 where he began developing aircraft antennae. He holds more than 80 patents for antenna-related products. Together with his wife Betty, Si led Sensor Systems Inc., a small company in Chatsworth, Calif., that designs and manufactures antennas for commercial, business and military aircraft.
After visiting UND and contributing to numerous aviation initiatives, both Si and Betty were awarded honorary doctorate degrees in 2018. This is one of Si's many awards and honors, which includes the Living Legends of Aviation Inventor Award for his lifelong accomplishments in aircraft antennae design and development.