Student Start-Up Showcase Project Runway
Thanks to a generous alum, students at the Center for Innovation are on their way to turning their ideas into reality.
An aviation podcast. An intervention gadget for geothermal pipelines. A drone-centered thermal imaging inspection process. A mobile aircraft detailing service. A correction system for electric motors.
Five UND students pitched these ideas to a panel of local business leaders at the Runway Student Start-up Showcase in early December. The two-phase initiative was launched in fall 2022 by the Center for Innovation (CFI) in partnership with the Nistler College of Business & Public Administration. The program offers start-up training, staff and faculty mentorship, networking with peers and industry experts, and up to $10,000 in mini-grant funding to support UND student business ventures.
Phase I is all about market fit; 16 teams built products based on customer needs. Five projects moved on to Phase II. Teams, ranging from solo entrepreneurs to multiple members, each were awarded a $10,000 mini-grant and will meet weekly with CFI staff, Nistler faculty and industry mentors as they further hone their ideas.
Dr. Amy Whitney, Director of CFI, is eager to see the results of the first students to come through the program. "We are hopeful that over time this program grows even bigger with even more activity, but we are excited that this group has taken that leap of faith with themselves and with us," Whitney said.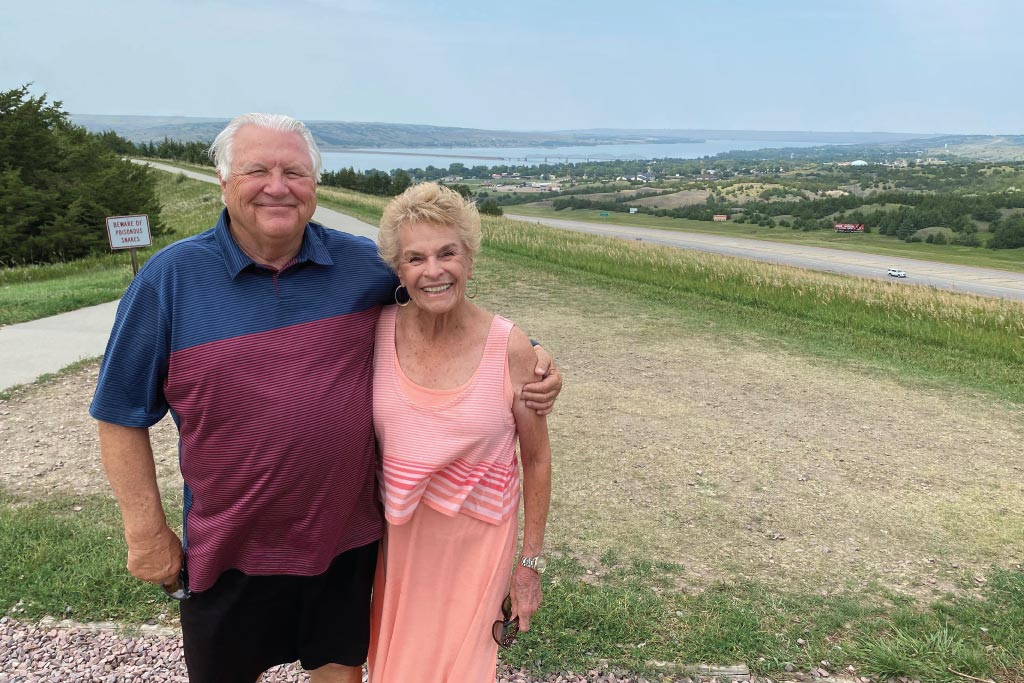 A GOLDEN TICKET
Jim Scoular, a 1968 UND accounting graduate, gave the initial gift to create the Runway Student Start-up Showcase.
An Air Force veteran, Jim became president of the largest manufactured housing company in the Midwest and later founded Jimsco, Inc., which builds and sells affordable, nonsubsidized manufactured housing communities. He recently sold the business to his son and now serves as a consultant.
Jim and his wife, Ann, gave to the Runway program hoping to eliminate barriers for young entrepreneurs launching their business ideas.
"It's about having the resources to do what you want to do. And the barriers become harder as the economy changes," Jim said. He remembers his own setbacks, like when home mortgage interest rates hit 21% in the 1980s. "We thought there was no way we could move forward, but an entrepreneur can figure out a way to do it, and we did. Not everyone's going to be successful the first time, but you have to just keep pushing forward and believe in what you're trying to do."
Jim said opportunity is the golden ticket for young people today, recalling that his father gave him an opportunity by teaching him how to manage retail, manufacturing, financing and insurance. He also stressed the importance of giving others a leg up – yet another valuable tool that taught him how to do business the "right way."
"UND has always done it the right way," said Jim, who has full confidence his investment is worthwhile. When UND leadership approached him with this idea, he knew the investment would make a real impact on students. He saw the promise of providing space for mentorship and collaboration as invaluable, recalling how beneficial roundtable discussions were to him and his colleagues when starting out.
"We would sit down and everybody argued their viewpoint. At the end of the day, because of the arguments and discussions, we'd come up with the best plan. And I think that entrepreneurs who are successful have that."
Not everyone's going to be successful the first time, but you have to just keep pushing forward and believe in what you're trying to do.

Jim Scoular, '68
ATTENTION TO DETAIL
Landon Paurus, a sophomore in Commercial Aviation, capitalized on his industry knowledge to present a solution to a common problem for aircraft owners.
He pitched a mobile detailing business with an emphasis on cleaning aircraft. Hawk's Eye Mobile Detailing brings a detailing service to the customers; they no longer have to travel for the service.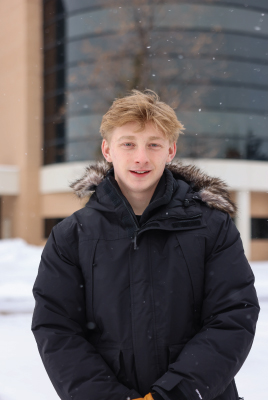 "Most of the aircraft detailing that is done right now is out of personal hangars, so people have to fly their airplanes into the airport, which is going to cost them a bunch of money and brings a lot of hassle for the owner," said Landon.
He currently does detail work part-time at a local car dealership. This experience helped him determine the exact types of equipment and chemicals needed to do everything on his own. With the Runway grant money, Landon plans to buy his own trailer and equipment.
Landon would eventually like to hire more employees to increase the range of his services and take on a managerial role. He hopes to create what he calls "legacy potential" for the business by drawing in aviation students from UND and providing them with another outlet to use their industry knowledge.
Jim Scoular found it interesting to learn that Landon's project involved detailing planes, as this was one of his roles while based in UND's ROTC program at Grand Forks Air Force Base. To Jim, every skill is valuable. "I see value in anything that can have potential to help people," he said.
OFF THE RUNWAY
The Runway program provides mentors for students who want to see their business ideas come to life. "This program is designed to give students the bare fundamental understanding of solving problems that truly exist in the market and the customers that it requires you to interact with," explained Tyler Sletten, former Runway Phase One Coach. He said it's common for only one out of 10 business ideas to make it in the real world. No matter the outcome of each Runway project, he thinks this program offers the essentials to teach what's involved in making a business idea successful – like the fact that it might take more than one try.
"We want them to understand that the process is about finding the right time for your idea, and if now isn't the time, that's perfectly fine," he said. "Instead of giving up, you'll learn to pivot into a new approach that's more prepared for success."
CFI's vision for the future of the program is to scale up by adding more students and allowing young alumni and faculty to participate. Sletten hopes more donors, like Jim, will sign up to support the program.
"I don't think it's ever a waste of money for anybody who makes it or doesn't make it," Jim said. "This gives them the opportunity to not only realize their dreams but to do something of importance for the university, state and country."