An Advocate for Aviators
William "Billy" Hoffman, '15, is a neurologist with a lot on his mind. In addition to his medical residency with an Air Force medical center in San Antonio, the airman is researching pilot health and in his spare time has written a novel inspired by that research.
PILOT RESEARCH
Hoffman says it is common knowledge in aviation circles that pilots are averse to seeking medical attention for fear they will be grounded. While the implications are serious, the accuracy of this belief has not been thoroughly studied.
"If an airline pilot, for example, experiences chest pains, they are technically supposed to ground themselves until it is fully evaluated. … This could be the end to a lucrative career, so it's like pulling teeth to get them to come in. Interestingly, there is very little published medical literature about this."
In his initial anonymous survey of more than 900 pilots last year, Hoffman says he and his colleagues found that 60% of pilots had delayed seeking care after experiencing a symptom and 40% admitted that they had withheld information from their physician for fear of losing their medical certificate.
Hoffman says that's worrisome because the primary way pilots are screened is to be asked during annual aeromedical exams whether they have experienced any symptoms.
Hoffman points to a study of Federal Aviation Administration data that found 5% of fatal aviation accidents in the United States in 2015 were due to medical conditions not being disclosed. Hoffman believes the percentage might be even higher, but autopsies and toxicology reports are not always conducted in accident investigations.
Hoffman's ultimate goal is to use his continuing research to find ways to advocate for pilots to be able to seek the care they need without retribution. He advocates for establishing a national aviator healthcare advisory phone line where pilots can get medical advice without revealing their identities. Not only could that improve aviation safety, but it might lead to earlier interventions and better treatment of pilots who now might be putting off seeking care until their conditions are much further along.
AVIATION TO BIOLOGY
Hoffman's interest in aviation and his desire to join the Air Force go back to his youth in Rosemont, Minnesota. He was a member of the Civil Air Patrol as a teen and earned his private pilot license. When his dream of attending the Air Force Academy fell through, he started looking for schools with an Air Force ROTC program and a strong aviation program. That landed him at UND.
"I really sort of stumbled into it [UND]," Hoffman said. "But it was the perfect fit. I'm so glad it worked out the way it did."
Hoffman started in Aviation, but as a sophomore he accidentally took a pre-med biology class instead of the general studies class and found his calling. He graduated from UND with a degree in Biology and attended medical school at Georgetown.
"I feel like I owe a debt of gratitude to UND. It's a big university, but the professors always knew my name. They were always very supportive and encouraging of the whole group of us who talked of wanting to go to medical school."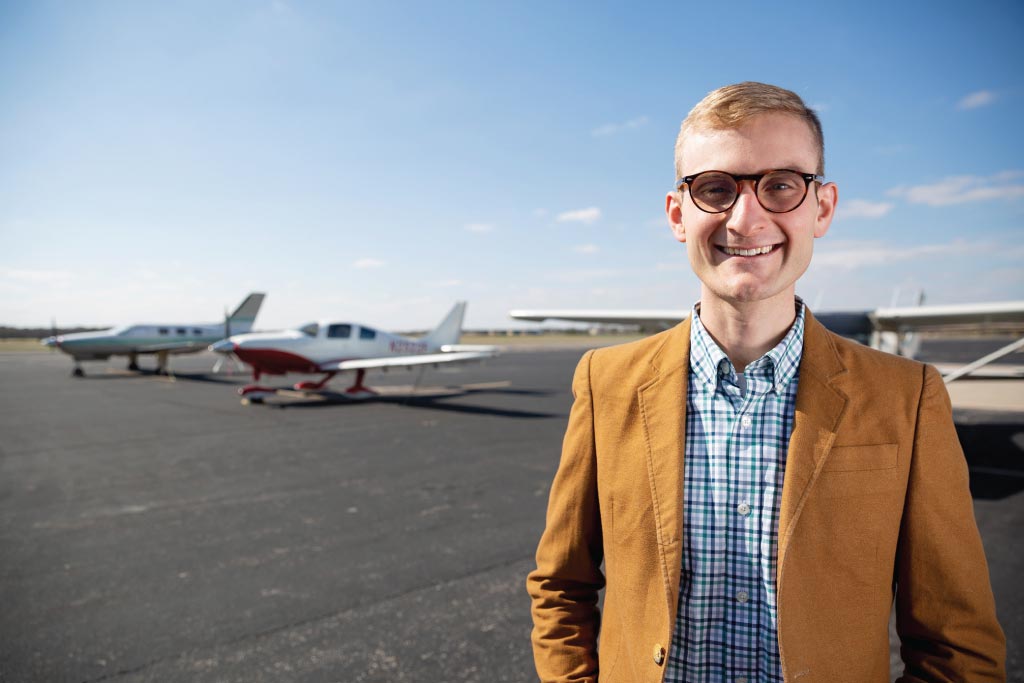 SPARE TIME NOVEL
Somewhere in his spare time between earning his medical degree, starting his residency and his Air Force responsibilities, Hoffman turned his interest in pilot health into a work of fiction. "Wings of Deceit" follows the decisions of Captain Robert "Mac" Frank that led him to have a medical crisis in the cockpit during a commercial flight over the Pacific Ocean.
The book then uses flashbacks to explain how Mac arrived at this pivotal moment. The University of North Dakota of the 1970s even makes an appearance as Mac earns his aviation degree in Grand Forks and meets his future wife.
"I always say there's nothing like medical education to beat the creativity out of person," said Hoffman with a laugh. "So, it was kind of nice to have a creative outlet. You don't make any money by self-publishing a fiction book, but it was a fun opportunity on the side."
You can find "Wings of Deceit" on Amazon.com.
Hoffman doesn't rule out writing another novel, but for now he's focused on his medical residency and research efforts. He is currently soliciting a new batch of aviators to take a follow-up survey on how they handle their healthcare needs in relation to flying (see below).
He has three years left on his medical residency and will serve in the Air Force another eight years after that.
"They paid for a lot of education, so Uncle Sam owns me for a long time," Hoffman said with a laugh. "But that's OK; I knew since I was a kid I wanted to be in the Air Force. And I'm excited to finally do it."