In Good Company West River
"I'm not getting a heartbeat."
Those dreaded words. David Holman, M.D., '91, '96, did his best with the fetal doppler machine. I knew being eight weeks along was early, but my family was heading back to North Dakota for Christmas and we wanted to share the good news with our relatives. Knowing our baby had a heartbeat would give me peace of mind before making it public.
Philip Health Services is a critical access hospital and medical center located in the heart of ranching country "West River" – or west of the Missouri River – near the Badlands of South Dakota and our home in Kadoka, population 550. Dr. Holman signed on to its medical team in 1999 after graduating from medical school and residency at UND. He's never left.
"I knew from day one I wanted to do small town family medicine somewhere ... I was looking to practice where it's not just medicine, it's becoming part of the community."
Dr. Holman specializes in pediatrics, OB and women's health, but he wears multiple healthcare hats around town as medical director for the ambulance services, on the hospital board, and on standby for the high school's athletic teams.
Those at Philip Health have adopted Dr. Holman and his family as their own, and the Holmans have done the same. They find ways to give back, like opening their hobby farm to the public each fall for pumpkin patch festivities.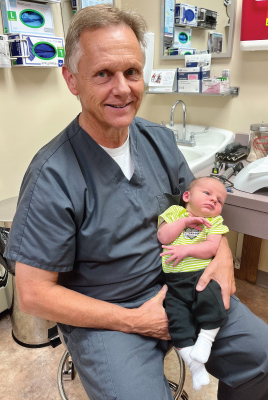 TREATING BODY, MIND AND SOUL
"Here, I'll give you a number." Assuring me that the undetected heartbeat was nothing to worry about, Dr. Holman jotted down the name of a former UND classmate and doctor at Altru Health System in Grand Forks. "I'm sure he'll be able to get a heartbeat in a few weeks when you're back in North Dakota." I tucked the number away with high hopes.
Dr. Holman is one of five UND alumni who give physical, occupational and medical care at Philip and surrounding areas. It's a high number of alumni considering the distance from their alma mater some 500 miles away.
Audrey Smeenk, PA-C, '20, is one of them. Originally from the area and daughter of another Philip provider, Audrey is known by her patients to combine education with treatment.
"It's just a different type of medicine," Audrey said of rural healthcare. "You get to spend time with your patients and get to know them, their family and everything that's going on. I feel it's important in today's medicine because not only do you need to treat people with medicine but you have to be able to treat their mind, body and soul to make sure they have a good outcome."
With a decade of nursing experience under her belt, Audrey chose UND's physician assistant program because of its nationally acclaimed rural training. Her leadership extends beyond the area as president of the South Dakota PA Association and representing South Dakota in the House of Delegates for the American Academy of PAs.
She, too, has a full plate between medical commitments and raising a family. But she says it's for good reason: "I do it because I love helping. I grew up in a rural setting, and I know how much it's needed – looking after people, giving care and education."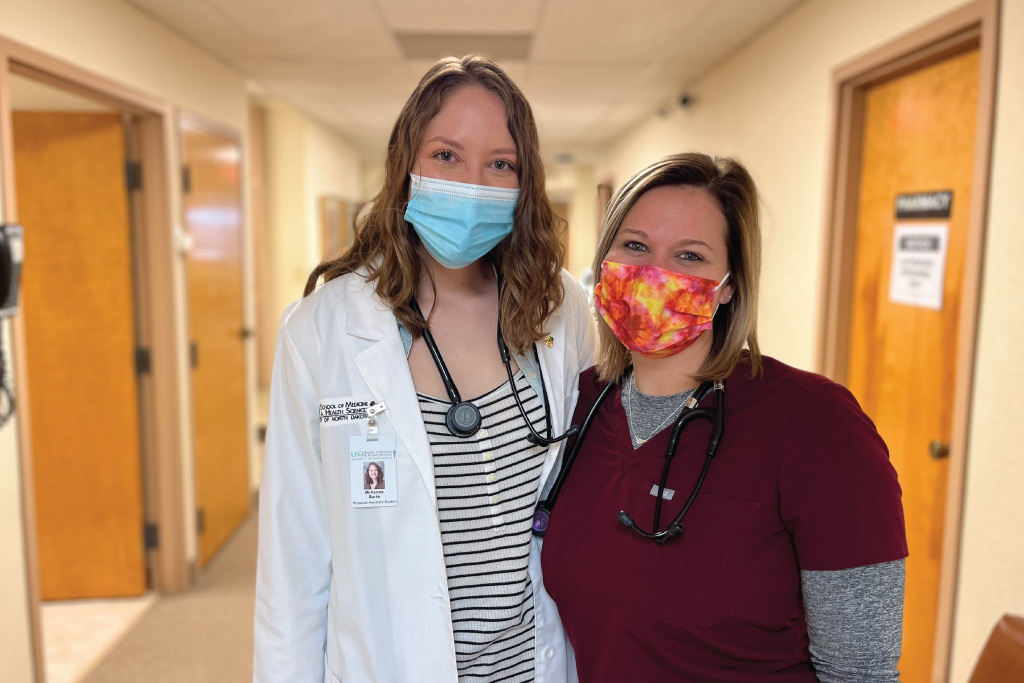 GETTING CREATIVE
On my way home from seeing Dr. Holman, I got a call. "I thought of another solution. Come on back to the clinic tomorrow and we'll try for the heartbeat again," he said.
I arrived at the clinic the next day and followed him into the exam room. He took out a small device with a scanning wand and a screen. The Vscan is a handheld, wireless ultrasound machine he'd used on bladders. Audrey recently showed him how it can detect a fetus. A go-to in rural clinics, it's especially handy for patients (pregnant women and ranchers alike) who don't want to drive an hour and a half for a scan from a larger facility.
"There it is," Dr. Holman with confidence. On the small screen was a tiny figure and a flicker – the heartbeat. That was all I needed.
Dr. Holman knows rural medicine takes unconventional approaches and being prepared for anything at a moment's notice. Off duty, he carries a suture kit for mishaps at brandings and rodeos – common activities for both livelihood and sport in this part of the country.
"You have to make sure and maintain those good, basic skills to identify things you otherwise could with a CT scan that you don't have or an ultrasound machine you don't have or a cardiologist we don't have. You have to be well-rounded, and you keep that by being creative and available," he said.
You have to be well-rounded, and you keep that by being creative and available.

Dr. David Holman
TEACHING THE NEXT GENERATION
"Put your hand right here. Feel the head? And then up here. Those are the feet." It was my 22-week appointment and Audrey was showing her PA shadow, McKenzie Burke, '23, how to measure a baby in utero.
Prenatal exams were part of McKenzie's smorgasbord of experiences during her three rotations at Philip Health Services as a UND student. "You all know each other, which I think is awesome about being in a rural setting and especially having to treat a vast variety of medicine," she said.
UND's partnerships with training facilities extend to locations across the Midwest, but because of lack of time and availability, students often are left scrambling to find preceptors. After being turned away by eight other facilities for her second and third rotations, McKenzie asked Philip if she could return.
She was happy in the company of UND alumni who took the time to train her right, and Philip was happy to continue teaching an eager and promising future PA. Audrey even opened her home to McKenzie when no housing was available.
"I can't say just enough good things about Audrey," said McKenzie. "She wanted to make sure that my time in Philip was valuable and that I was getting everything that I could out of it, which I absolutely did," said McKenzie.
EVER-PRESENT
"How'd it go?!" I ran into Dr. Holman at the local pizza restaurant after the holidays. I told him the cat is now successfully out of the bag, thanks to his early detection. "That's what I'm here for," he said.
My son, Reuben, is now 9 months old. He's seen Dr. Holman for well-child appointments, sickness and a lung scare a few months back. I'm grateful for Dr. Holman and Audrey who have taken the time to understand and treat my family with care and compassion.
In the three rural communities we've lived, UND alumni have made our lives better. We're about to uproot again for my husband's job, so I've been scouting out alumni near Harvey, North Dakota, and I'm happy to say there are many.
I know we'll be in good company.
ABOUT THE AUTHOR
Jenn Lukens lives in Kadoka, S.D., and is Director of Stewardship & Donor Appreciation at the UND Alumni Association & Foundation. "There is a rooted culture and community at UND that supports one another long after graduation," Jenn says. "I am honored to be a part of it."