Ropes, Roses and a Whole Lot of Love
UND grad includes animals in her therapy practice.
Buck, Daisy, Deuce, Gabby and Huckleberry are horses with jobs. These four-legged creatures, however, aren't working the rodeo or providing transportation. They're therapy animals, along with Mitch the dog, Thomasina the cat, and a few other furry co-workers at Ropes and Roses Therapy Clinic in Casper, Wyoming.
In 2018, UND grad Karol Santistevan, '17, '18, founded the clinic where she and her team of therapists provide occupational therapy with a focus on mental health. They use direct OT services and therapy horses – as well as dogs, goats and sheep – to engage patients' sensory, neuromotor and cognitive systems to improve their everyday activities.
"My approach is holistic, nature-based and gives clients the chance to realize who they are in a truly authentic way," Karol said.
While many Ropes and Roses patients have mental health concerns, the team provides services for clients of all ages and numerous diagnoses, including autism spectrum disorder, attention deficit hyperactivity disorder, cerebral palsy and post-traumatic stress disorder, among others.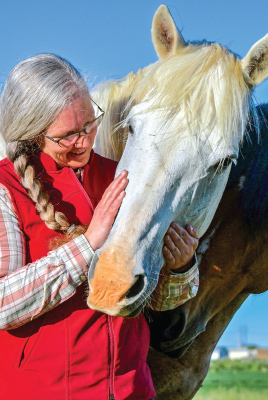 Working with this wide range of patients requires a calm presence – for people and animals. "If the animal doesn't like interacting with people, this isn't the job for them," Karol said.
Horses are used in two types of OT. In hippotherapy, therapists treat patients using movement. Riding a horse improves patient strength and balance, as well as circulation and breathing. These horses must demonstrate medical-grade movement and desensitization to various stimuli, Karol said.
In equine-assisted therapy, patients learn horsemanship skills such as basic care, grooming and handling. Because this often involves group work, horses must be responsive to multiple people giving many non-verbal cues. "This helps patients further develop patience, empathy and self-confidence," Karol said.
This type of therapy can reduce anxiety, depression and stress, improve social skills, and promote physical activity, Karol added.
Karol's connections to the mental health community motivated her to create these services. "I have clients who come to me for therapy who have difficulties and struggles every day, and yet they get out of bed to come see me, the horses and other animals, even on their most difficult days."
For me, this isn't a job but my purpose in life.
MAKING A DIFFERENCE
Karol is a certified Special Olympics equestrian coach who has been helping people with intellectual disabilities since 2002. She founded Reach 4A Star Riding Academy, a Premier Accredited Therapeutic riding center, in 2004. Encouraged by her students and coworkers, she went back to school, completing her bachelor's degree in 2017 and her master's degree in OT in 2018, both at UND.
"I do have a pretty unique setup and seem to be doing all sorts of interesting things," Karol said of the clinic, which is on a 36-acre campus with four buildings and a lodge to accommodate multi-day retreats. Those "things" include offering teen girls' camps and a kids' grief camp.
"My clients and animals inspire me to do what I do. Knowing I have the possibility to help and make a difference in people's lives motivates me," she said. "For me, this isn't a job but my purpose in life."